News
College welcomes new professors to JMU
---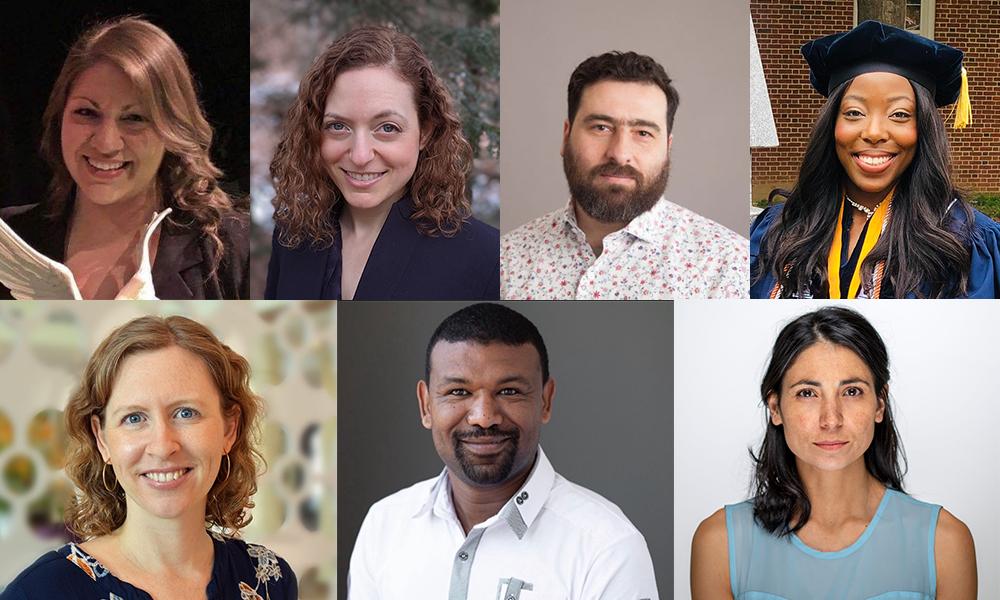 SUMMARY: This fall, eight new faculty joined the College of Arts and Letters.
---
At the beginning of the fall semester, the College of Arts and Letters welcomed eight new professors to James Madison University. Faculty renewal, as Dean Robert D. Aguirre notes, is crucial to the ongoing college mission of excellence in research and teaching.  "These faculty," Aguirre says, "bring us a range of new perspectives, ideas, and approaches. Each comes as a result of national searches, which provide JMU with the opportunity to recruit the very best colleagues to join our illustrious faculty." 
Jamie Haverkamp, who joins the Department of Sociology and Anthropology, received her PhD in anthropology and environmental policy from the University of Maine, Orono.  She has conducted field research in the Peruvian Highlands and the U.S. Mid-Atlantic coast. Her JMU courses cover topics such as climate change, race and racism in education, conservation and environmental justice. 
Visiting professor Chrisandra Kufeldt, a broadly trained biological anthropologist with expertise in primate dental histology, also joins the faculty in the Department of Sociology and Anthropology. Kufeldt received her PhD in Human Paleobiology from the Center for the Advanced Study of Human Paleobiology at the George Washington University. Using the rate of growth in teeth, Kufeldt researches primate evolution with a current focus on some of the earliest euprimates during the Eocene epoch 55 million years ago. 
"These faculty bring us a range of new perspectives, ideas, and approaches.Each comes as a result of national searches, which provide JMU with the opportunity to recruit the very best colleagues to join our illustrious faculty."
Robert D. Aguirre, Dean of Arts and Letters
Etana Dinka, who comes to JMU after a two-year stint as a Mellon Postdoctoral Fellow at Oberlin College, received his PhD in History from the School of Oriental and African Studies (SOAS) at the University of London with a research specialization in Ethiopian society and 20th century African history. Dinka completed his secondary, undergraduate and master's education in Ethiopia. An expert in environmental history, as well as the political history of Ethiopia and the Horn of Africa, Dinka will be teaching African history courses and world history survey courses for the Department of History. "A trained teacher, he brings a wealth of experience on three continents to his classes, which will include courses on African history from the introductory survey to the MA level and will include this year a topics course on African Pandemics," says Maura Hametz, the head of the History department. 
An expert in medieval English literature, Amanda Gerber received her PhD from The Ohio State University. Her teaching and research focus on the educational history, cultural exchanges and manuscript traditions that helped shape Middle English literature. This semester, she brings her knowledge to an English survey course and a medieval literature advanced studies course. Her forthcoming book, Narrating Science in Chaucer's England, will be out next year. 
Also joining the English department is visiting professor of creative writing Marco Wilkinson. Wilkinson earned his MFA is from the Stonecoast Program at the University of Southern Maine. A horticulturist and farmer before entering the world of teaching and writing, Wilkinson's courses include environmental fiction, nature writing, publishing and editing, as well as workshops in creative nonfiction, fiction, and poetry. He describes his forthcoming book Madder, from Coffee House Press, as "a Latinx memoir written as a series of linked lyric essays that tackle intergenerational struggles of class and migration shot through with lies, denials, and the willed forgetting so perfectly captured by the untranslatable Spanish word, olvido."  
Mallory Marsh, a PhD candidate with nine years of experience coaching competitive speech, joins the School of Communication Studies as the Director of Individual Events. As a competitive speech coach, Marsh has coached numerous national champions and was awarded the national outstanding young coach award by the American Forensic Association. Using critical rhetorical feminist inquiry, Marsh's dissertation explores the feminine face of overt racialized violence by using the women of the 1920s KKK as an extended case study. 
Morgan Smalls, an assistant professor in the School of Media Arts and Design (SMAD), is a media and digital scholar who uses popular culture as an entryway to have larger conversations about race, class, gender and power. Smalls earned her Ph.D. in Communication, Culture, and Media Studies with a Certificate in Women's Studies from Howard University. Her current research centers on the intersection of Africana studies, women and gender, social media and popular culture. Speaking of Smalls' influence on the department during her first year as a visiting professor, head of the School of Media Arts and Design Gwyn Mellinger said, [she] has made an immediate impact on SMAD through development of a new upper-level seminar Gender, Race and Culture in Digital Media." 
Also joining the faculty in SMAD is Elisabeth Kvernen, a graphic designer and communications specialist with more than nine years of experience working for diverse clientele, including the Smithsonian Institution, the Library of Congress, the Louvre Museum, the New York Public Library and the Kennedy Center. Kvernen grew up a global citizen – living in Ethiopia, Nepal, India, and the United States – before earning her M.F.A. in Integrated Design from the University of Baltimore. Her international experiences shape her coursework in media literacy, web design, design principles and software.