News
Spanish lecturer named college Faculty Diversity Liaison
A conversation with Karina Kline-Gabel
---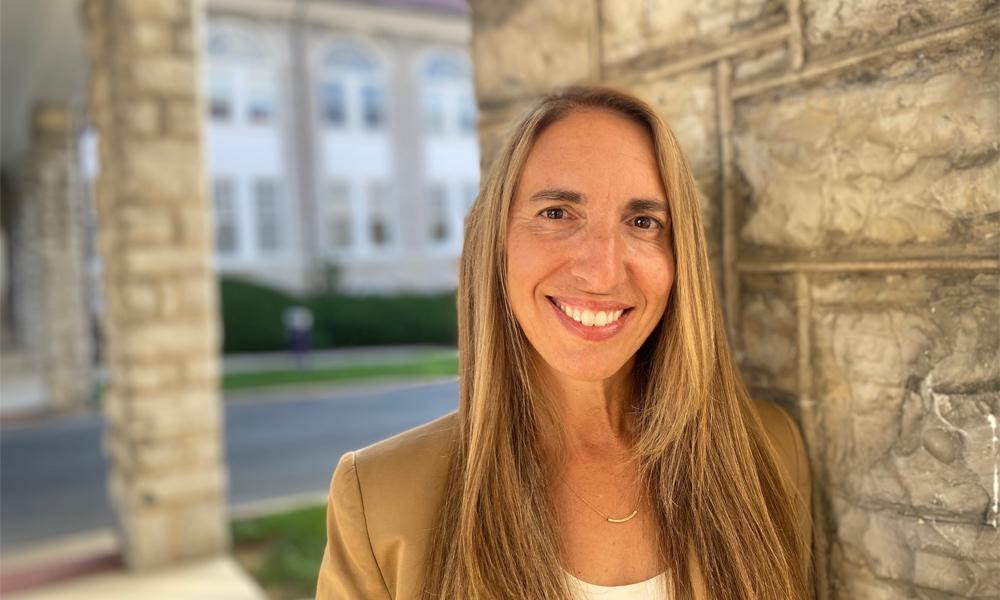 Karina Kline-Gabel, a Spanish lecturer at James Madison University, has been appointed the inaugural Faculty Diversity Liaison to the College of Arts and Letters. In this new role, Kline-Gabel will form close relationships with students, faculty and leadership to "establish and seek best practices of inclusion," she says. "My personal strength is to connect people. Since I also work closely with student organizations, I will be helping students find resources they need to make sure their experience in our college gives them a sense of belongingness and safety in and out of the classroom." 
Over her 17 years at JMU, Kline-Gabel has steadily and admirably served the university as well as local and state Latinx communities. In 2015, she founded the Madison Hispanic Caucus, which advocates for Latino issues in higher education. She also serves on the Virginia Latino Advisory Board, receiving a commondation by Secretary of the Commonwealth Kelly Thomasson for her tireless service during the COVID-19 pandemic. Learn more about her involvement. 
Q: How does your background affect your passion for service and community engagement? 
A: Growing up in Harrisonburg in a bilingual/bicultural household taught me that there are always multiple ways of communicating and interpreting the events around us. I believe there are also multiple ways of approaching service and community engagement opportunities. Sometimes, there is a call to advocate directly for others and use our privilege or language skills to help others that don't have a direct platform, but other times I've found that it is even more important to find ways to practice indirect advocacy: use our voice and roles to connect people and support community leaders with resources so they can serve as advocates within their own communities.  
Q: What does "diversity" mean to you?  
A: Diversity to me means more than just a range of different people and opinions. I believe it's a process. We need to take intentional steps to ensure that diversity is not just representation but that it is supported by standards of inclusion. In order to build a better community or campus, all groups must have equal representation and be given the space and respect to be heard. Those recommendations then need to be addressed by inclusive leadership that will collaboratively act on the needs of those voices. 
Q: What is a common misconception about scholars/students from underrepresented backgrounds that you've frequently run into? 
A: The idea that the value of these students mostly impacts their own experience. When I have posed the question to a predominantly homogenous group of students, "Why does diversity matter in college?" their response is usually that students from underrepresented backgrounds deserve a chance to be educated.  
Q: What would you say to that misconception? 
A: A diverse administration, faculty and student population is important for everyone's education ... Students and scholars from underrepresented backgrounds lend their voices and experiences to their peers and that is how college students learn and develop skills in critical thinking, problem solving and empathy for one another. No matter how interesting or knowledgeable their professors are, we fail in those areas without a diverse classroom that includes these students. 
Q: Over the past 17 years at JMU, what development/movement/change that you've been a part of has given you the most hope for JMU's future? 
A: In the last 17 years I have definitely seen a positive shift, thanks to new leadership that focuses on celebrating diversity at JMU and intentionally addressing increasing the diversification of our student body and faculty. That is why in 2015, I decided to start the Madison Hispanic Caucus to unite our JMU Hispanic/Latino/x faculty ... In the last five years, I've coordinated the MHC Banquet for students, faculty and administrators. Seeing these groups share a meal together and get to know one another, just as people that have a shared heritage or interest, leaves me feeling that our roles sometimes need to be redefined so we can engage with one another in more empathetic and personal levels.