News
Impacting the world
Alumni win Fulbright scholarships to teach and research abroad
---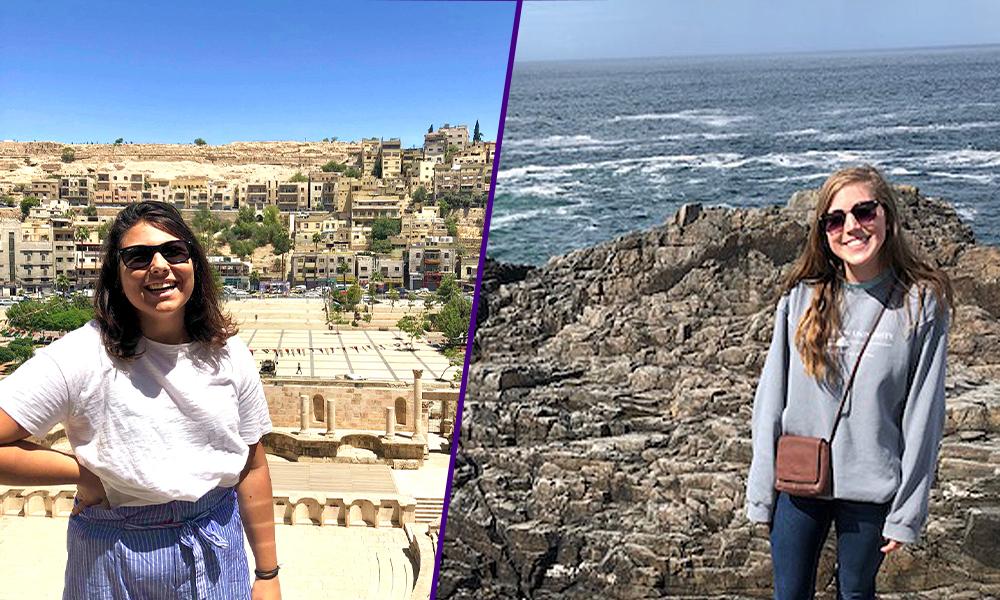 SUMMARY: Two recent graduates from the College of Arts and Letters have been selected as grant recipients to complete research and teach English abroad through the Fulbright Program, one of the nation's leading cultural and educational exchange programs.
---
In January, Lauren Palmieri ('20) and Emma Holleran ('19) will begin their respective journeys to research and teach English abroad through the Fulbright Program, one of the nation's leading cultural and educational exchange programs. They will depart approximately two years after they first began the application process, which is notoriously rigorous, lengthy and competitive. 
It's for that very reason that JMU's new fellowships adviser, Meredith Malburne-Wade, considers it an accomplishment to complete an application. Beginning in the spring and continuing into the early fall, applicants worked to develop their projects, craft personal statements and enhance their understanding of their chosen countries. 
"We need young people to go forth and engage with the world, to make it better, and to bring the world back home."
Dean Robert Aguirre
Holleran, who graduated with a bachelor's degree in English and has recently completed her master's in teaching, will call the Czech Republic "home" for six months while teaching English as a second language to high schoolers. Holleran gained international teaching experience through a JMU study abroad program in Northern Ireland, but she's looking forward to the opportunity to widen her intercultural understanding in the classroom. "I have always wanted to be a teacher," Holleran says, "and I think that in order for me to reach my potential I need to experience as many different classrooms and cultures as I can." 
Meanwhile 2,000 miles away, Palmieri will spend her days in the archives at the National Library of Kuwait, where she will have access to twentieth-century periodicals. Through analysis of these publications, and specifically the magazine al-Ba'tha, Palmieri hopes to better understand Kuwait's roles in modernization and its connection to female publications.  She explains, "My research will explore how modernization impacted women's roles in education, the domestic sphere and literature by studying how this magazine portrayed and shaped women's roles." 
Palmieri said that her fascination with the history of the Middle East began early in her college career. The History major spent three years studying Arabic, including an intensive language experience in Jordan, and has practiced her language skills with native speakers in the Harrisonburg community through an internship at a local refugee resettlement center. Palmieri also completed an Honors Thesis under the guidance of History professor Timothy Fitzgerald, in which she analyzed al-Fatah (1892-1894), the first Arab women's magazine, published in Alexandria, Egypt. "Though many have written the past off as archaic, history is how I came to understand the world, cultures and identities around me," said Palmieri. 
Dean Robert Aguirre says that now more than ever, "We need young people to go forth and engage with the world, to make it better, and to bring the world back home. This is what the Fulbright program has always sought to do, and JMU students are perfectly suited for this work." 
Both recipients have months to go before they begin their respective journeys through the Fulbright program, but they feel confident that their studies have prepared them for what lies ahead. "Through reading literature from many genres and cultures, my English courses have allowed me to learn so much about the world," Holleran said. "I cannot wait to experience this learning firsthand!"