National feminist rhetoric conference knits university together
News
---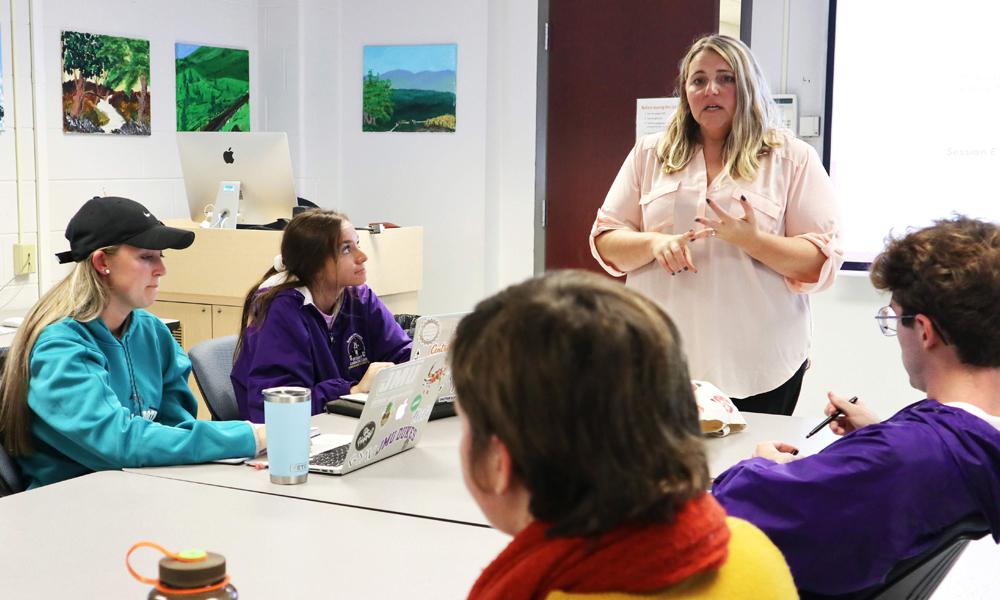 SUMMARY: In planning a national feminist rhetoric conference at JMU, organizers in the School of Writing, Rhetoric and Technical Communication are empowering undergraduate and graduate students to be part of the planning, presentation, marketing and archival work.
---
At the 2017 Feminisms and Rhetorics Conference (FemRhet), it was announced that JMU's School of Writing, Rhetoric and Technical Communication would host the national conference in 2019. Two years later and with less than a week until scholars from across the nation begin arriving on campus, WRTC is busy finalizing the last details for FemRhet 2019. 
This year, the four-day event will focus on "DIY feminist activism," a type of grassroots advocacy work that aims at achieving diversity and inclusion through projects that are "freestanding, self-supporting, and/or crowdsourced." 
Scholars will come together to present 112 distinct sessions, including an installation by an academic-themed rock band, a human-scale boardgame exploring queer infertility and a panel discussing the rhetorics of women's bodies, with a special emphasis on Serena Williams. Mona Haydar, feminist rapper, activist and artist, will be the keynote speaker. 
Conference co-chairs Jennifer Almjeld, Associate Professor of WRTC and Director of Graduate Studies, and Traci Zimmerman, Director of WRTC, have insisted on bringing undergraduate and graduate student voices together in the planning and presentation of the event.  
For example, undergraduate students in a course on facilitating engagement, taught by communication studies professor Lori Britt, will serve as facilitators at a Town Hall meeting on Friday morning. Later that afternoon, students in a cross-disciplinary zine course, taught by English professor Mary Thompson, will attend and produce a zine about the conference.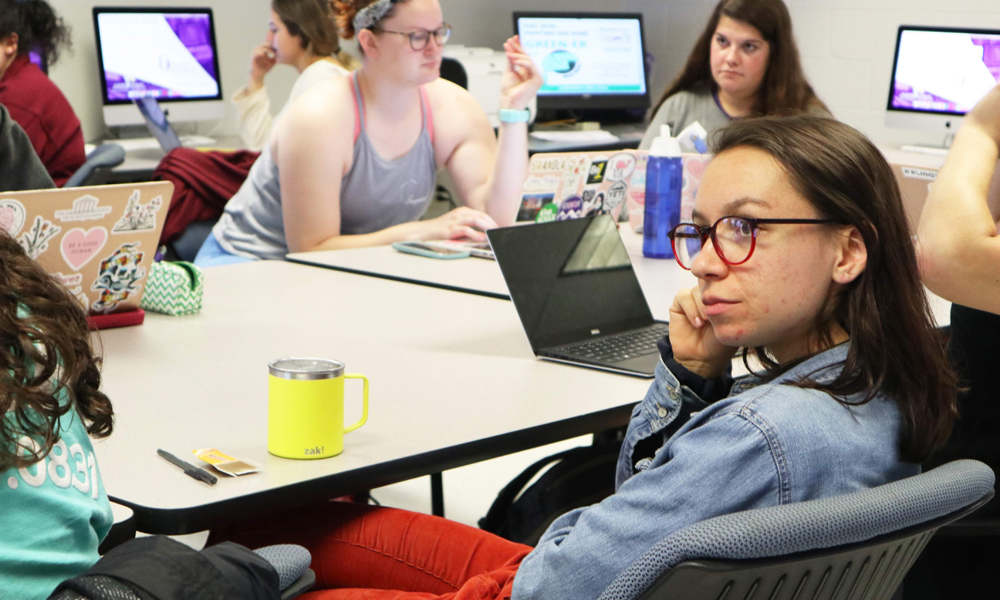 In addition, Almjeld's feminist rhetorics class will be working on a digital archive of the event. "I'm really excited about creating the archive with the students," said Almjeld, who studies the intersection of girlhood identities in digital spaces. "So often what happens at a conference stays there. The archive will give people a chance to look backwards and consider, as a whole, what happened [at the conference]." 
Even the event's digital trail is evidence of collaboration between professor and students. This year's conference program was designed and edited by students in a professional editing course, while the signage–posters and flyers–were created by students in a course on document design, both taught by professor Cynthia Martin of WRTC.  
But undergraduate students and faculty aren't the only JMU participants; two WRTC graduate students, Brenna Matlock and Becca Evans, are serving on the conference planning committee. Matlock, interested in branching out into a different kind of activism, was concerned with the environmental impact of the event, so she initiated a partnership with the Environmental Stewardship office to control the conference environmental footprint. Now, the conference has been named a Greening Your Event Partner by the Institute of Stewardship of the Natural World. 
"Despite decades of work, feminism is still timely and necessary."
Jennifer Almjeld
Meanwhile, Evans had the idea to host a DIY craft shop during the conference, where participants can buy a spirited cross stitch or a warm winter hat handstitched with the words "Fierce Feminist." Proceeds will go to JMU's chapter of HerCampus and a local community partner. Hand-made craft donations are still being accepted through the event's social media pages, which Evans also manages. 
After two years of organizing, preparing and coordinating, the WRTC department is nearly ready to open their doors and host conversations on the important work of feminist scholars and practitioners.  
"Despite decades of work, feminism is still timely and necessary," said Almjeld, whose work, alongside numerous co-laborers, is paving the way for a new era in which the feminist values of diversity and inclusion are embedded in the framework of society and culture.
---
Undergraduate students can register until Friday, 11/15 to attend for a reduced fee of $25, which will allow them to attend the Thursday 11/14 and Friday 11/15 sessions.  It does not include any meals or the Awards Banquet on Friday night. Register here
The event is sponsored by the Coalition of Feminist Scholars in the History of Rhetoric & Composition (CFSHRC).