College of Arts and Letters
More than a resume
While pursuing a fulfilling life, Matt DeMartis ('06) built a remarkable career
---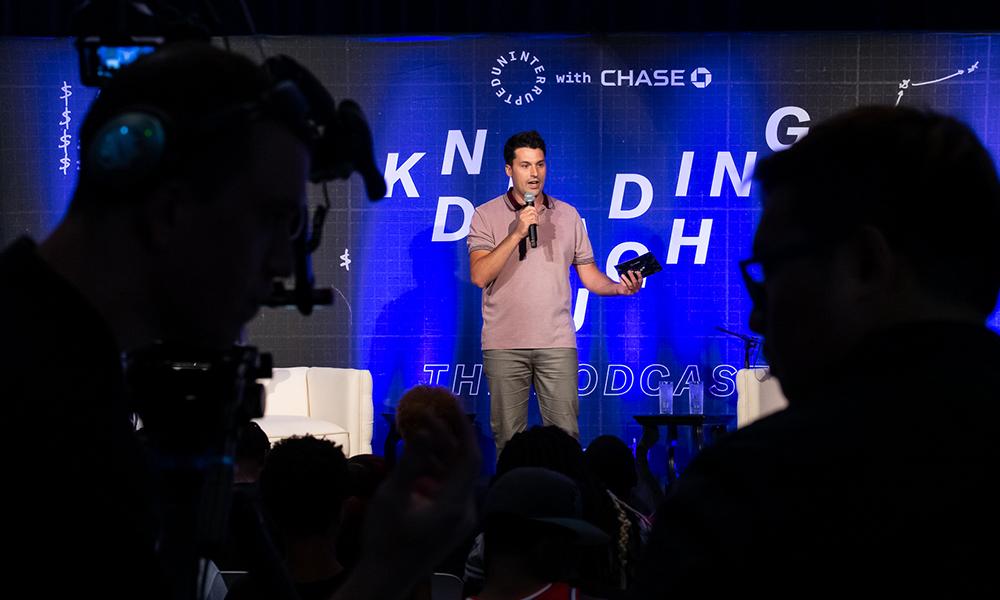 SUMMARY: Matt DeMartis, who double majored in communication studies and marketing, built a professional highlight reel that includes interning with the NBC Olympics, working the Oscars and joining LeBron James and Maverick Carter's team at Uninterrupted.
---
At 5:30 a.m. on a Thursday, Matt DeMartis ('06) is on a business call from France. DeMartis is the head of Marketing and Brand Partnerships at Uninterrupted, an athlete-empowerment brand started in 2016 by LeBron James and Maverick Carter. It's his job to help advertisers reach their marketing goals by aligning with the company's message: I Am More Than An Athlete. For DeMartis, this job has been two decades in the making.
During his sophomore year of high school, DeMartis wrote down a list of experiences he wanted to pursue before life got away from him. The life resume, as he calls it, includes running a soup kitchen, traveling to Australia, making an audition tape for Survivor and starting a family.
The following year, the high school junior ran a soup kitchen for battered women and children on Thanksgiving Day in his hometown of Bergen County, New Jersey, checking off the first item on his life resume.
Becoming a Duke
When it came time to tour colleges, "I wanted to go somewhere that aligned with my core values of selflessness and community," DeMartis said. And JMU's distance from home—five and a half hours—gave him the opportunity to explore somewhere new, a desire DeMartis says is just part of his DNA. 
"I wanted to go somewhere that aligned with my core values of selflessness and community."
Matt DeMartis ('06)
Once on campus, the communication studies major led tours as a Student Ambassador, played basketball and flag football through intramural sports, and worked on campus at Madison Connection. "Consistently engaged," said John Stone, professor emeritus of communication studies, of DeMartis. "Polite, sharp and very personable … his work was of the highest quality."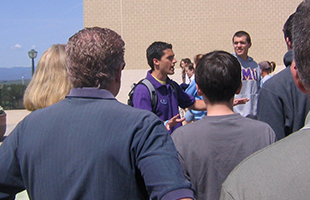 By his junior year, he was ready to expand his horizons. He picked up a second major in marketing and made plans to study abroad in Australia, checking off another item on his life resume. Through an outside program called Austra-Learn, DeMartis customized classes at the University of Queensland, where he also played intramural basketball.
After returning home the summer before his senior year, he began to think he might enjoy a career in TV. "I'm a sports junkie, so when I saw a commercial for the 2006 Olympics in Italy, I knew I had to get there," Matt said. So before LinkedIn was created, he began his own networking process.
An Unlikely Internship
The father of a high school friend was a producer at Dateline and, through a series of connections, DeMartis was given the email address for the coordinator of the NBC Sports Olympic Internship program. In early November, after two months of bi-weekly emails, he finally received a reply: All 120 internship positions had been filled.
The door to the Olympics seemed closed, but DeMartis was determined to find a crack. He emailed the coordinator twice more. "If an internship falls through, I'm still interested."
On a walk home from the gym in early January, he noticed a missed call from a 212 area code. "One internship had opened, and they had thought of me." He needed to be in Torino, Italy, in 24 days, and he would need to fund his way there. "I called my parents and said, 'If I've ever asked you to invest in my future, it's now.'" In a moment that changed his life, his father agreed to cover his ticket.
For three weeks, DeMartis lived in the media village and logged tape for curling, a task he knew nothing about at the onset of his internship, while completing his JMU course work. "He made it through that semester as if he had been in class the entire time," said Leigh Nelson, professor of communication studies.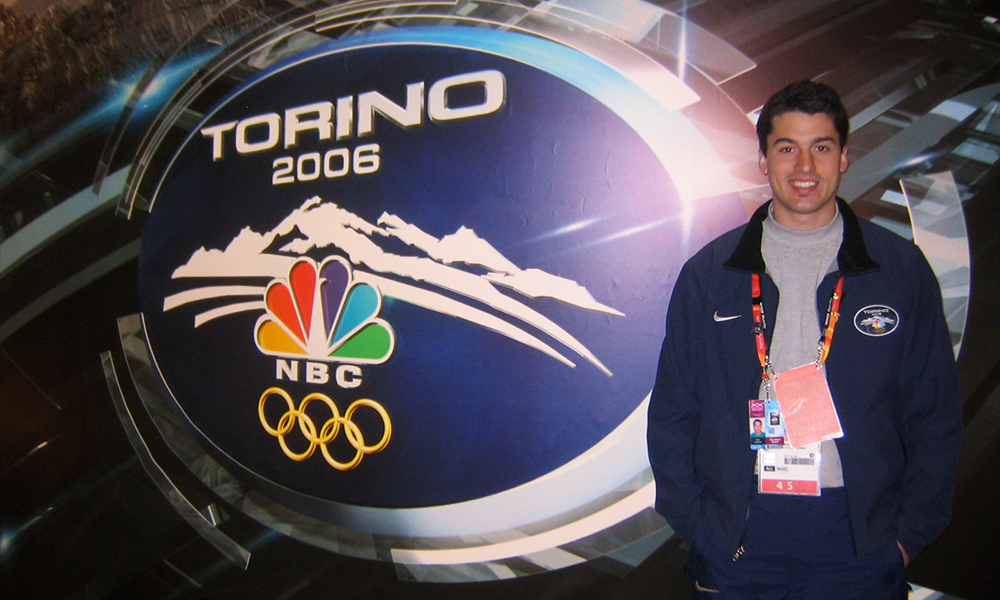 In the media village cafeteria, Matt met Mary Gallagher, the director of the NBC Page Program in New York City, who encouraged him to interview for a coveted page position. Days after walking the stage at graduation, DeMartis arrived at 30 Rock to give a five-minute presentation to five NBC executives. Drawing upon experience as a Student Ambassador at JMU, "I told my life story in terms of giving a tour of my life. They loved it."
A Higher Title
Working as a page six days a week, DeMartis gained experience in the media industry as a production assistant for the Macy's Thanksgiving Day Parade and doing ad sales for the Beijing Olympics. After 11 months, he landed a position at Bravo doing product integrations for Project Runway and Top Chef. His career in TV had officially taken off.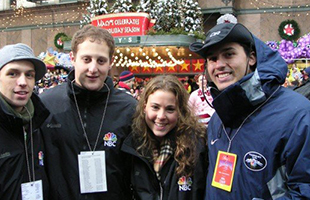 He wondered if it was time to return to his love of sports media when he was offered a job at ABC Network. With nothing holding him back, he relocated to L.A. and spent the next eight years doing brand integrations on primetime television shows like Lost and Modern Family, as well as the Oscars.
His boss at the time encouraged him to "think big" about his career aspirations, prompting him to pursue an executive MBA from the University of Southern California while overseeing ABC network's branded content studio. After 18 months, DeMartis graduated as the youngest person in his class and was ready, once again, to tackle something new.
A contact from the 2006 Olympics connected him to a startup called Uninterrupted in 2016. The company was still in its infancy when he sat down with Maverick Carter for an interview. "That was a fun moment. Very humbling," said DeMartis, who was the eighth employee hired. Today, Uninterrupted has grown to 75 employees across three cities.
Throughout his professional climb, DeMartis has continued to stay true to his values, the same values that lead him to JMU 17 years ago. "The biggest thing I tell people today is to always strive to have a higher title at home than at the office. It gets harder the better you get at your job, but it forces you to be better at home."
"The biggest thing I tell people today is to always strive to have a higher title at home than at the office."
Matt DeMartis ('06)
It's this conviction that keeps DeMartis from crawling back into bed when his business call from France ends at 6 a.m. and instead begin assembling a pink-flowered step stool for his daughter—a sign that yet another item on his life resume has been fulfilled: starting a family.
For DeMartis, true success comes from sticking to his convictions and following his passions at all costs.
And there's still the recruiting tape for Survivor.
"I gotta do it."