College of Arts and Letters
Q&A with media arts and design alumna
Katrina Purcell ('04) of Bloomberg, LP
---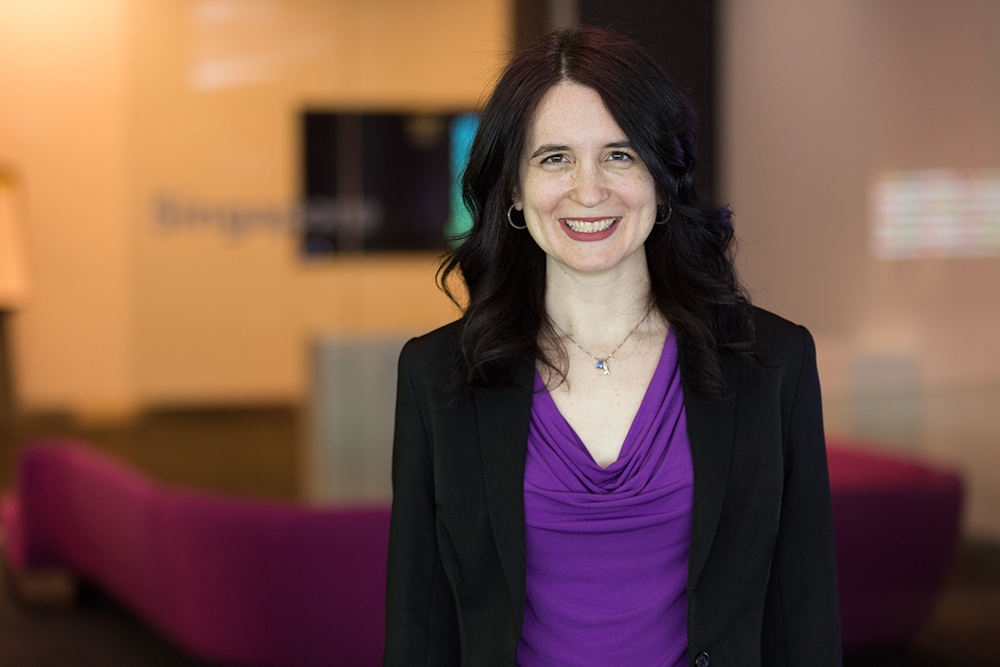 After graduating from JMU's media arts and design program, Katrina Purcell ('04) began her media career at the Discovery Channel. Then in 2007, she made the move to Bloomberg, LP in New York City, where she currently holds the title Head of Program Management for Media Technology. Katrina graduates later this month with her executive MBA from Columbia University.
Q: Your first media job out of college was at the Discovery Channel. How did you come by that position?
A: Through a referral. I had actually applied for the role online but never heard anything. Luckily, I had a JMU connection who got me in for an interview. After I started the role, I actually got a rejection letter telling me I was not qualified for the role I was currently filling! I'm so grateful to my JMU network for giving me a chance because clearly the online application would not have worked out.
Q: What did your position as a Quality Control technician entail?
It entailed sitting in a room, overnight, surrounded by equipment worth more than me, watching TV for 8 hours a day to evaluate the audio and video. The goal was to decide if the quality of the vendor-delivered TV shows met the standards to aire on Discovery.
Q: What prompted your move from Discovery to Bloomberg? 
A: ...I always felt my passion was production [not post-production], and I decided in 2007 if I didn't try to make the move to NYC I may never have the guts to do it. 
Q: According to recent statistics, employees only work an average of four years for the same company, yet you've stayed with Bloomberg for 12. What do you attribute that to?
A: I've stayed at Bloomberg because I've consistently changed roles with increasing responsibility over the last 12 years. My focus [has been] learning and growing my skills, not necessarily increasing my pay. The culture of Bloomberg really fits my values as well... I've always felt challenged, and I've had some incredible opportunities...
I think this comes back to finding what makes you tick and going after that. For some that might mean jumping around, but for me it meant staying at a stable company where I feel valued and challenged.
Q: How has your JMU experience positively shaped your career?
A: I look back on my time at JMU with such affection... I built lasting friendships with people who still influence my life to this day. It reinforced the importance of relationships in all aspects of life and also my love of learning. It was the start of my learning that the true meaning of life was to be happy (Thanks to John Woody!) and only I could decide what would truly make me happy. My decision to attend JMU was one of the best decisions I've made and really set the strong foundation for the life I have now.
Q: What advice would you give to graduating seniors?
A: ...It's good to have a plan, but remember that sometimes life doesn't go exactly to plan. Be open, say yes to things and figure out how to make it work later. Just make sure to always be true to the things you find important. In this world, human capital is the most important resource, continue to invest in yourself and the possibilities will be limitless.