Women For Madison
Brittany Williams ('05)
---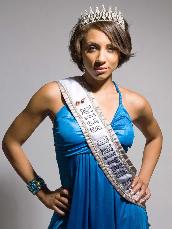 Once upon a time Brittany Williams was a tomboy. Today she's Miss United States 2008 with a platform and a passion to empower other young women. Her conversion from tree climber in rural Clifton Forge, Va., to pageant queen on the Las Vegas runways came by way of JMU where she says, "I struggled with and eventually conquered my own problems with self-esteem, body image and depression. There are many reasons that JMU is special to me ... I began my own transformation there. "Now Brittany works with other young women battling issues of self-esteem. She helps them see their own unique beauty through "BYOUtiful," a program she created. When she was crowned Miss United States, her passion became her platform — and it's a mission she will continue once her reign ends. Currently, the hotel and tourism graduate is working on a master's degree in counseling and community mental health at the University of Las Vegas. She looks forward to her future. "Honestly, the end of my reign will be an amazing beginning, even more fabulous than this year. I told myself after I was crowned, as amazing as that moment was, it will be nothing compared to the moment I crown my successor. Not because I want it to hurry and be over, but because the crown is a stepping stone. ... I will always promote my platform through "BYOUtiful" because I understand its importance. It is an attitude that millions of young women need to understand."
"As Miss United States, I am frequently asked, 'What is your beauty secret?' I simply reply 'confidence,' and share my personal quote: 'Define beauty for yourself and don't live up to anyone's standards but your own. Embrace all of God's gifts even if it is more or less than the next woman's."
"Confidence is beautiful, powerful and exudes from within."