News
Matthew Wasniewski ('91, '94M)
---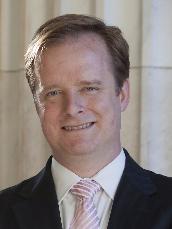 History is made every day in the U. S. House of Representatives, and Matthew Wasniewski is the one keeping track. In 2010, by a rare display of bi-partisanship, Matt was appointed Historian of the House. In his role Matt and his staff maintain House historical documents, a biographical database of more than 11,000 former and current representatives, and publish congressionally mandated books and field public inquires.
His career began at JMU where he earned a double major in SMAD and history, and later a master's. While pursuing a Ph.D. at the University of Maryland, Matt interned with the Capitol Historical Society. He developed a strong network of professional contacts and a devotion to public history. Working first with the Office or History and Preservation, he spent a decade in the field before his 2010 appointment.
Matt hopes the office will become an important source for scholars and bridge the gap between public history and academia. In this important role as a public historian, he is securing the future by chronicling the past.
"College is not a career path. It is learning how to think critically and independently to prepare you for the rest of your life."
Read more in the article "JMU inducts U.S. House historian into Phi Beta Kappa"