News
Soon Hee Newbold and Erin Rettig
Delivering music
---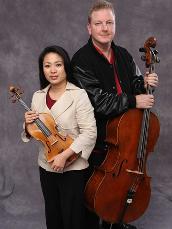 Soon Hee Newbold ('96) has traveled to exotic lands with her music. Everywhere she goes she inspires. As a prolific composer with FJH Music, Soon Hee is especially popular with students. Her works range in difficulty from beginning to advanced, allowing groups from elementary school to college orchestras to play her pieces. Soon Hee is a frequent guest conductor and clinician for festivals, schools and conferences. Her music has premiered as far away as Singapore and Jakarta where a "Newbold Music Festival" was held in the composer's honor. Soon Hee's Facebook page is covered with posts from students thanking her for writing their favorite pieces. "I have never heard music as inspiring and as adventurous as yours," one young musician wrote. Many of her works are deeply personal including her well-known Endless Dreams, written for her adoptive mother who is battling Huntington's disease. Soon Hee is also an accomplis hed violinist and an actor.
Soon Hee met Erin Rettig ('96) while they were both studying music at Madison, and the couple married after graduation. Erin is as equally accomplished as a sound engineer for top Hollywood movies. This powerhouse couple has set the bar high in their respective arenas. They are a testimony to their Madison Experiences, as together they deliver the sound and the music to a new generation of appreciative listeners.
The renowned composer and Hollywood sound engineer are tops in their fields, and they are bringing the sound and the music to a new generation.
Follow the ever-changing adventure of Madison people changing the world. Subscribe and follow the Be the Change blog at http://jmubethechange.wordpress.com/