News
Kevin Melton ('04)
---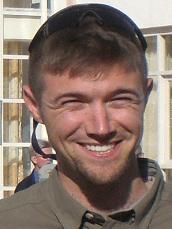 On Nov. 5, 2009, a roadside bomb exploded in Kandahar province, Afghanistan. The explosion tore apart an armored vehicle, killing two soldiers; two others were medevaced out. Kevin Melton ('04) was in that vehicle.
"An event like this changes your life," says Melton. "You realize what violence really is and nothing can prepare you for that." Melton, an international affairs major, spent 28 months as a civilian in Afghanistan. He worked with the military, including four-star generals Stanley McChrystal and David Petraeus, and local officials to develop and coordinate rebuilding strategies for the nation. Melton provided policy guidance and strategic analysis and helped coordinate planning efforts with local organizations.
The dangers didn't deter him. "It made me realize how dire it is to make things right," says Melton, who met with officials at Arghandab's district center to discuss projects. "The center is a dark concrete shell, but it attracts more than 200 people a day," he says. Local people began to show up to see what part they could play in their own future. Melton is inspired by people he has helped. One man he met while working at a small NGO now works in Canada in international development; another, who spoke little English, now has two businesses and consults for a general. "I can't top that," says Melton, "but I can help individuals be a catalyst." Melton is currently consulting for the state department and the Pentagon.
"That's the change I'm interested in — giving others the chance to do amazing things." — Kevin Melton ('04), former USAID worker