News
Nick Geer ('13)
A recipe for change
---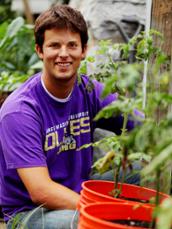 Nick Geer ('13) is all about kids and dirt and food--and how they connect to improve lives. The international affairs graduate with a minor in Arabic embarked on an 11-month stint with FoodCorps, a non-profit dedicated to healthy eating. Combining his love of growing food with a devotion to service, Geer is teaching the value of good nutrition and how to build and tend gardens to children in Lewiston, Maine. He's also using his Arabic, as Lewiston has a large population of Somali refugees. FoodCorps places graduates in limited-resource communities to teach an understanding of healthy food and its sources. For Geer, it's a recipe for change.
"You can just help change one person's life, and then maybe that person ends up helping someone else and it just adds up."
Read more about Nick.
Follow the ever-changing adventure of Madison people changing the world. Subscribe and follow the Be the Change blog at https://jmubethechange.wordpress.com/