College of Visual and Performing Arts
The Forbes Center for the Performing Arts at James Madison University announces 2023-24 Masterpiece Season lineup
Tickets go on sale to the general public on Thursday, July 6, at 10 a.m.
---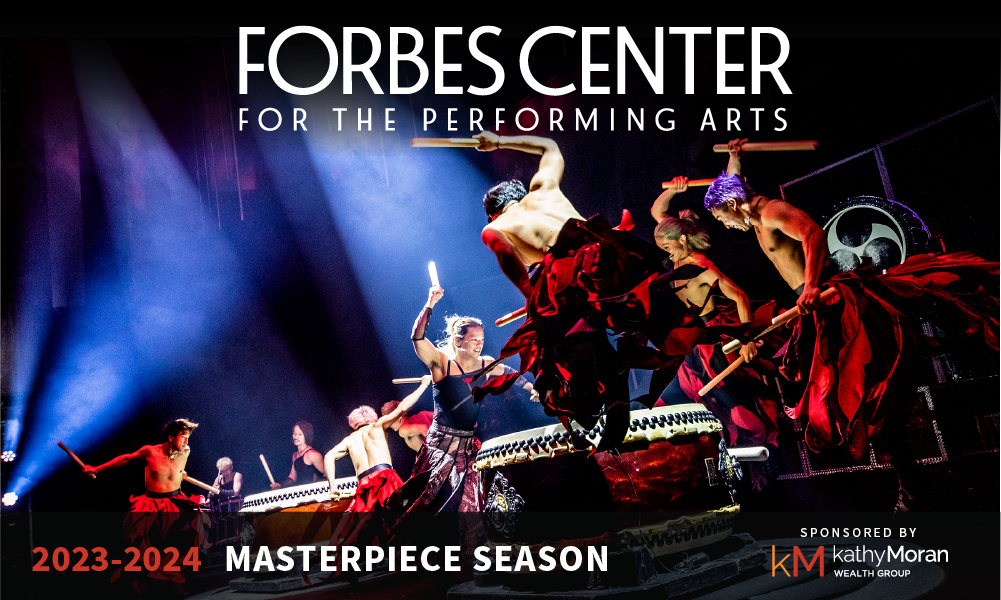 Friday, June 23, 2023 (Harrisonburg, Va.) – The Forbes Center for the Performing Arts at James Madison University announced its 2023-24 Masterpiece Season lineup today. Guests will enjoy a spectacular array of performances featuring some of the world's finest music, vocal, dance, and theatre ensembles as well as "Forbes Family Fun" shows. The 2023-24 Season offerings go on sale to the general public on Thursday, July 6, at 10 a.m., and can be purchased online at https://jmuforbescenter.com, in person at the box office or by calling 540-568-7000. 
Top performances include the international big band Pink Martini fronted by the dynamic vocalist China Forbes; the gospel sensation Trey McLaughlin and The Sounds of Zamar; Mike Super – Magic & Illusion; the one-woman tour-de-force All Things Equal – The Life and Trials of Ruth Bader Ginsburg; Bulgaria's leading orchestra, the Sofia Philharmonic Orchestra; international phenomenon, DRUM TAO, the epic Japanese taiko drum ensemble and finally – The SpongeBob Musical, a "Forbes Family Fun" show featuring students from JMU's School of Theatre and Dance. 
Other Encore performances include Sphinx Virtuosi, the nation's most dynamic professional chamber orchestra;  American singer-songwriter legends, Karla Bonoff and Livingston Taylor; the acclaimed brass chamber ensemble American Horn Quartet, Billboard-charting international recording artists Chelsey Green and The Green Project; International Guitar Night with Luca Stricagnoli, Thu Le, Marco Pereira, and Minnie Marks; all-female Norwegian, tenThing Brass Ensemble; Kitka, a women's vocal ensemble; Letters Aloud – The Road to Fame,  stories from real luminaries shared through their personal correspondence, and the dynamic dance incubator Boca Tuya, led by acclaimed dance choreographer Omar Román De Jesús.
For families, the Forbes Center also has several family-friendly shows to enjoy this season. The Forbes Center is strongly committed to presenting quality performing arts experiences for young audiences and their families with "Forbes Family Fun" shows – like Collision of Rhythm, a musical duo showcasing an empowering message of joy and connection through music, and Erth's Dinosaur Zoo Live! where over 19 dinosaurs are brought to life by a skilled team of puppeteers who take center stage. Other "Forbes Family Fun" shows include The SpongeBob Musical, Call of the Wild: Illustrated Edition where Jack London's classic tale comes to life in a multi-media adventure, and Movie Musical Magic featuring songs from your favorite Disney, Pixar, and other classic family movies. Movie Musical Magic also offers a sensory-friendly performance for children and adults with autism spectrum disorder, sensory sensitivities, or other social, learning, or cognitive disabilities. 
JMU's School of Music will host several guest artists and performances by faculty and students including jazz festival mainstay Butcher Brown with the JMU Jazz Ensemble and GRAMMY®-nominated flutist, Valerie Coleman. JMU's Opera Theater program will present Philip Glass' The Fall of the House of Usher, Riders to the Sea by Vaughn Williams, and Suor Angelica by Puccini. This year's HolidayFest features Marc-Antoine Charpentier's most popular mass, Midnight Mass for Christmas (Messe de Minuit pour Noël, H. 9) in addition to the School of Music's traditional holiday sing-along and a special reading by a Harrisonburg celebrity.  
The School of Theatre and Dance rounds out the remaining Forbes Masterpiece Season shows with the acclaimed touring dance company, Eisenhower Dance Detroit in collaboration with dancers and faculty in JMU's Dance Program; the musical Sunday in the Park with George; Dancescapes featuring JMU's Virginia Repertory Dance Company and other guest artists; The Birds, A Modern Adaptation of Aristophanes' Comedy; Dance Nation by Clare Barron and ANON(YMOUS) by Naomi Iizuka. 
The 2023-24 Forbes Masterpiece Season is sponsored by Kathy Moran Wealth Group. Visit www.kmwealthgroup.com or call 540-434-7470 for more information. For information on the Forbes Center and to buy tickets beginning Thursday, July 6, please visit https://jmuforbescenter.com/.
2023-24 Masterpiece Events & Other Season Highlights
| | |
| --- | --- |
| Show | Date(s) |
| Eisenhower Dance Detroit, New Dance Festival (MS) | Sept. 8-9 |
| *Collision of Rhythm (CH) | Sept. 10 |
| Butcher Brown with the JMU Jazz Ensemble (WH) | Sept. 22 |
| JMU POPS! Stage and Screen (AUBC) | Sept. 29 |
| Mike Super – Magic & Illusion (WH) | Sept. 30 |
| Sphinx Virtuosi (CH) | Oct. 7 |
| The 42nd Annual JMU Contemporary Music Festival (CMF) | Oct. 9-11 |
| CMF – Concert I featuring The Madison Singers (CH) | Oct. 9 |
| CMF – Concert II featuring JMU Brass Band (CH) | Oct. 10 |
| CMF – Concert III featuring JMU Wind Symphony (CH) | Oct. 11 |
| Sunday in The Park with George (MS) | Oct. 10-15 |
| Pink Martini featuring China Forbes (CH) | Oct. 26 |
| Valerie Coleman, flute (RH) | Oct. 27 |
| All Things Equal – The Life and Trials of Ruth Bader Ginsburg (MS) | Nov. 1-2 |
| Anon(ymous) (ST) | Nov. 7-12 |
| The Fall of the House of Usher, featuring the JMU Opera Theatre (MS) | Nov. 10-12 |
| Trey McLaughlin and The Sounds of Zamar (CH) | Nov. 16 |
| Dancescapes, featuring JMU's Virginia Repertory Dance Company (MS) | Dec. 1-3 |
| Holidayfest: Light from the Darkness (CH) | Dec. 9-10 |
| Karla Bonoff and Livingston Taylor – Together in Concert (CH) | Dec. 13 |
| DRUM TAO (MS) | Jan. 19 |
| *Erth's Dinosaur Zoo Live! (WH) | Jan. 28 |
| Sofia Philharmonic Orchestra – The National Orchestra of Bulgaria (CH) | Feb. 3 |
| Chelsey Green and The Green Project (CH) | Feb. 9 |
| Opera Spotlight (RH) | Feb. 12-13 |
| American Horn Quartet (CH) | Feb. 17 |
| International Guitar Night with Luca Stricagnoli, Thu Le, Marco Pereira, and Minnie Marks (CH) | Feb. 27 |
| *The SpongeBob Musical (MS) | Feb. 27 – Mar. 3 |
| tenThing Brass Ensemble (CH) | Mar. 3 |
| *Call of the Wild: Illustrated Edition (MS) | Mar. 7 |
| Kitka (CH) | Mar. 22 |
| *Movie Musical Magic (MS) | Mar. 23 |
| New Voices in Dance featuring JMU's Contemporary Dance Ensemble (MS) | Apr. 5-7 |
| Riders to the Sea and Suor Angelica, featuring the JMU Opera Theatre (CH) | Apr. 6-7 |
| The Birds (A Modern Adaptation of Aristophanes' Comedy) (ST) | Apr. 9-14 |
| Boca Tuya (EJM) | Apr. 13-14 |
| JMU Symphony Honors Concert (CH) | Apr. 21 |
| Dance Nation (MS) | Apr. 23-28 |
| Letters Aloud – The Road to Fame (MS) | May 4 |
*Denotes a Forbes Family Fun event
VENUES
(CH) CONCERT HALL • (RH) RECITAL HALL • (MS) MAINSTAGE THEATRE • (EJM) EARLYNN J. MILLER DANCE THEATRE • (AUBC) ATLANTIC UNION BANK CENTER • (ST) STUDIO THEATRE • (WH) WILSON HALL
Contact
Morgan Mowbray
Director of Marketing and Branding
College of Visual and Performing Arts
mowbramr@jmu.edu