JMU News
STAD Welcomes Grammy-nominated Composer Tarik O'Regan During "New Voices in Dance"
Featuring JMU's Contemporary Dance Ensemble and JMU School of Music Groups
---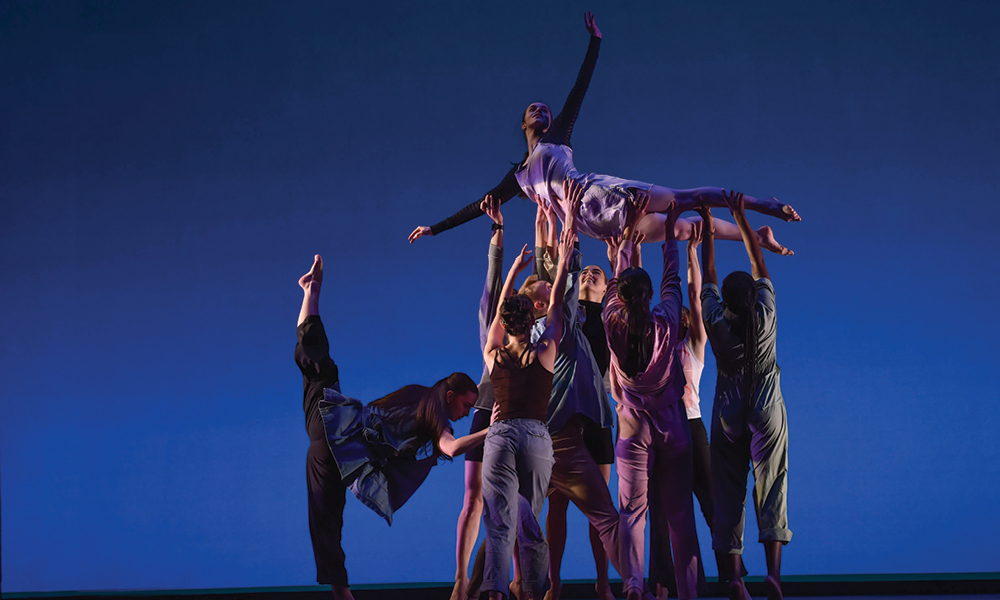 HARRISONBURG, VA – The James Madison University School of Theatre and Dance is gearing up for their spring concert with the premiere of a new dance work choreographed by Rubén Graciani, dean of JMU's College of Visual and Performing Arts and professor of dance, set to Grammy-nominated composer Tarik O'Regan's evocative, three movement composition, Triptych. O'Regan (b. 1978) is considered "one of the leading composers of his generation (Gramophone).  
Featuring over 75 dancers, musicians and vocalists, New Voices in Dance is in collaboration with JMU's Madison Singers and Chorale, a School of Music marimba ensemble and JMU dance students. The combined choirs total 65 singers, accompanied by eight mallet percussionists from the studio of JMU Associate Professor of Percussion, Casey Cangelosi, in addition to a vocal soloist, JMU sophomore, Sophie Castro.
O'Regan's work is influenced by his dual Arab and Irish Heritage. His uplifting and unifying piece Triptych explores ideas about what happens when we die, drawn from Jewish, Islamic and Christian texts. The composition includes poetic fragments conveying "a personal belief in the inherent unity at the heart of all faiths and philosophies – PEACE." (The CHORAL SCHOLAR). 
"This work represents a deep exploration of the human condition and is told through multiple artistic media. I am thrilled to be amongst and collaborating with such a wide range of student performers, faculty designers, conductors and a renowned guest artist," said Graciani.  
This concert represents a unique opportunity to have the composer, O'Regan, in residence engaging with JMU's student dance and music performers, and to host a pre-show audience talk on Sunday, April 2 talking about Triptych.   
O'Regan is a London-born composer based in San Francisco and a Composer-in-Residence with Philharmonia Baroque Orchestra. His output, recognized with two GRAMMY® nominations (including Best Classical Album) and two Ivors®, has been recorded on over 40 albums and is published exclusively by Novello. O' Regan's music is described as "exquisite and delicate" (The Washington Post) and "sublime: a piece that you didn't want to end" (The Times, London) generating "previously unheard sound worlds with astonishing effect" (The Philadelphia Inquirer). One of his commissioned works will premiere at His Majesty King Charles III Coronation Service at Westminster Abbey. 
New Voices in Dance premiers Friday, March 31, 2023, and Saturday, April 1 at 8 pm followed by a Sunday performance on April 2 at 2 pm held in the Mainstage Theatre at Forbes Center for the Performing Arts. The pre-show talk with Tarik O' Regan and Rubén Graciani will take place from 1:15 to 1:45 PM in the Concert Hall.   
For tickets and information, visit https://jmuforbescenter.com/index.shtml. To learn more about JMU's School of Theatre and Dance, visit https://www.jmu.edu/theatredance/index.shtml. For information on The Forbes Center for the Performing Arts, visit https://jmuforbescenter.com/ or follow them on Facebook. 
###