College of Visual and Performing Arts Stories
Forbes Center Announces 2022–2023 Masterpiece Season
Lviv National Philharmonic Orchestra of Ukraine, Soweto Gospel Choir, Dublin Irish Dance, 'AND SO WE WALKED' Top List of New Shows
---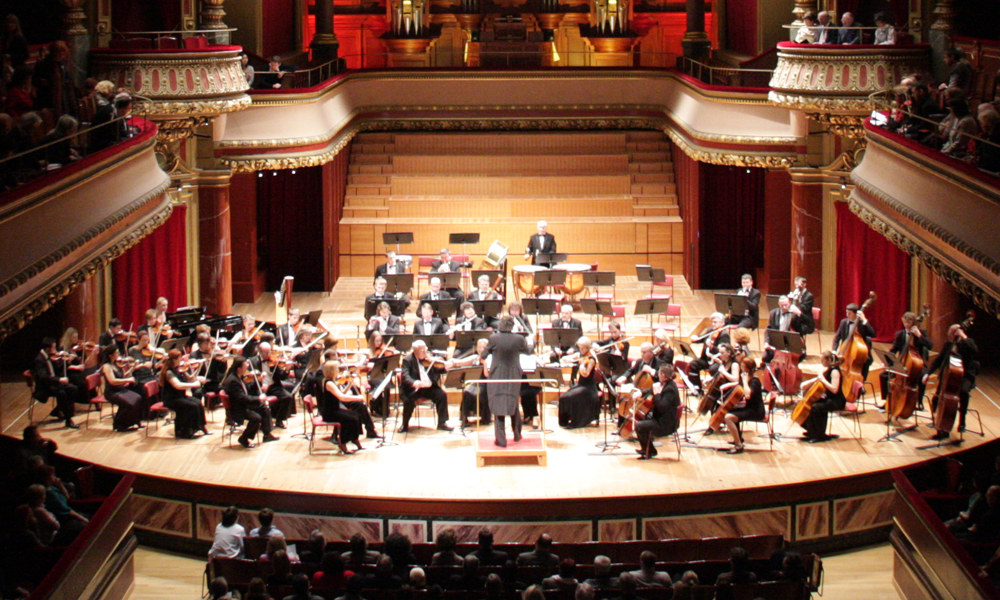 June 24, 2022 - The Forbes Center for the Performing Arts at James Madison University has announced its 2022–2023 Masterpiece Season. The season includes 33 Masterpiece events and features performances/work by Grammy and Latin Grammy-winning musicians, other world-renowned guest artists, ensembles and orchestras, and award-winning JMU theatre, dance and music students and faculty. The 2022–2023 Masterpiece Season sponsor is Kathy Moran Wealth Group.
Topping the list are performances by Forbes Center "Encore" artists including the Lviv National Orchestra of Ukraine featuring piano soloist Stanislav Khristenko and violin soloist Vladyslava Luchenko, the "spirited and spectacular" (The New York Times) Soweto Gospel Choir, Dublin Irish Dance in Wings: A Celtic Dance Celebration, as well as DeLanna Studi's memoir and critically-acclaimed solo play AND SO WE WALKED: An Artist's Journey Along the Trail of Tears.
Other Encore performances include Whose Live Anyway?, a show of hilarious improvised comedy and song featuring the cast of the Emmy-nominated television show Whose Line Is It Anyway?; The Wailin' Jennys, a trio of female songbirds whose folk/roots music is "guaranteed to tug at your heartstrings" (HuffPost); Songs We Love, a journey through the first 50 years of jazz song featuring Jazz at Lincoln Center Presents' hottest rising musicians; piano virtuoso Awadagin Pratt, whose exciting program will display his "enormous dynamic range" (The Boston Musical Intelligencer); award-winning artist Dasha Kelly Hamilton in Makin' Cake, a one-woman show serving up a conversation about equity in America; and a live recording of Mountain Stage in partnership with WMRA radio.
Rounding out the list of Encore shows are the Latin Grammy-winning Cuarteto Latinoamericano, one of the world's foremost string quartets, in an evening of Mexican music and art; England-based Tenebrae, "one of the best choirs in the world" (St. Louis Post-Dispatch); Septura, seven British brass superstars with an "irresistible" (The Observer) sound; Meeting Mozart, an interactive show exploring Mozart's beloved music by Australia's CDP Theatre Producers; and well-known comedian, actor and mad scientist David Epley as his alter ego Doktor Kaboom in Look Out! Science is Coming!
Meeting Mozart and Doktor Kaboom are "Forbes Family Fun" events this season, as is Movie Musical Magic, a revue featuring JMU musical theatre students performing songs from Disney, Pixar, and other classic family movies. Forbes Family Fun events are geared toward young audiences and their families. Meeting Mozart, Doktor Kaboom and Makin' Cake will give matinee performances for students in Rockingham County Public Schools and Harrisonburg City Public Schools. A matinee Sensory-Friendly Performance of Movie Musical Magic is being offered in partnership with JMU's Office of Disability Services.
The Masterpiece Season opens September 10–11 with DanceWorks Chicago headlining the New Dance Festival. The contemporary dance company will perform a diverse repertoire, including Purigado, a new work by Rubén Graciani, dean of JMU's College of Visual and Performing Arts (CVPA). In addition, JMU dance majors will perform with DanceWorks Chicago. Other dance events include Dancescapes featuring JMU's Virginia Repertory Dance Company and New Voices in Dance featuring JMU's Contemporary Dance Ensemble and O'Regan's Triptych, a piece that Graciani will premiere in collaboration with The Madison Singers, JMU Chorale, a marimba orchestra and JMU dance students.
The three-day Contemporary Music Festival features the music of Ingrid Stölzel and Dale Trumbore. Stölzel will premiere a new string trio commissioned by the festival, and Trumbore is a prominent Los Angeles-based choral composer. Members of the Madison Jazz Collective join Grammy-nominated tenor saxophonist Melissa Aldana to perform a program of jazz standards in the CVPA Cultural Connections Artist-in-Residence Event. Holidayfest and the JMU Symphony Honors Concert return to the lineup along with Songstress Sojoun, a showcase of singer-songwriters from the Shenandoah Valley presented by the Forbes Center in partnership with WMRA radio. The Forbes Center will also partner with the Harrisonburg International Festival for its inaugural Forbes International Music Celebration.
The JMU Opera Theater will perform The Rake's Progress, a neoclassical operatic gem by celebrated composer Igor Stravinsky, and Claudio Monteverdi's final masterpiece L'incoronazione di Poppea (The Coronation of Poppea).
In addition to Movie Musical Magic, the School of Theatre and Dance will present Stephen Karam's The Humans, winner of the 2016 Tony Award for Best Play; Rent, "the exhilarating landmark rock opera" (The New York Times) by Jonathan Larson; Chicago, winner of six Tonys, including Best Revival of a Musical; and Karel Čapek's popular play R.U.R., which gave the world the word "robot."
Other Masterpiece events include a gallery tour and reception for Savoring the Moon: Japanese Art of the Floating World at Lisanby Museum in Festival as well as a gallery tour and reception for Both Sides of the River at Duke Hall Gallery.
Subscriptions are on sale now at the Forbes Center Box Office in person or by phone at (540) 568-7000. Single tickets go on sale to the general public on Thursday, July 7th and will be available—along with subscriptions—at the box office or jmuforbescenter.com.
Lviv National Philharmonic photo courtesy of Lviv National Philharmonic.