College of Visual and Performing Arts Stories
Dr. Earlynn J. Miller Named 2022 Circle of Excellence in the Arts Award Winner by Forbes Center, Arts Council of the Valley, and JMU's College of Visual and Performing Arts
---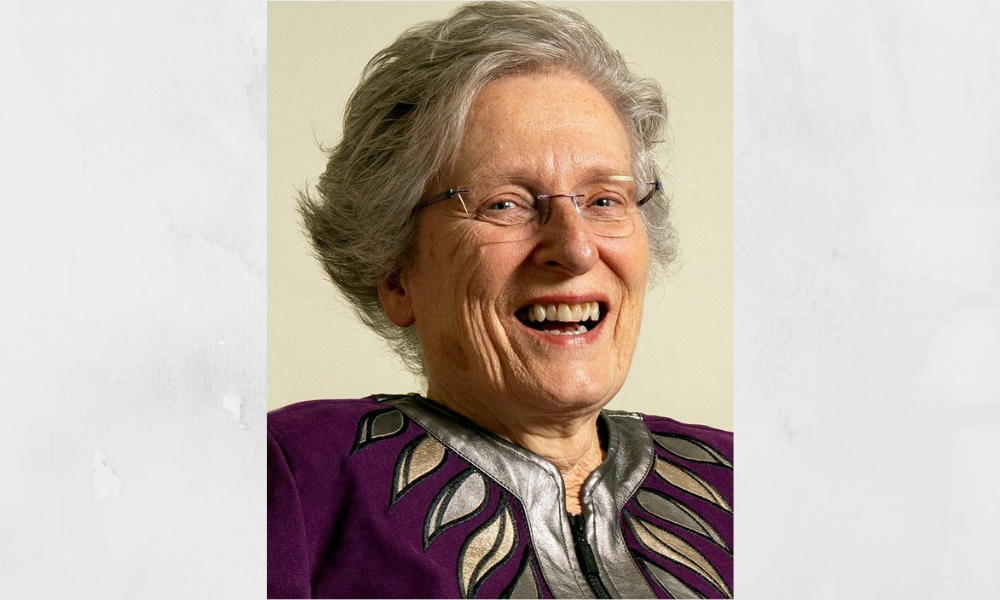 June 24, 2022 - Founder of the JMU Dance Program and an avid arts supporter, Earlynn J. Miller (1941–2021) nurtured thousands of artists, students and community arts organizations in the Shenandoah Valley. Dr. Miller is this year's recipient of the Circle of Excellence in the Arts Award, presented posthumously at the Forbes Center for the Performing Arts at James Madison University on Thursday, June 23, 2022. The award is co-sponsored by the Forbes Center, the Arts Council of the Valley, and College of Visual and Performing Arts at JMU.
"Earlynn was a philanthropist, artist, dancer, teacher, friend and arts patron who contributed greatly to the artistic vitality of JMU and the Shenandoah Valley. We miss her and honor her legacy with this year's Circle of Excellence in the Arts Award," says Regan Byrne, executive director of the Forbes Center.
Dr. Miller grew up in Peoria, Illinois, where she took classes in the arts. She developed a special interest in dance and earned a B.S. in physical education & dance from Illinois State University in 1962. She furthered her education in the arts at the University of North Carolina at Greensboro, where she obtained an M.F.A. in dance & art in 1963 and an Ed.D. in dance, art & research in 1969.
Dr. Miller began a 30-year career as a full-time dance faculty member at JMU in 1969. Her hiring inaugurated a dance program with a minor and major and a department of full-time faculty. The "Mother of the JMU Dance Program," as Dr. Miller was affectionately called, directed the folk and modern dance ensembles, traveling throughout Virginia and beyond to showcase their work. In addition, she designed folk costumes and collected hundreds of them. Dr. Miller retired with a faculty emerita status in 1999.
Dr. Miller received both state and national recognition for her illustrious career. She was an honor award recipient for her professional leadership in the Virginia Association for Health, Physical Education, Recreation and Dance (VAHPERD). The National Dance Association (NDA) of the American Alliance for Health, Physical Education, Recreation and Dance (AAHPERD) named her an NDA Scholar in 1988 and prestigious Heritage Award recipient in 2007.
In retirement, Dr. Miller gave generously of her time and finances to the arts at JMU. She attended countless arts events, performances, and exhibitions with partner Donald Albright. Her named gift, the Earlynn J. Miller Dance Theatre in the Forbes Center, allows dance students to attend class and perform in a state-of-the-art space. Her establishment of the Dr. Earlynn J. Miller Scholarship for Dance supports students in their pursuit of a dance degree. Dr. Miller was also a supporter of local arts organizations, including Harrisonburg Dance Cooperative and the Arts Council of the Valley, among others.
Dr. Miller left an incredible legacy of financial support with two funds to be managed by The Community Foundation of Harrisonburg and Rockingham County—one to support the arts and artists in the Shenandoah Valley and one to support the arts at JMU. She also bequeathed her house, a showplace of art, to JMU.
Comprised of the Dorothy Thomasson Estes Center for Theatre and Dance and the Shirley Hanson Roberts Center for Music Performance, the Forbes Center for the Performing Arts at James Madison University is committed to fostering interdisciplinary programs campus-wide that impact the creative process positively by encouraging dialogue about the intersection between society and the arts, and by valuing multicultural and community engagement and arts education in the broader Shenandoah Valley.
The Arts Council of the Valley (ACV) is a 501(c)3 nonprofit dedicated to cultivating the arts and connecting communities in Harrisonburg and Rockingham County. Since its establishment in 2000, ACV has grown into a multifaceted community organization that fosters innovative partnerships among area businesses, civic organizations, schools, and artists. Today, ACV manages Court Square Theater and Smith House Galleries, funds local art projects through its Advancing the Arts grant program, and coordinates monthly First Fridays of the Valley community gatherings.