College of Visual and Performing Arts Stories
'IN/ovation: Student Celebration' Raises $135,000 for Arts Scholarships
---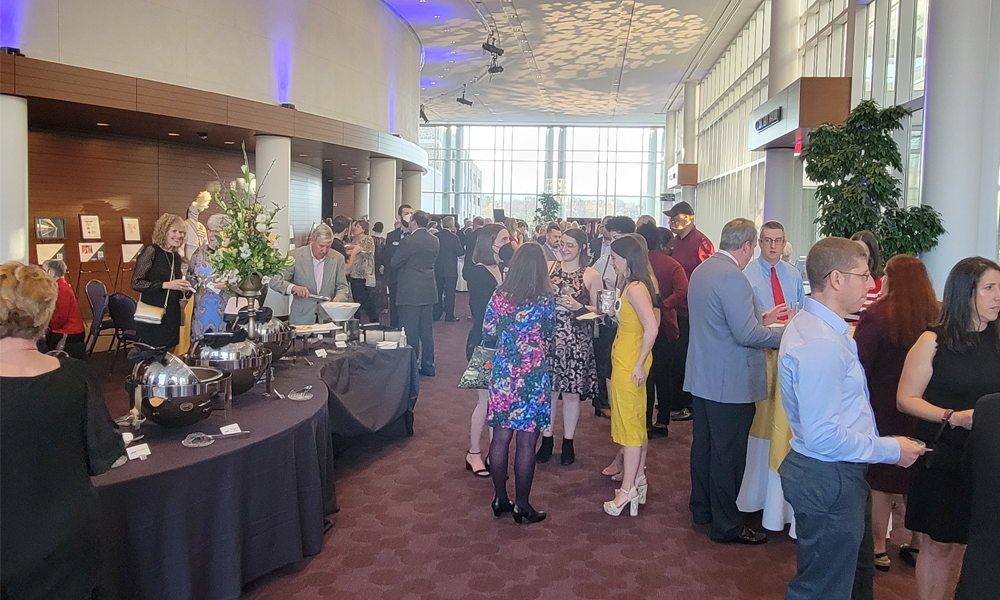 June 14, 2022 - "IN/ovation: Student Celebration," hosted by the College of Visual and Performing Arts (CVPA) at James Madison University on March 26, 2022, helped to raise $135,000 for student scholarships in the arts. The event featuring live and silent auctions, poetry, student and alumni artwork, and student performances honored the late CVPA Dean Dr. George Sparks with proceeds benefitting the Dr. George E. Sparks Scholarship Endowment.
"As someone who would not be where I am today without the incredible generosity of scholarship donors, I know all too well how impactful our fundraising can be," said Rubén Graciani, dean of the CVPA. "We have almost doubled the CVPA Scholarship Endowment and that means that we have doubled the number of students we can support with the endowment." Graciani added, "The arts are critical to the human experience, and with this collective effort, we have ensured that more young artists will get the support they need to pursue their dreams and make an impact on our communities."
Dr. Sparks served as the inaugural dean of JMU's CVPA from 2008–2020. He was renowned for his commitment to students, faculty and staff, and worked tirelessly to advance the arts at JMU and beyond. The CVPA Scholarship Endowment was renamed in his honor and represents the College's ongoing commitment to creating possibilities for the next generation of artists who have the talent but not the means to pursue the excellent education and training in the CVPA.
Help to continue Dr. Spark's legacy of support and generosity by donating to the Dr. George E. Sparks CVPA Scholarship Endowment. Give online here.
Note: With funds from this event, Giving Day and additional gifts, the CVPA is only $15,000 away from being able to name the Concert Hall stage after Dr. Sparks.