College of Visual and Performing Arts Stories
CVPA Scholarship Series: Jacob Dickey
---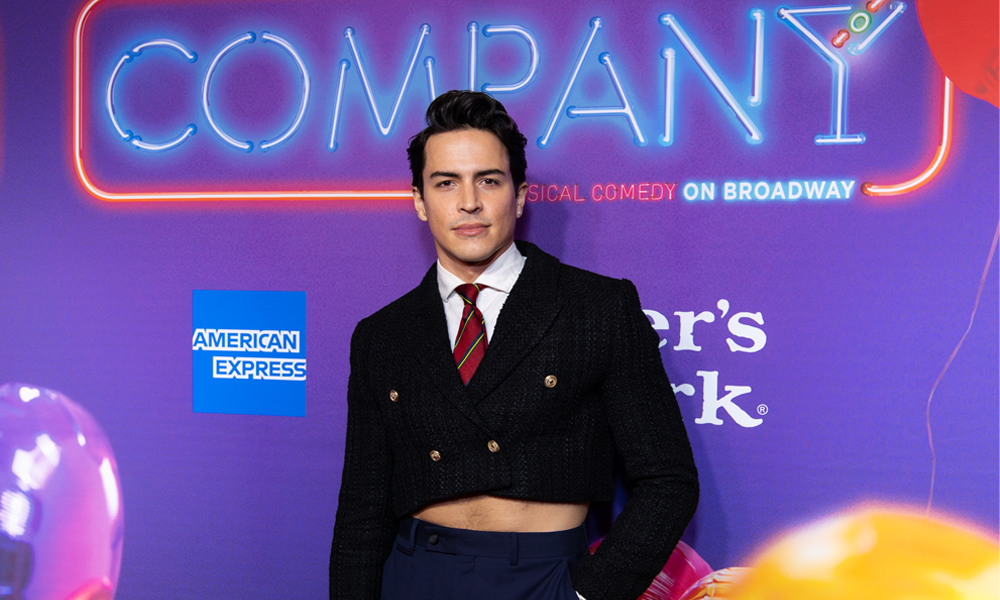 SUMMARY: CVPA scholarship recipient and musical theatre grad Jacob Dickey ('13) is pictured from the red carpet on opening night of the Broadway musical comedy "Company," a show he dreamed about being on since high school.
---
Hometown: Virginia Beach, Virginia
Major(s)/Minor(s): Musical theatre major
Scholarship(s): Theatre General Scholarship
What does it mean to you to have received a Theatre General Scholarship to study musical theatre at JMU?
Any support to pursue training in the arts is a privilege and a gift. I have been blessed to have had support from a young age and for that I am forever grateful.
What does the Giving Day 2022 theme "Dukes 2gether" mean to you? Share a time when you were a part of Dukes working together while at JMU.
My greatest takeaway from JMU will always be the relationships I made. My two chosen circles were theatre and a cappella (Hey, Overtones! Hey, what?), both intrinsically collaborative, creative and social spaces to inhabit. In those spaces, I was lucky enough to work with some of the best people I know every day and form bonds that have lasted long past graduation day (one of those bonds being my husband, Sean Grady!).
How did the late CVPA Dean George Sparks impact your college career?
Dean Sparks was a generous and vocal supporter of the arts and as a theatre student at a large public college, that kind of support was essential and affirming. Our program, which has grown tenfold even since my days in Forbes, would not be what it is today without his attention and care.
You are currently playing a New Yorker in the Broadway production of Company starring Patti LuPone, with music and lyrics by Stephen Sondheim. What does it mean to you to have the opportunity to share the stage with Patti LuPone, who performed COULDA, WOULDA, SHOULDA… played that role at the Forbes Center in 2013.
Full. Circle. I had already graduated when Patti came to JMU, but my husband Sean sang with her in that concert and a few months later she performed at my first acting job post-graduation in Charleston, South Carolina. To have had those experiences nearly 10 years ago and to now share the same Broadway stage with her in a dream show with a dream cast is beyond. Life is very cute sometimes.
What does it mean to be a part of a Stephen Sondheim show at time when his life and legacy are being remembered?
Everything. Company has been a dream of mine since high school and to be part of it now at this exact moment is surreal to say the least. A week before his death, Stephen came to our first preview and afterward held court by the theatre bar late into the night. It was a magical evening and to have had that experience so close to his final moments, while performing in a production he was so proud of, is something I will never take for granted. Stephen was so excited about the show and the audience. He kept telling us to "remember this night and this feeling," and I will.
What professional experiences prepared you for your role in Company?
In addition to being in the ensemble, I understudy three principal roles in Company. Had I not spent the last four years in a very similar track at Aladdin on Broadway understudying the titular role and few others, I don't think the process here would have been quite as relaxed for me. Not that it was easy! Understudying multiple roles is incredibly difficult and requires a very specific set of skills. Four years of practice in a huge Broadway spectacular with a lot of moving parts like Aladdin certainly prepared me for this!
How did JMU prepare you for the real world/what you're doing now?
I definitely learn by doing, and the opportunities I was given as a student at JMU taught me so much about myself as a person and as an artist. But to be honest, it all goes back to relationships for me. I certainly have a lot of life to live (knock on wood), but I can confidently say that relationships are all that really matter. The friendships I formed at JMU and that I continue to nurture are some of the most important things in my life. JMU prepared me for life by arming me with a beautiful chosen family!
What else would you like to add?
If someone could figure out how to send me a pumpkin milkshake from Kline's, that would be much appreciated.

Photo of Jacob Dickey courtesy of Jacob Dickey.