CVPA Spotlight Series: Meredith Garretson and Sara Tomko
College of Visual and Performing Arts Stories
---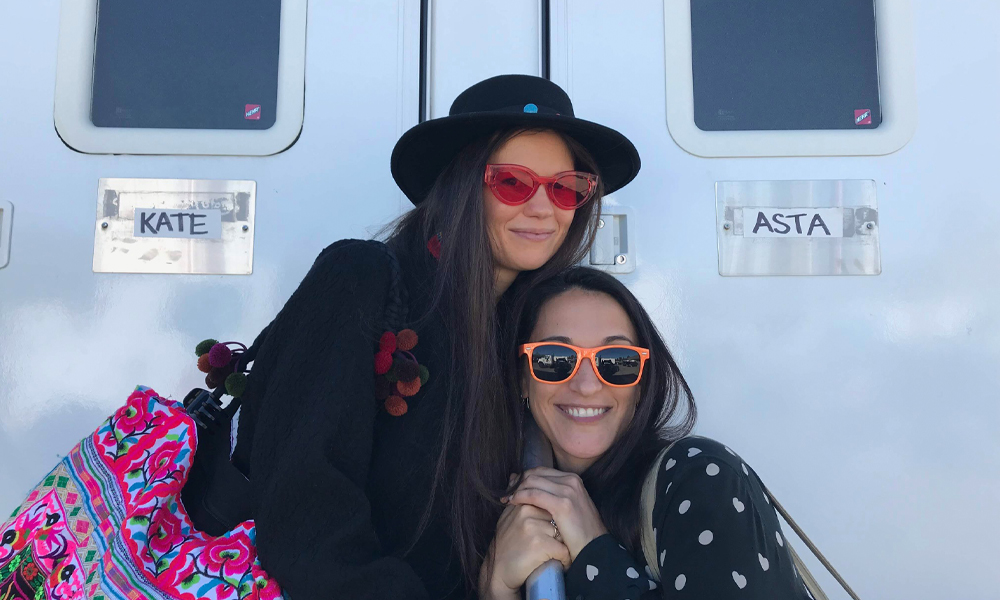 SUMMARY: Musical theatre alumnae Meredith Garretson and Sara Tomko are close friends who met at JMU. The two are starring in the sci-fi series "Resident Alien," Meredith as Kate Hawthorne and Sara as Asta Twelvetrees.
---
By Jen Kulju ('04M)
Meredith Garretson and Sara Tomko grew up 35 miles from one another in Northern Virginia—Meredith in Alexandria and Sara in Manassas. When Meredith was little, she wrote, directed and starred in her own plays that she "forced" her sibling and cousins to participate in each summer. Meredith continued to take part in plays throughout high school, and also enjoyed movies. Sara watched "a lot of movies" with her brothers growing up in a military family. She got her start in show choir, which led to musicals, and then to plays.
Meredith and Sara met at JMU their freshman year. Meredith entered as a School of Media Arts & Design (SMAD) major pursuing photojournalism, but quickly began exploring other options, including classes in pre-med, anthropology and Spanish. "I knew JMU was a good school, and I felt like there would be room to dip my toes in a bunch of different places," shares Meredith on her decision to attend Madison. After her freshman year, Meredith concluded that her class selections were oscillating around understanding the human condition and telling stories; she told her parents she had to be an actress. Sara came to JMU to study musical theatre after experiencing "a friendliness, familiarity, and feeling of warmth" on a campus visit. "JMU just has this vibe and energy, and I liked that people held the doors open for one another," says Sara.
Meredith and Sara had musical theatre classes together starting their freshman year. "Sara sang, danced, and was the best actress in the department," says Meredith. "I knew her as a kind person who was incredibly talented." Sara played Mrs. Taylor, the mother, in Bat Boy: The Musical, and "fell in love" with experimental theatre. "It wasn't until being in the black box theatre at JMU and turning the lights off and dancing in the dark and exploring my feelings of this human experience that I fell in love with acting in a different way." Sara was a member of The Overtones, a co-ed a cappella group at JMU; she and Meredith both became members of the theatre organization, Stratford Players, their sophomore year.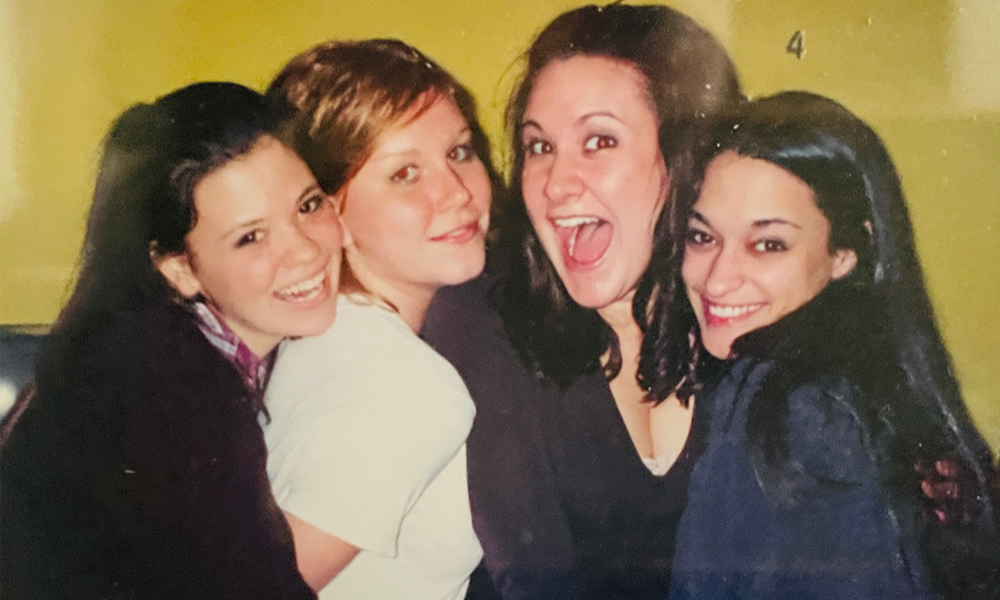 Friends Meredith Garretson, 

Ariella (Bowden) Knight, Leigh Diveris, and 

Sara

Tomko (pictured left to right) met at JMU.
Meredith and Sara's friend circles merged after Meredith got in the Musical Theatre Program her junior year. While at JMU, Meredith played Reno in Anything Goes and had a supporting role in The Mystery of Edwin Drood. "The Theatre department taught me to be scrappy, resourceful, and creative," reveals Meredith. "We were encouraged to create something from nothing using our imagination. I remember staying up all night to set up a show with my friend in Theatre II." (Theatre II was a former chicken hatchery.) "The purpose of that experimental space was to fail, fail big, risk, and risk big."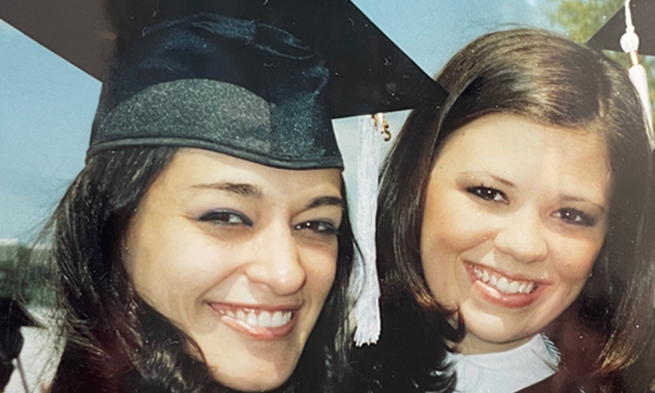 Since graduating from JMU, Meredith and Sara have gotten even closer despite having careers that took them in two different directions. Meredith started in regional theatre in Virginia, working at Barter Theatre in Abington and Mill Mountain Theatre in Roanoke. Then she moved to New York, where she started her own theatre company and trained at a two-year Meisner acting program. A "perpetual student," Meredith decided to pursue an M.F.A. from NYU's Grad Acting Program in 2014 to enhance her training and open up potential opportunities. Since 2017, she has guest starred on The Good Fight, Fosse/Verdon, Prodigal Son, and is currently appearing on the sci-fi comedy drama series Resident Alien.
Meredith and Sara have kept each other going by sharing their experiences through hours of phone conversations over the years. After graduation, Sara sang, dance and acted for a couple of years at Sketch Comedy and Cabaret in Columbus, Ohio, before moving to Los Angeles. During her 14 years in L.A., Sara has landed roles in Once Upon a Time, The Leftovers, Sneaky Pete, and others, including the lead female role on Resident Alien. Sara was the first to book Resident Alien and called Meredith to tell her. "I was beside myself with joy," exclaims Meredith. "It has been my privilege to watch Sara thrive and be rewarded for her talent and integrity." Later, when Meredith booked the same show, she and Sara "cried and giggled" on a call over FaceTime. "Mere and I always talked about living in the same cities and being on the same show. There's no way to describe the feeling that we had when it finally came true. We pinch ourselves and just keep saying to each other, "Can you believe it!?"
Photos courtesy of Meredith Garretson and Sara Tomko