CVPA Spotlight Series: Joanne Sakamoto
College of Visual and Performing Arts Stories
---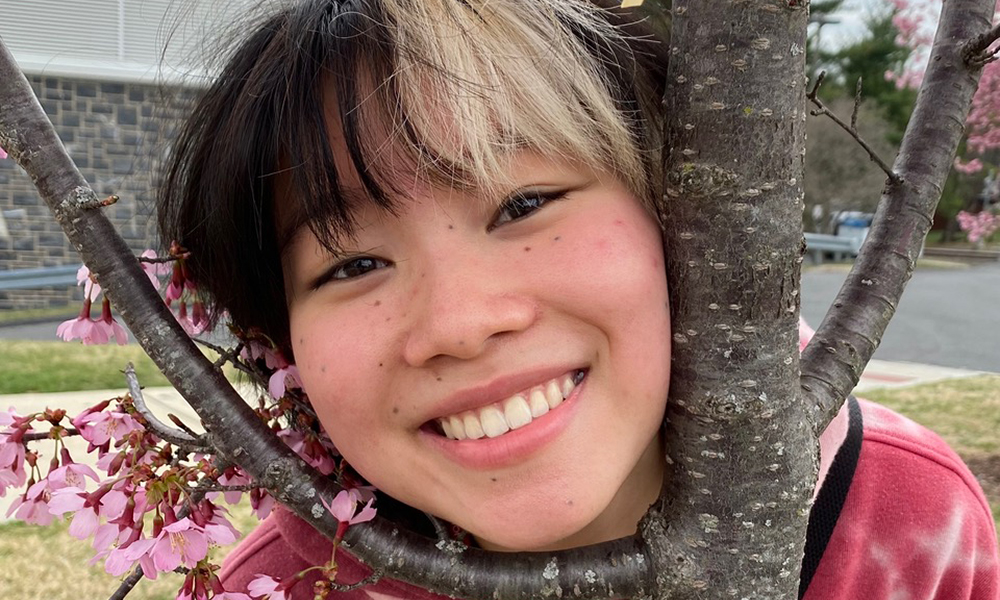 SUMMARY: Freshman Joanne Sakamoto is the recipient of a Madison Award for Academic Excellence and Lisanby Scholarship.
---
By Jen Kulju ('04M)
Joanne Sakamoto spent time drawing with her mom growing up in Roanoke, Virginia, which "rubbed off' on her. Sakamoto says she continued to draw in art classes throughout elementary, middle and high school—and "was decently good at it." In ninth grade, she was accepted into a four-year art program at Burton Center for Arts & Technology, which she attended for three hours every other day while taking the rest of her classes at Hidden Valley High School. In high school, Sakamoto was already thinking about college and how she would pay for it. Her senior year, she won an $8,000 Project Yellow Light scholarship for creating a video PSA that encouraged her friends to drive safely and not use their phone while driving. Sakamoto says she "cares about safe driving" even though she doesn't drive. In the summer of 2020, her video was turned into an Ad Council PSA and distributed to 1,600 television stations nationwide.
Sakamoto is entering the competition again this year as a freshman art studio major at JMU, where she received a Madison Award for Academic Excellence and Lisanby Scholarship. "The two scholarships finalized my college decision," states Sakamoto. "I was above the moon having done a portfolio review at JMU and investing considerable time in the art program." Sakamoto has adjusted to online college courses during COVID, but says she misses the in-person social interaction of art classes—and looks forward to joining art and astrology clubs after the pandemic. Sakamoto is currently a member of the Asian Studio Union at JMU, and enjoys applying Asian themes to her work. She also likes drawing and oil painting portraits and still lifes, and is excited to explore other art forms in the years ahead.
Photo courtesy of Joanne Sakamoto