A Twins' Legacy in the Arts at JMU
College of Visual and Performing Arts Stories
---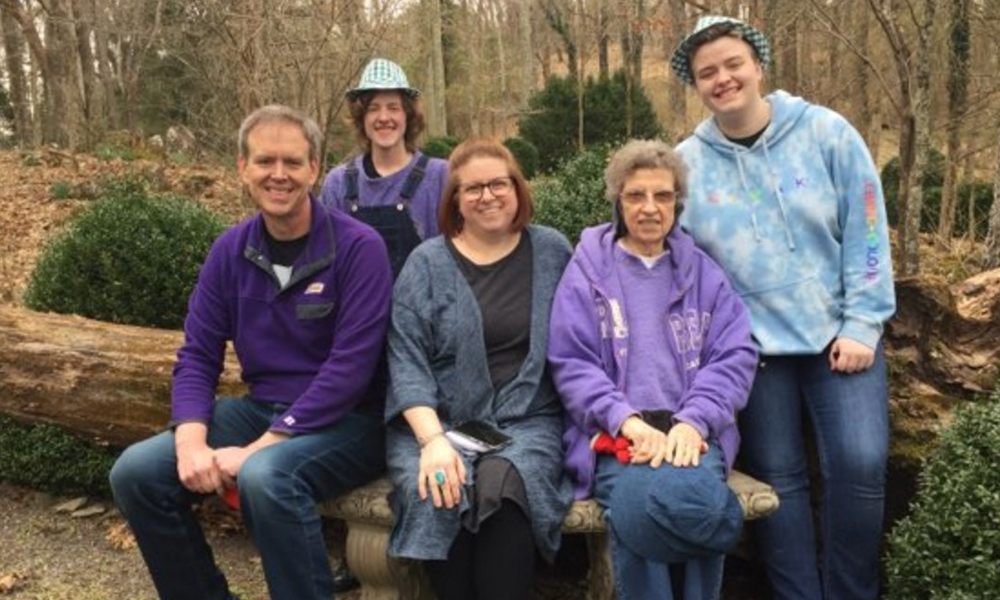 SUMMARY: Sophomore twins Kate and Marian Woodington are following in their family's footsteps by studying the arts at JMU. Kate is pursuing an art degree like her father, and Marian is pursuing a music degree like her mother and grandmother. (Kate and Marian are pictured standing left to right in the back row; their father, mother and grandmother are seated left to right in the front row.)
---
By Jen Kulju ('04M)
Sophomore twins Marian and Kate Woodington come from a family who bleeds purple and "is invested in the arts at JMU." Marian is studying music like her grandmother Jerry Sutliff Keen ('62) and mother Sarah Keen Woodington ('92). Kate is pursuing a degree in art like her father Bob Woodington ('92). The sisters' aunt, Teri Woodington Christiansen ('96), also graduated from JMU with a math major. "We're a big JMU family," exclaims Marian. "Growing up, we would always visit campus for events." (Marian is pictured below on a campus visit with her mother and grandmother.) Marian and Kate grew up with their parents—who met at Madison—and older sister Elizabeth in Midlothian, Virginia, where the arts took center stage.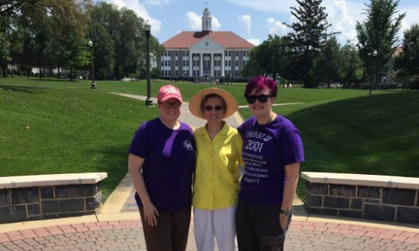 "It's hard to remember a time when I wasn't involved in music," shares Marian, a vocal music education major. "I have so many memories… like sitting on the piano bench next to my mom and trying to copy her singing… and poking at the piano." Marian says she learned a lot about playing the piano from her mom, a composition major who sang and played the French horn, as well as her grandma, who majored in music education, sang, and played the clarinet. The three sisters also had their own band, participated in youth choir, played in a church music ensemble, put on plays, and came up with dance routines to songs they liked.
"I always enjoyed singing and performing, but when I got to middle school, I wanted to play alto saxophone in the band," recalls Marian. "My parents reminded me that I enjoyed singing, had a beautiful voice and should try choir. I agreed to do it for two weeks and loved it." Marian continued in choir throughout middle school while Kate played the French horn in the band. "I loved playing as part of an ensemble," remembers Kate. In the eighth grade, after many years of drawing as a child and lessons from her dad (who especially enjoyed making comic strips), Kate took her first art class—and was hooked.
The twins parted ways for high school, which they say ultimately helped their relationship because it allowed them to pursue their own paths. Marian attended Appomattox Regional Governor's School for the Arts & Technology (ARGS) for singing. During her freshman year at ARGS, she formed a treble singing choir with upperclassmen; as a sophomore, she composed a piece, taught it to the choir, and conducted it in a concert. "I decided then that teaching was the way I wanted to go," says Marian. Kate went to Midlothian High School, where for four years she played French horn in the band and mellophone in the marching band. She also deepened her knowledge of art and honed her skills through AP art classes and painting, printmaking and sculpting projects. Her dad continued to influence her art by encouraging her to think about the meaning behind what she was creating. He also encouraged her to think about JMU for college through campus visits (pictured below) and by sharing his admiration for the arts program.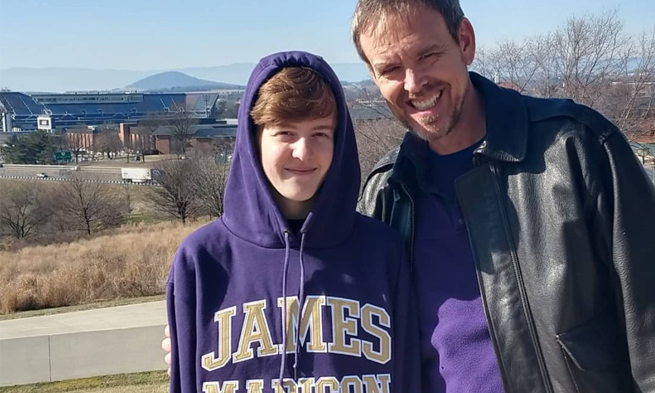 Kate decided to put all her "eggs in one basket" and apply to JMU. She got in and couldn't be happier with her decision to attend. "Aside from my parents' love of it, I love the location. I love the mountains. It's an open place socially in that people greet one another and hold doors open for one another, but also physically in the way that the campus is laid out." Kate says she also likes the school colors and the fact that JMU is in-state and just two hours from home. And while "home" is near Richmond, Marian says her dad advised her to ask herself what could be home for the next four years when looking at colleges. Marian weighed her options—and even considered studying astrophysics until her mom asked her: "If you had to do something every day, what would it be?" It was music for Marian, and the JMU Vocal Arts Summer Camp she had attended in high school and rehearsal of The Madison Singers during a tour stood out as selling points for JMU. Eventually, the welcoming environment, School of Music and its faculty, campus food and small-town feel won over Marian. She decided to become a Duke.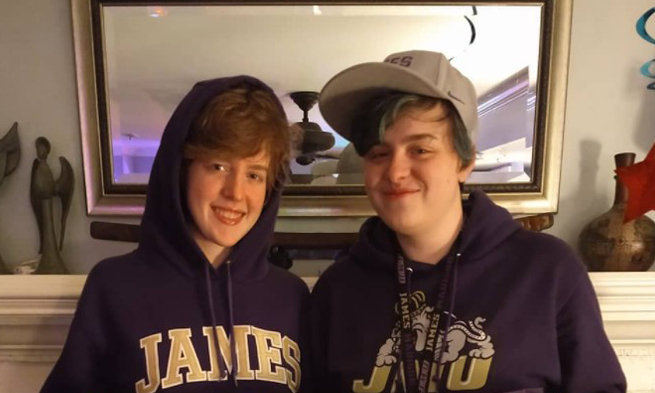 Since coming to JMU in the fall of 2019, Marian and Kate have been finding their niches. Marian sang in the University Women's Chorus and Treble Chamber Choir (TCC) her freshman year and is singing in the TCC and JMU Chorale this year. She is also in the JMU Opera Guild and works on the School of Music's "stream team," applying "very helpful" music technology skills picked up in high school. In addition to singing and playing the piano, Marian also plays the guitar and ukulele. Kate played the mellophone as a Marching Royal Duke (see picture with her dad below) during her freshman and sophomore years. This semester, she is focused on her art and deciding what her concentration will be. Kate "mostly" creates two-dimensional drawings and loves working with charcoal. "As an artist, I love making a mess," says Kate. "If my hands get all messy from the charcoal… if I get some on my face, great. It shows the effort that I'm putting into it and that I'm having fun making art." Kate also enjoys printmaking, and is currently taking a class with Jack McCaslin—who also taught her dad while he was earning his B.F.A. in studio art with a concentration in printmaking. Kate's dad is now a data analyst; he has shared with Kate many times how his art degree has helped him to be more creative in a non-arts field.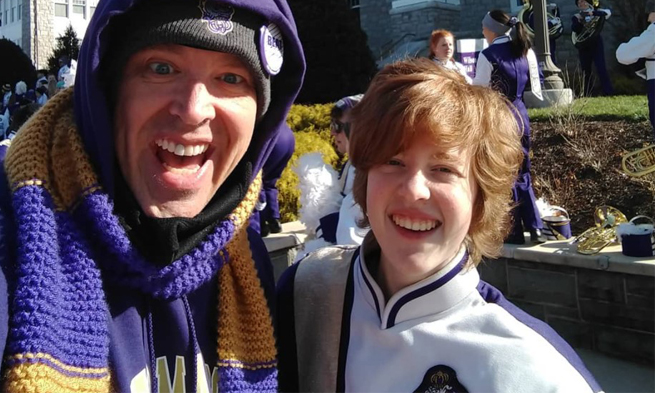 Creativity has been challenging, but has prevailed during COVID for the sibling roommates. Marian and Kate lived together in Wayland Hall their freshman year before moving to an off-campus apartment their sophomore year. "It's nice, and we have a good relationship," reveals Marian. I've always admired Kate for being able to remain calm in every situation and for her art." Because the two "share a lot of the same interests," according to Kate, they can help each other with classes and artistic endeavors. During COVID, Kate has been able to create art that is more personal due to working from her own space while Marian has been writing songs and reevaluating her college and career goals in music education. Marian says she has struggled both personally and artistically with only being able to see her parents and grandparents for "a couple of socially distanced meals" during COVID. But the family connection—one rooted in love for one another, the arts, and JMU—remains strong. "It's crazy to me that Kate and I have this legacy, but it's so great, and it brings our family closer."
Photos courtesy of Marian Woodington