College of Visual and Performing Arts Stories
'Madison Moment' Spurs Alumni Giving to Support Art Faculty and Staff
Inaugural Beck Faculty Fellowship Awarded for 2020–2021
---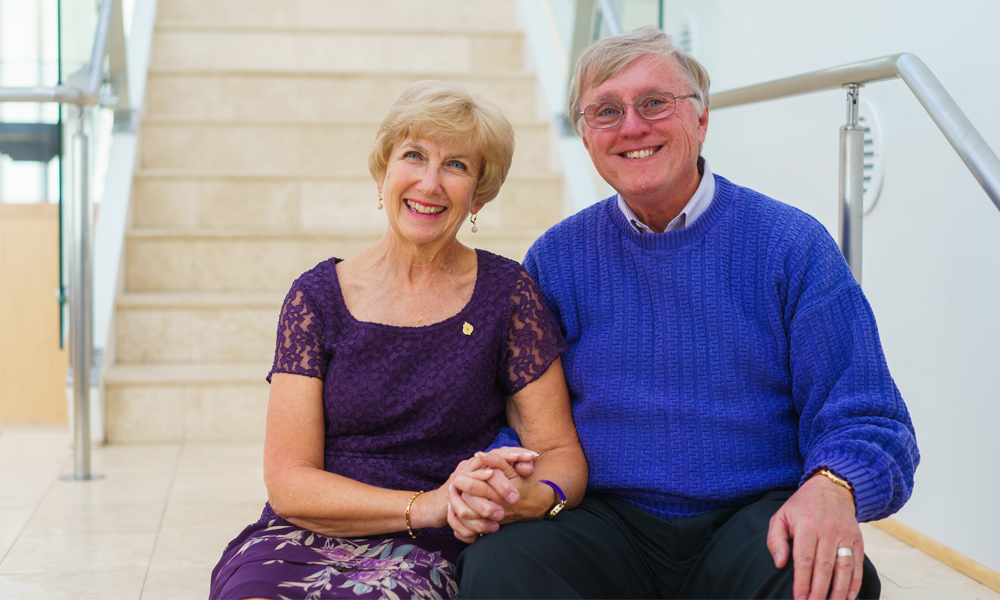 SUMMARY: The Beck Faculty Fellowship is presented annually to a full-time faculty member in the School of Art, Design and Art History who shares a vision for the visual arts on campus and in the surrounding community.
---
By Jen Kulju ('04M)
Christina (Tina) Updike grew up taking art classes at Walter Johnson High School in Bethesda, Maryland, inspired by a mother who was an artist. "Mom started out doing pencil work… very detailed, beautiful sketches… and then moved to painting. She mainly worked in oils and then switched to acrylics, which were less expensive, as they became popular." According to Tina, her mom won several first-prize awards in local art shows in the D.C. area—and even designed the stained glass window in the chancel of North Bethesda United Methodist Church, where Tina would marry Phillip (Phil) Updike in 1974.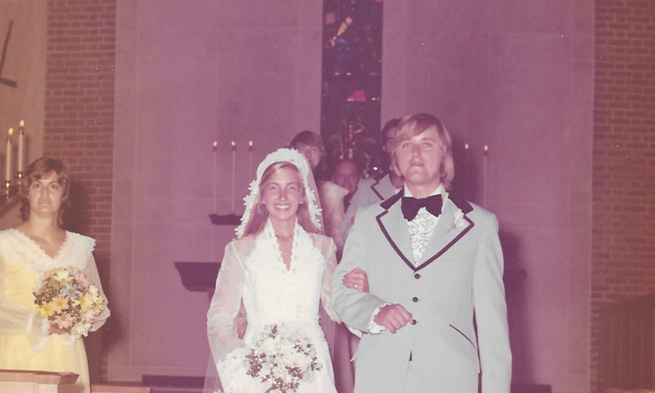 Tina and Phil met on a blind date set up by a friend of his during their freshman year at Madison. Tina "wanted to be an art teacher in the public school system, and Madison College was known for its teacher training." She had discovered the university after driving with her dad to take one of her three sisters back to college in West Virginia. Phil hailed from Harrisonburg and came from a family of six children. He started out studying accounting, but changed his major to marketing when the degree was created during his sophomore year. Phil would go on to graduate as one of the first marketing majors from the College of Business in 1973, the same year Tina graduated with a studio art degree with teaching certification and a minor in art history from the School of Art and Art History (now James Madison University's School of Art, Design and Art History or SADAH).
As new alumni, Tina and Phil made a pact to live wherever one of them could find a full-time job first. Phil landed a marketing position with WHSV-TV in Harrisonburg and soon after Tina was hired by Madison College's School of Art and Art History as the visual resources specialist after a serendipitous encounter with her former art history professor, Dr. Martha Caldwell. "I ran into Dr. Caldwell on the Quad and told her I was looking for work. She told me the art department had recently hired someone for the newly created visual resources specialist position. Later that day, the woman who had accepted the job changed her mind, and I was offered it based on my academic transcripts."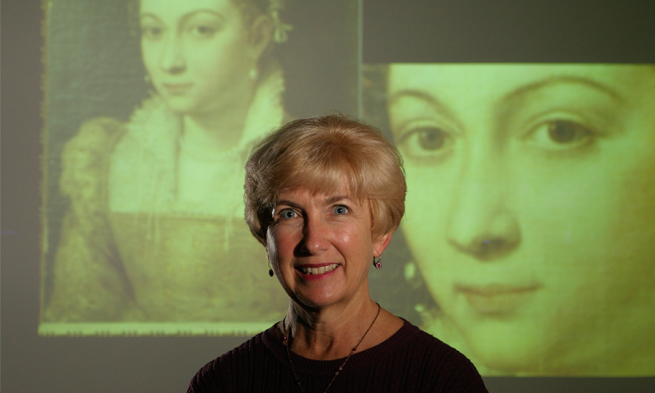 Tina started as visual resources specialist on September 1, 1974, and went on to serve in the position for 38 years. During her tenure, Tina envisioned and helped to implement the Madison Digital Image Database (MDID), a digital library of more than 120,000 images. She, along with art history professor Dr. Kathleen G. Arthur, received a JMU technology mGrant from the Center for Instructional Technology (CIT) to develop the digital image database for classroom teaching and student study of art history in 1997. Tina worked with CIT staff members Craig Baugher, Kevin Hegg and Andreas Knab to create an image archiving and multimedia teaching web application, and MDID was rolled out for use by JMU students and faculty in Fall 1998. Three years later, MDID was made available as freely distributed open source application software that institutions could use to house their own digital images. MDID is now an educational tool that is used by over several hundred institutions worldwide.
In 2002, with Tina continuing her work on MDID and Phil having transitioned into a career in real estate, the couple decided to establish a gift at their alma mater that would support professional development opportunities for faculty and staff in SADAH. They contacted the JMU Foundation and learned that interest accrued from a Professorship would eventually allow them to provide SADAH with a steady pool of funding for such opportunities. Tina and Phil created the Paul and Lillieanna Beck Professorship with an estate commitment in honor of her parents (pictured below).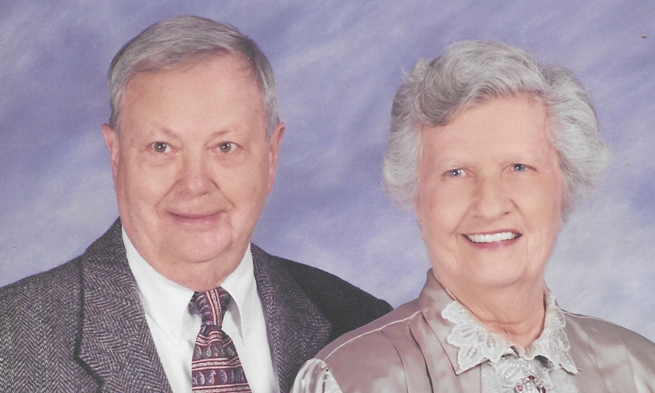 "They were thrilled and honored," shares Tina of her parents' response to the establishment of the Professorship in their name. After Tina and her sisters left home, her mom Lillieanna pursued her artwork and graduated with a certificate from the Corcoran School of Arts & Design. Her dad Paul had a 50-year career as a Certified Public Accountant. Tina's parents bought a second home at Massanutten and traveled from Bethesda "quite often" before fully retiring in the Shenandoah Valley, says Tina. "They loved JMU. They went to plays, art shows, summer dinner theatre, and Holidayfest at the Forbes Center." Lillieanna passed away in 2010, the same year the Forbes Center opened; Paul passed in 2016. Lillieanna's paintings (like the one below) can be seen throughout the Updike's home, in family member residences, and in the community at Sentara RMH Medical Center as well as Brookdale Senior Living where Tina's parents lived for many years.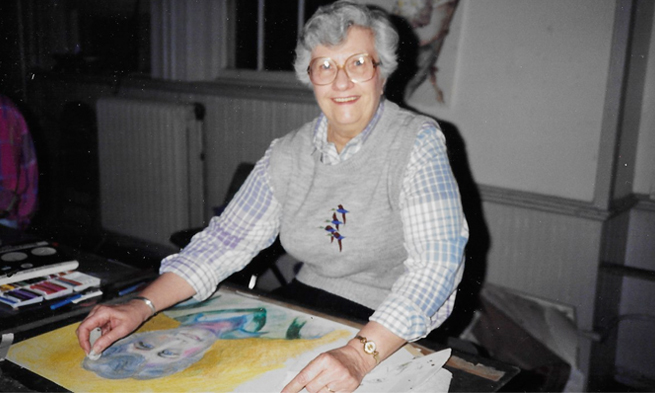 Over the years, funding provided by the Professorship has afforded many opportunities for art faculty and staff to further their teaching and development. In 2020, Tina and Phil learned that the fund balance for the Professorship had reached the Fellowship level, and they decided to offer the inaugural Paul and Lillieanna Beck Faculty Fellowship. The Beck Faculty Fellowship will be presented annually to a full-time faculty member in SADAH who shares a vision for the visual arts in the campus and surrounding community. A Fellow must be deeply involved with JMU students, giving them opportunities to learn and thrive, and a leader who advances the visual arts in Harrisonburg City and Rockingham County.
Art professor, painter and diversity leader Susan Zurbrigg was selected by JMU's College of Visual and Performing Arts (CVPA) as its first Beck Faculty Fellowship recipient. Susan joined JMU in 2000 and is the new director of diversity, equity, and inclusion initiatives for the CVPA. Tina worked with Susan for 12 years before retiring with the staff emerita designation in 2012, and Phil knew Susan as a real estate client. "Susan has made an impressive impact on her students, her faculty colleagues and the Harrisonburg/Rockingham community. She is bringing to the forefront the history of the African-American population in our local area, which is so important," says Tina. "In light of what is taking place in America, Susan's work with the CVPA, JMU students, and art students in the public schools is vital," adds Phil.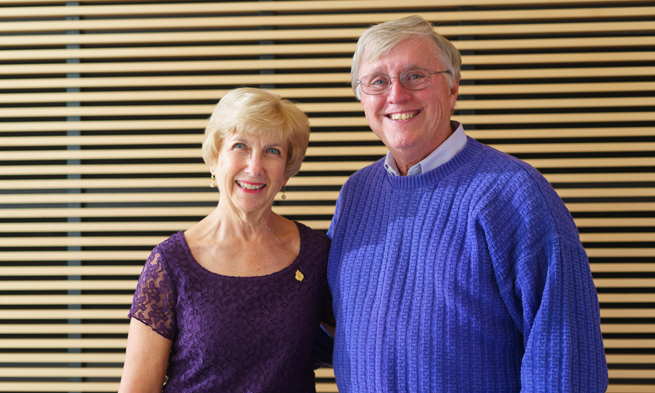 Tina and Phil remain actively committed to JMU. Tina serves as chair of the Staff Emeriti Association, and together they are charter members of the President's Council and longtime members of the Duke Club. Phil recently completed a three-year term as membership chair on the JMU Lifelong Learning Institute Advisory Board. "I think at some point every one of us who comes through JMU arrives at a "Madison Moment," when we realize what we received at the university is invaluable. The only way to represent that Madison Moment fairly is to look at what can be done to perpetuate those types of moments for others in the future," says Phil. "Whether it's $25, $250 or $500, there are a lot of ways to help, and no amount is too small."
Wedding and Beck photos courtesy of the Updikes; all other photos by JMU Creative Media.