College of Visual and Performing Arts
Two Titans Retire from JMU's College of Visual and Performing Arts
Drs. Cole Welter and George Sparks Leave Lasting Leadership
---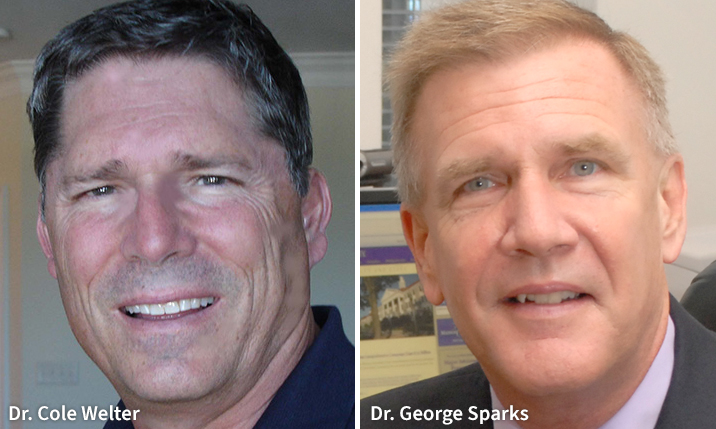 By Jen Kulju ('04M) 
The arts at James Madison University have come a long way since Dr. Cole Welter was hired as an associate professor of art and director of the School of Art and Art History (now the School of Art, Design and Art History or SADAH) in 1995. When Welter joined JMU, the School of Art and Art History enrolled 360 majors, operating with a small staff of three and 32 faculty members in the newly established College of Arts and Letters, which also contained the School of Music, School of Theatre and Dance, and various other schools and departments. Undergraduate art students had the opportunity to major in studio art (B.F.A., B.S., B.A.) or art history (B.A.) and become certified to teach art education; they could also study graphic design or interior design as concentrations within the B.F.A. degree. Graduate art students majored in studio art (M.F.A., M.A.).
By the time Welter stepped down from the director position in 2004, the School of Art and Art History employed over 50 faculty members and served more than 700 majors. While undergraduate art students continued to major in studio art or art history and obtain art education licensure, they now studied interior architecture as a concentration instead of interior design (due to a name change) and could pursue an emphasis in industrial design as part of the B.S. degree. Graduate art students majored in art education (M.A.) and art history (M.A.) in addition to studio art.
Welter fought tirelessly during his tenure as director for enhanced facilities, including a "Center for the Arts," an expansion to Duke Hall, which housed the School of Art and Art History, and a larger studio space for design work. He also championed the creation of a "College of Fine Arts," which would house the School of Art and Art History, the School of Music and the School of Theatre and Dance in an academic structure designed to meet the most demanding needs of fine art majors, and headed by a dean who would "have a seat at the table" with the provost to advocate on the College's behalf.
Dr. Marilou Johnson ('80), who will retire as vice provost for faculty and curriculum in JMU's Academic Affairs in July, served as interim director of the School of Art and Art History for a year when Welter rejoined the faculty in 2004. At the same time, she began serving as the interim dean of the College of Visual and Performing Arts (CVPA), the new home of the School of Art and Art History, the School of Music, and the School of Theatre and Dance, created by President Emeritus Linwood Rose. Johnson stepped into the role of associate dean of the CVPA when Dr. George Sparks was hired as the College's inaugural dean in 2008.
Welter, 'a brilliant, dedicated educator'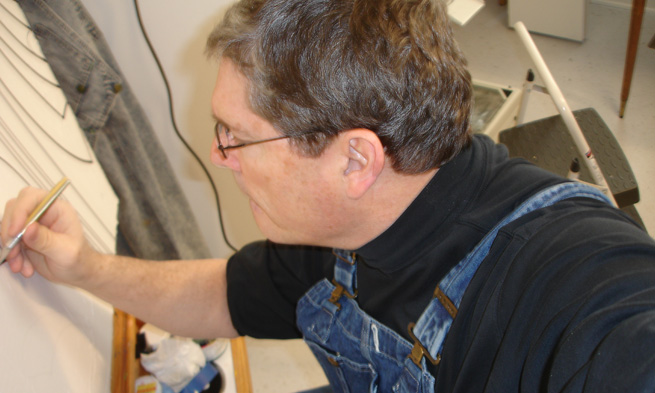 Born in the small town of Watertown, South Dakota, Cole Welter grew up in Denver before his family moved to Texas in the early 1960s. After graduating with his B.F.A. with Honors and M.F.A. in painting from The University of Texas at Austin, Welter moved to New York City in 1978. Welter lived and worked in a large studio loft located on Madison Avenue, and was employed in senior design positions, first for Macmillan Publishers and later for Random House. Welter says he "loved NYC" and "felt comfortable there." Upon being offered the first DeVitt Jones Fellowship in the Fine Arts by Texas Tech University, Welter decided to return to Texas where he earned his Ph.D. from Texas Tech University with a degree in interdisciplinary fine arts and fine arts administration, with a focus on curriculum development—the only program of its type in the country. Welter was recognized as a distinguished alumnus of the Texas Tech College of Visual and Performing Arts in 2004.
Welter's doctorate prepared him well for his job at JMU, which he accepted while serving as a tenured associate professor and chair of the Department of Art at the University of Alaska Anchorage. "It was right up my alley, as I was relatively familiar with the organizational principles of the three arts Schools," shares Welter, who adds that he has enjoyed the community, mountains and four seasons of the Central Shenandoah Valley as well as the quality of faculty, staff and students at Madison.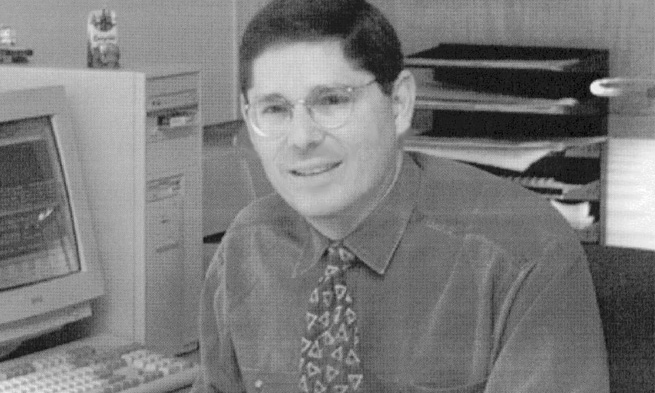 "When I came to JMU, I was about the age of the parents (see 1995 photo from Welter's first semester at Madison above). Now I'm the age of the grandparents. I have enjoyed the interaction with the students… that give-and-take and helping them to see and understand. And I too have learned, about music and other cultures, which has kept me alive and feeling young." A year after starting at JMU 25 years ago, Welter—a prominent painter—was promoted to a professor of art, and since then has taught primarily painting and drawing classes as well as a Professional Practices class focusing on the introductory skills and knowledge needed to become a professional artist.
Over the years, Welter has kept up his own artwork, exhibiting in over 300 solo and group shows in national and international venues (including an exhibition at Shippensburg University pictured below). "Staying in practice is important because you have to be able to do what you're teaching. It feeds what you do in the classroom," says Welter. "It also inspires the students. When they come into your office and see a poster or card announcing a former exhibition, it gives you the opportunity to share and communicate that experience."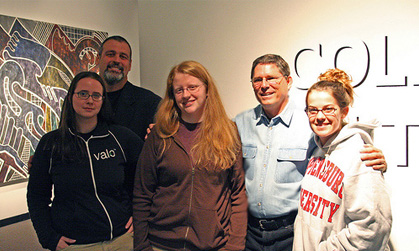 According to Welter, "The social interaction of JMU students is legendary," and Welter has witnessed it firsthand as faculty advisor of the JMU chapter of Kappi Pi International Art Honor Society. Welter has held the role since 1997 and says the JMU chapter is the largest in the nation with over 100 active members. Open to any student at Madison with an interest in the arts, Kappi Pi is "playing a role within the Harrisonburg, Rockingham County, and JMU communities in advancing the purpose and place of the arts in young people's lives," declares Welter.
Welter is "a brilliant, dedicated educator," says Sparks, who met Welter while serving as dean of the CVPA during his first year at JMU in 2008, the same year Welter took on the position as graduate program director of the School of Art and Art History in addition to teaching. Sparks adds, "He has always served graciously and helpfully throughout his career," including as chair of the CVPA Curriculum Committee since 2009. Featuring faculty representatives from each of the three Schools, the CVPA Curriculum Committee reviews proposals and makes recommendations to the dean regarding new courses and programs as well as course deletions and modifications.
Sparks, 'a talented, compassionate and selfless leader'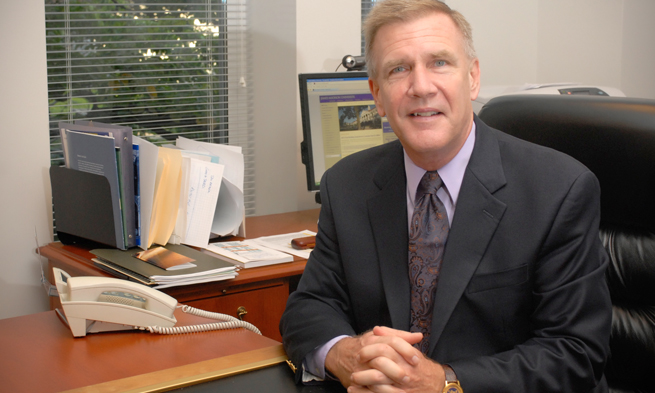 When George Sparks started as dean of the CVPA, he inherited a College that enrolled around 1200 majors (600 art, 400 music, and 200 theatre and dance). Twelve years later, the number of CVPA majors is about the same; and while the total number of majors in each of the Schools has fluctuated slightly over the years, the programs have become increasingly competitive thanks in part to Sparks and his ability to lead the arts through a time of unprecedented change. "He guided our opening of the Forbes Center for the Performing Arts and gave us principles of providing students with professional quality experiences, expanding diversity and inclusion in our instruction and performances/exhibitions, and sharing the arts with our community," shares Johnson.
In a career that has spanned more than 37 years in arts education, Sparks came to JMU from Florida Atlantic University (FAU) where he served as director of the School of the Arts from 2005-2008 and director of bands from 1995-2005. Sparks is also a clarinetist and the founding musical director and conductor of the Wind Symphony of Florida at FAU. Sparks' music background and experience in higher education arts administration allowed him to step into his role in the CVPA and create a culture of collaboration within and between the three Schools—and to take the arts at JMU to the next level.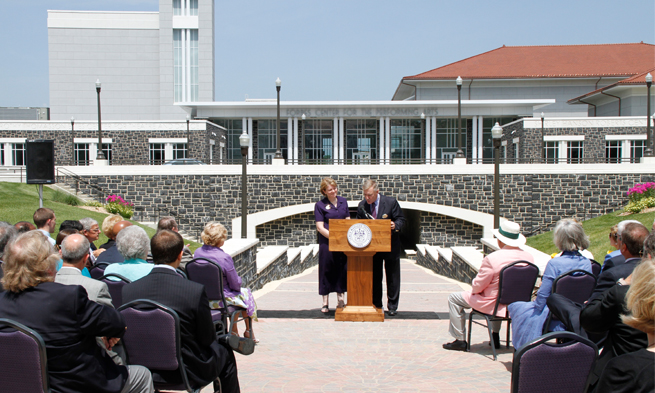 Sparks spent his first two years on campus working toward the June 4, 2010, opening of the Forbes Center, along with Johnson (pictured with Sparks above in the dedication ceremony) and Regan Byrne, who was hired as the executive director of the Forbes Center in 2010. The three built on a commitment to the arts by JMU and President Emeritus Rose—and work done by Welter—to generate a successful model for the Forbes Center. "It was a fantastic experience," says Sparks. "I especially enjoyed watching the evolution of student and faculty work with the move from challenging to state-of-the-art facilities."
While the 90.5 million dollar Forbes Center provided new classroom and performance spaces for performing arts students, visual arts students have benefitted from a 42.9 million dollar renovation to Duke Hall in 2014 that nearly doubled its size and a 1.5 million dollar upgrade to the Studio Design Center in 2015 that allowed graphic design, interior architecture, and industrial design students to work under one roof. These building improvements came after the School of Art and Art History changed its name to the School of Art, Design and Art History in 2011, the same year graphic design became a major. Interior architecture changed its name to architectural design and became a major in 2015; industrial design became a major that same year. The Duke Hall Gallery of Fine Art (formerly Sawhill Gallery) also received a revamp in 2012, the same year the Skyline Museum (renamed The James and Gladys Kemp Lisanby Museum or Lisanby Museum) opened in Festival as an exhibition space for the Madison Art Collection; a new Center for Inclusive Music Engagement (CIME) opened in 2018.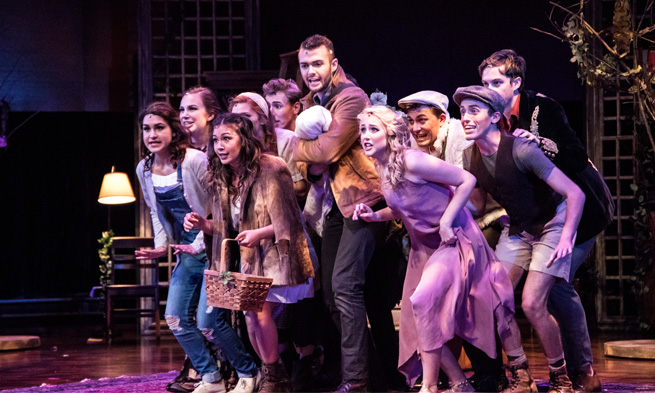 As Sparks prepares to retire, he says some of his favorite memories are of the performances and exhibitions he attended. "I've enjoyed seeing students and faculty progress in their artistic abilities, and you see that in performances, exhibitions, and designs." Sparks recounts being "mesmerized" by the quality of the School of Theatre and Dance's 2018 production of Into the Woods (pictured above), where sitting in the audience he was struck by the thought that his life had been worthwhile to have played even "a little part" in facilitating the change in the level of performance over the years. Updated facilities and on-campus partnerships forged by Sparks with different disciplines have expanded the artistic possibilities for students and faculty. Sparks has been "a kind spirit" and a champion for all the arts at Madison, says Welter.
Sparks is "a talented, compassionate and selfless leader," adds Johnson. "His work over the past 12 years has solidified our arts programs as truly exceptional. His energy and commitment to supporting and nurturing young artists has been unflagging. Because of George we have a phenomenal Arts Learning Community with a residence hall specifically designed for the arts. Because of George we have a Cultural Connections guest artist series that brings diverse artists to campus to work with our students and perform. Because of George we give our arts students the opportunity to learn from and perform with internationally-acclaimed artists who perform at the Forbes Center. Because of George the arts are poised to soar into the next decade."
Cole Welter photos courtesy of Cole Welter; George Sparks and Forbes Center dedication ceremony photo by JMU Creative Media; Into the Woods photo by Hunter Carrico.