College of Visual and Performing Arts
JMU Art Professor Conducts Coral Research with Visits to Reefs in Belize and Australia
Artwork to Raise Awareness of Impact of Climate Change on Coral Reef Ecosystems
---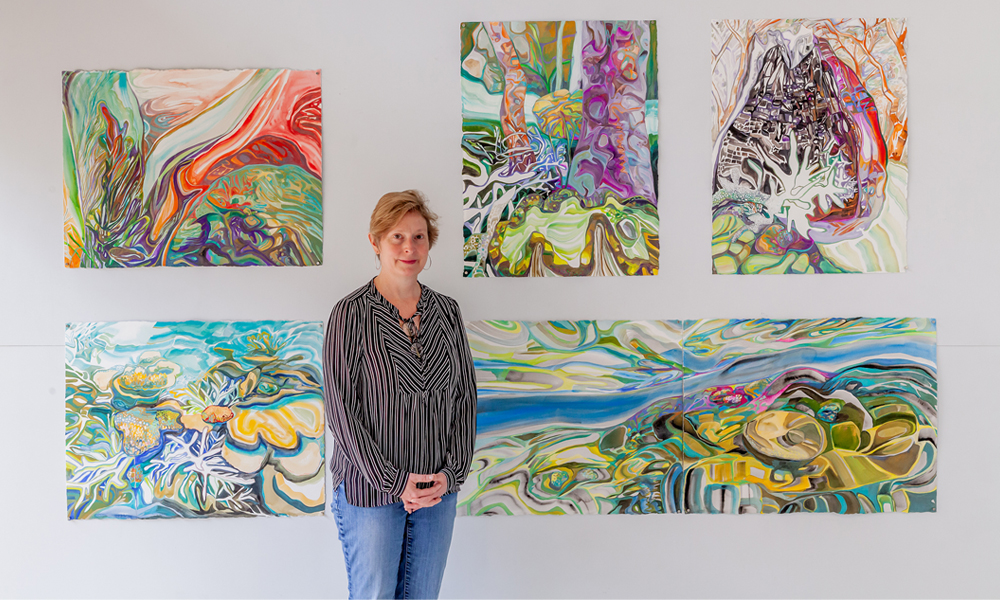 By Jen Kulju ('04M) 
Lisa Tubach has always been interested in incorporating science into her artwork. "My work has always pertained to the environment, health or illness," says Tubach, who joined James Madison University in 2006 and serves as a professor of art in the School of Art, Design and Art History. Tubach is able to capture authentic visual imagery—and sometimes most effectively convey her message—by embarking on scientific excursions. "The fieldwork has become this ritual that is really important to me," shares Tubach.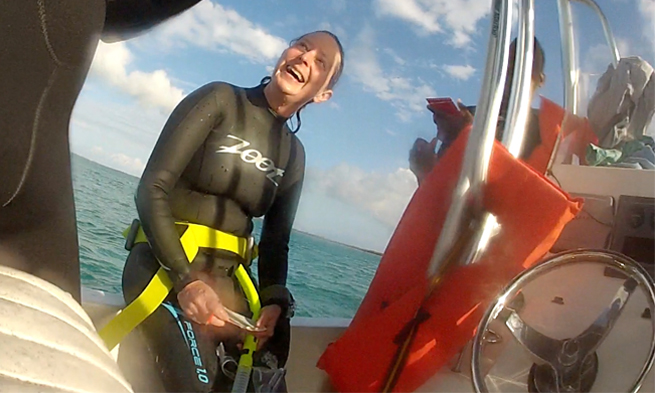 In 2014, Tubach volunteered for a trip to The Bahamas (pictured above) to study coral reefs, where she worked with a team of scientists to perform assessments of the patch reefs (a type of coral reef formation) off of Eleuthera Island. She documented with her GoPro camera her experience of tagging fish to track their interaction with the reefs—and then their health. Fish are an essential part of the coral reef ecosystem; fish and coral reefs rely on each other for survival.
Tubach "loved" her fieldwork experience in The Bahamas, and over the next five years sought out other volunteer coral research opportunities within the scientific community. Her adventures took her to the Gates Coral Lab at the Hawai'i Institute of Marine Biology and to the University of Washington's Friday Harbor Lab in San Juan Island. She engaged in coral garden maintenance in Hawaii, where "super corals" have shown promise in tolerating acidic warmer waters (giving hope that corals around the world could be saved from the effects of climate change), and similar work—but with invertebrates—in San Juan Island.
Following her trips to The Bahamas, Hawaii, and San Juan Island (Washington state), Tubach put in a proposal to visit the two largest reef systems in the world: Belize Barrier Reef in Belize and the Great Barrier Reef in Australia. She wanted to check on and document the status of the reefs given the decline in health of the world's oceans. JMU supported her proposal, and the College of Visual and Performing Arts, the School of Art, Design and Art History, and Center for Global Engagement provided funding.
Baiting Sharks in Belize
In the summer of 2019, Tubach set out on a shark fishing expedition with Earthwatch Institute to the Belize Barrier Reef. Sharks also play a crucial role in the coral reef ecosystem; sharks and coral reefs need each other to remain healthy. However, a rising price for shark fin in Chinese cuisine has led to fishermen killing sharks, which in turn can kill coral reefs. This phenomenon has led to shark conservation efforts, led by teams like the one Tubach was a part of in Belize.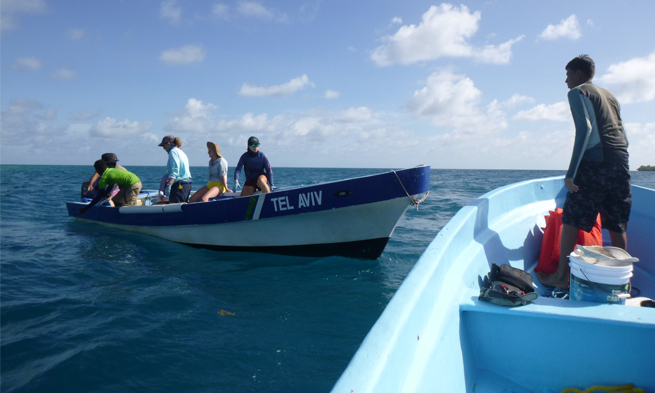 Tubach spent a week in and around Placencia, Belize, as part of a "shark team of women" volunteers and postdocs who went out on captained 12-foot boats to bait sharks (with fishing lines of 900 feet or longer), catch them, tag them, take their DNA, and then let them go. "It was hard work because we were in small boats and would get slammed against the waves trying to get out to the areas where the sharks were, so physically it was grueling," says Tubach.
Tubach and team deployed baited remote underwater video cameras (BRUVs) to monitor the activity of the sharks while waiting for them to take the bait, which could last up to 40 minutes. That time provided the group with the opportunity to "zip over somewhere to snorkel or free dive together." Tubach added a week onto her trip, snorkeling and free diving on her own, performing shark research in the fishing town of Riversdale, and visiting the Hol Chan Marine Reserve in San Pedro.
Battling Bushfire Smoke to Create Art in Australia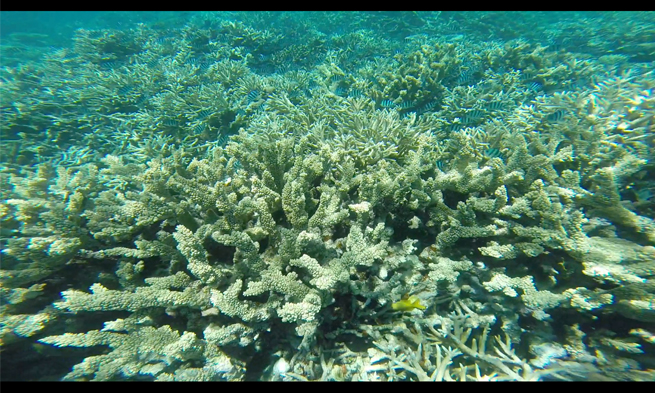 After returning from Belize, Tubach traveled in the fall of 2019 to the Great Barrier Beef in Australia. She spent the first of her eight weeks "Down Under" snorkeling and free diving in the town of Port Douglas in Queensland, where she discovered visually stunning coral reefs on her long day trips. "The Great Barrier Reef is named 'great' for a reason. The entire fields of staghorn corals (a species of coral with antler-like branches pictured above) are unbelievable. They go on and on like a field of corn," exclaims Tubach.
And while there were some parts of the reef that were healthy, according to Tubach, the Great Barrier Reef has struggled—as have coral reefs globally—from the effects of human-induced climate change. In 2020, the Great Barrier Reef suffered its third mass bleaching event in five years as a result of elevated summer sea temperatures. Bleaching damages the health and colors of the corals, and some do not recover. "We often separate ourselves from our natural world," explains Tubach. "By studying coral reefs and featuring them in my artwork, I can raise awareness of what is happening to the reefs and what we can do to offset the problem."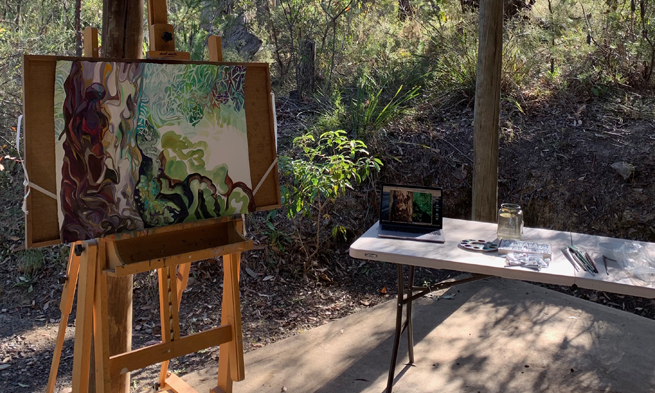 After seeing "as much of the Great Barrier Reef as she could," Tubach made her way to the Blue Mountains in New South Wales for a six-week artist residency at the Bilpin international ground for Creative initiatives (BigCi). Tubach worked out of "The Barn (pictured above)," where she experienced "visitors" including a marsupial bush mouse, geckos, and spiders, as well as wallaby and bird sightings, and light rain that turned the trees and their bark a bright orange color. While the purpose of Tubach's residency was to create artwork from the images she captured at the Great Barrier Reef, she was overtaken by the beauty at BigCi and "had to bring it into the work." The result is a "funky blend" of marine and terrestrial, which Tubach says "makes sense, because the two need each other." "They are also both being challenged because of the carbon dioxide we are putting into the atmosphere," adds Tubach.
Greenhouse gases (carbon dioxide is the main greenhouse gas) are the leading cause of climate change, which along with hot, dry conditions, contributed to the 2019-2020 bushfires in Australia that raged during Tubach's residency to the point of her having to live out of her suitcase and work inside to escape the smoke. "It was scary, and it definitely affected the work," admits Tubach. "The paintings ended up deliberately having light from a smoke-filled sunny day, which is unusual."
The bushfires spared Tubach, her artwork, and BigCi, although nearly the entire area around the artist residency burned after Tubach left Australia in early December 2019. "The fear-of-fire factor shaped the residency in a different way than my previous experiences. It brought some of the issues I speak to in my work even closer," says Tubach, who is sharing the translation of the rich sources of inspiration that her trips to Australia and Belize provided in paintings on her website at www.lisatubach.com. Tubach looks forward to featuring these paintings (and works to come) as well as video from her adventures in future exhibitions.
Photos courtesy of Lisa Tubach.