College of Visual and Performing Arts
JMU Offers Free Online 'Dance for Parkinson's' Classes
New Fellowships Preparing Students to Build 'Dance for Parkinson's' Programs in Other Communities
---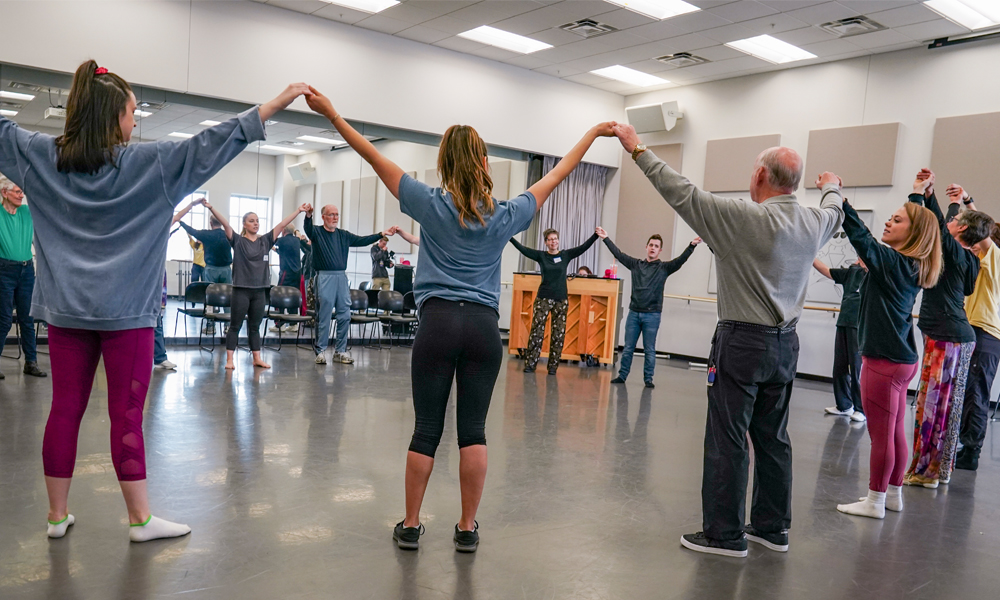 April 21, 2020 - The James Madison University School of Theatre and Dance in partnership with JMU's College of Visual and Performing Arts (CVPA), School of Music and Center for Inclusive Music Engagement will offer free online Dance for Parkinson's classes on Saturdays in the spring of 2020. Classes begin on April 25, and will take place from 10:30-11:45 am. Classes, which include movement and music, are based on the Dance for PD® approach developed by the reputable Brooklyn-based Mark Morris Dance Group, and are open to people with Parkinson's, their families, friends and care partners.
JMU dance professor emerita Trammell, who earned a Wertheimer Fellowship to pursue certification in Dance for PD®, had been offering in-person classes but changed to an online format due to COVID-19.
Trammell says the classes allow participants to experience the joys and benefits of movement and music while creatively addressing symptom-specific concerns related to balance, cognition, motor skill, depression and physical confidence. The classes engage the participants' minds and bodies and allow them to stay connected socially.
"For so many of our members, the Dance for Parkinson's classes may be one of the few opportunities they have in the week to move a bit, exercise their creativity, and feel part of a supportive community," shares Trammell, who adds that the impact of isolation caused by COVID-19 is especially difficult for those with Parkinson's.
Three JMU dance majors—juniors Lauren Abrams, Ashton Clevenger and Chloe Conway—and junior piano music education majors Thomas Hassett and Abby Wiegand will serve as student volunteers for the classes, while JMU faculty musical director/dance accompanist Toby Twining will play live music during the classes.
Abrams, Clevenger, Conway, Hassett and Wiegand were awarded CVPA Undergraduate Research Grants to take an introductory-level Dance for PD® course in Toronto, Canada, which they attended with Trammell from January 31-February 1, 2019. The five students also attended training workshops at the Mark Morris Dance Group in October 2018, funded by the CVPA Dean's Office.
Dance majors freshmen Caraline Christie and Aliza Matthews as well as juniors Deannie Lauterbach and Michelle Wu will also participate as student volunteers in the online classes. These four students received two-year fellowships (along with a JMU Master of Occupational Therapy student and two music education majors who have yet to be named) to pursue Dance for PD® training through the Mark Morris Dance Group thanks to a grant from the Gilliam Center for Entrepreneurship at JMU and additional funding from JMU's CVPA and College of Health and Behavioral Sciences. The Dance for PD® training, combined with Trammell's mentoring/hands-on experience in the JMU Dance for Parkinson's classes, will allow fellowship recipients the opportunity to apply at the end of their two years for the Gilliam Center's Summer Venture Accelerator program, preparing them to build Dance for Parkinson's programs in other communities.
JMU professor emerita of dance Kate Trammell has 30 years of experience teaching dance to people of all ages and abilities. The Mark Morris Dance Group has Dance for PD® programs in 250 communities in 25 countries. A number of leading neurologists and movement disorder specialists around the world include Dance for PD® classes among a shortlist of recommended activities for their patients.
Registration is required. To register, contact Kate Trammell at trammekx@jmu.edu.
Photo of Spring 2019 Dance for Parkinson's class by Richard Finkelstein.