College of Visual and Performing Arts
JMU Arts Students Vie for Best 'Voice of Tomorrow' in Virtual Competition
Free Event Invites Online Audience to Vote for Winner
---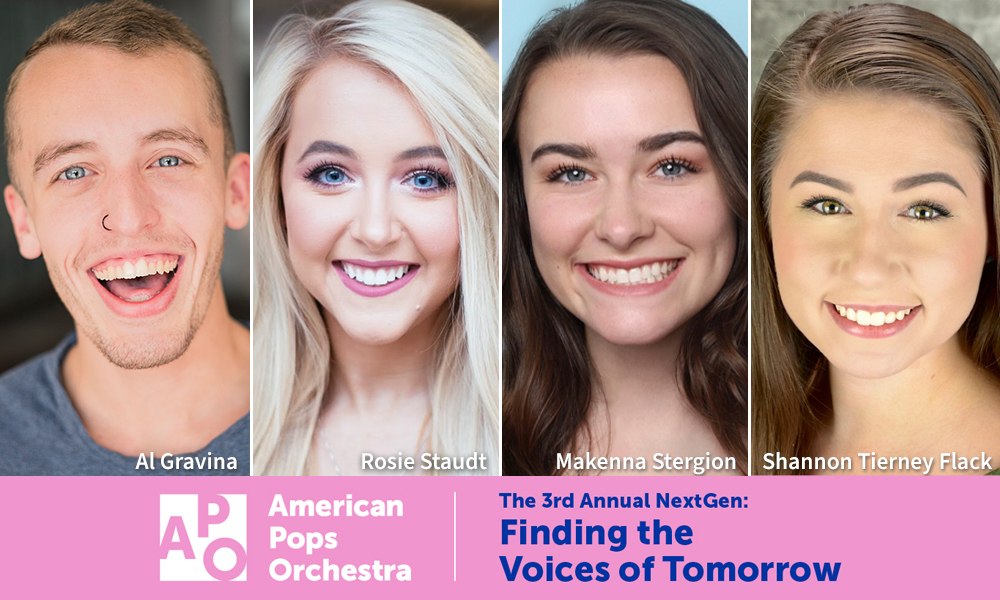 April 13, 2020 - Three musical theatre students in the James Madison University School of Theatre and Dance—juniors Al Gravina and Rosie Staudt and sophomore Makenna Stergion—as well as JMU School of Music sophomore voice student Shannon Tierney Flack were selected to compete as four of 30 semifinalists from 12 university programs in The American Pops Orchestra's 3rd Annual "NextGen: Finding the Voices of Tomorrow" competition to be held virtually on Friday, April 24 and Saturday, April 25 @ 8 pm. The competition, which took place in 2019 at D.C.'s Arena Stage where Staudt and Stergion were both semifinalists, was moved online this year due to COVID-19.
Students will compete for cash prizes and a chance to perform with The American Pops during the 2020-2021 season. Winners will be announced virtually on Sunday, April 26 @ 8 pm, and will be determined by votes from a panel of judges and the online audience.
The free event is open to all interested parties with a registration link. To register, visit www.eventbrite.com and enter "NextGen: Finding the Voices of Tomorrow" in the Search Events box.
The American Pops Orchestra (APO) was founded in 2015 by Maestro Luke Frazier with the aim of breathing new life into orchestral pops programming and inspiring new audiences to discover the wealth of material in the Great American Songbook in dynamic ways.