College of Visual and Performing Arts
Play Conceived by JMU Alumnus Premieres MLK Weekend at Forbes Center
---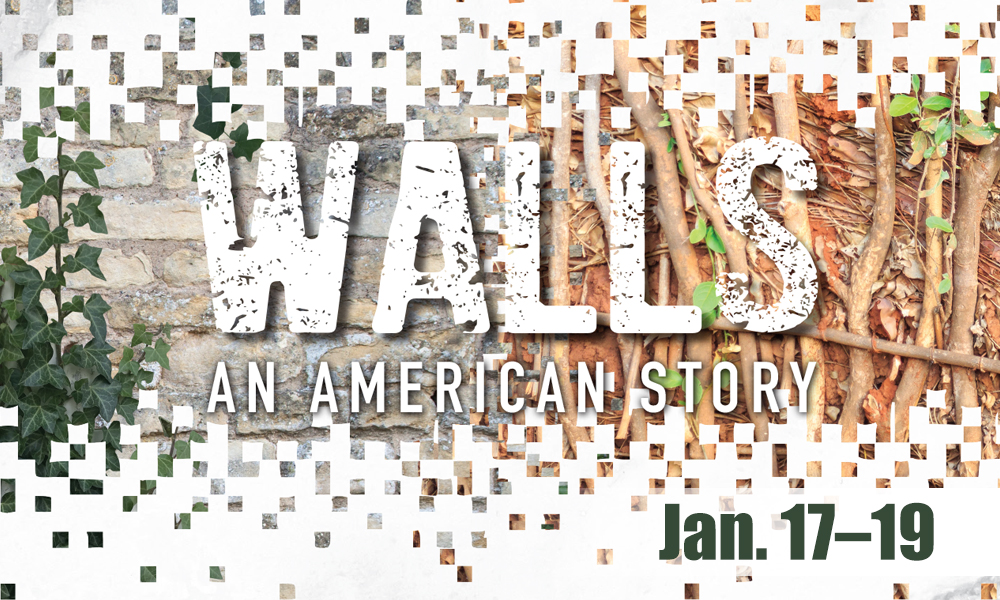 January 13, 2020 - Martin Luther King, Jr. Weekend features the James Madison University School of Theatre and Dance's world premiere of Walls: An American Story, a poignant production about a present-day interracial couple and the journey to break down the barriers between them. Walls is a new play conceived by alumnus Paul Holland ('82) and written and developed by JMU theatre faculty member Ingrid De Sanctis with selections from her 2018 Advanced Playwriting class. Walls takes place Friday, January 17 @ 8 pm, Saturday, January 18 @ 2 pm and 8 pm, and Sunday, January 19 @ 2 pm at the Forbes Center for the Performing Arts.
The story follows Abigail and Carver, played by senior Sierra Orr and junior Carter Crosby, who are engaged to be married. They receive DNA tests as a wedding gift, which leads them to interrogate what it means to marry someone of a difference race. In a "jump-around through their families' histories" seven students serve as storytellers, donning copious costumes to take audiences from Abigail and Carver's loft apartment to periods dating back to the 1600s.
These history scenes—nine of them to be exact—were ideas initially shared by Holland, who came to De Sanctis with the original idea for Walls in 2016 after a DNA test awakened his own family history. Holland, who graduated from JMU with majors in public administration and political science and a minor in business, is a partner at Foundation Capital, one of the nation's leading capital firms. He was the Spring 2009 undergraduate commencement speaker at Madison. 
"Paul is generous and supportive, and I have enjoyed working with him," says De Sanctis. "Paul has helped me to understand the reason for the piece: What are the walls between us? What connects versus disconnects us? And how do we stand in the middle of the difficulty of what it means to blend and honor where we came from, even when the stories are different?"
Three years in the making, Walls is a result of a successful collaboration between Holland and De Sanctis, who led the writing process and exploration with her 2018 Advanced Playwriting class, the current cast, and a team of designers and dramaturgs. The artistic staff includes JMU students Morgan Hall (stage manager), Aamir Alloo and Laura Wade (assistant stage managers) and Emmanuel Kikoni (choreography), faculty/staff members Kathleen Conery (costume design) and Lauren K. Alleyne (dramaturg), as well as guest designers Vandy Wood (set and projection design), Stuart Duke (lighting design) and Nathan Leigh (sound design).
Tickets are $15-$16. For tickets, visit www.jmuforbescenter.com or call the Forbes Center Box Office at (540) 568-7000. 
Walls is made possible by the support of a 2017 JMU Provost Grant and the generosity of Paul Holland and Linda Yates.