College of Visual and Performing Arts
JMU Art Faculty and Students Create Handmade Chapbooks for Furious Flower 25th Anniversary Celebration
---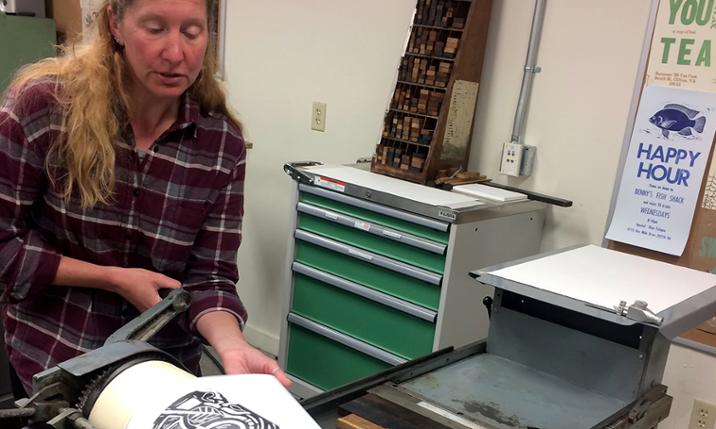 By Jen Kulju ('04M)

September 25, 2019 – James Madison University graphic design professor Dawn McCusker and Dr. Joanne Gabbin, Executive Director of the Furious Flower Poetry Center at JMU, decided back in April 2018 to collaborate on chapbooks—small books that contain compact literary works—for the Furious Flower 25th Anniversary Celebration that takes place September 27-28, 2019, in Washington, D.C.

"Chapbooks and poetry go hand in hand," says McCusker, who committed to the project after soliciting the help of JMU art education professor Dr. Karin Tollefson-Hall (pictured above) and Julia Merkel in JMU's Special Collections. The three met with Gabbin and decided early on that the chapbooks, which date back to 16th century Europe, would feature a handmade cover, 25 poems by prominent African-American poets (to coincide with Furious Flower's 25th Anniversary), and carving interpretations of five of the poems.

JMU art students Kendra Barber ('19), Robert Carter, Luis Navas-Reyes ('18) and Kelsey Waugh were offered the chance to create the carvings under the mentorship of art faculty members Jack McCaslin (printmaking), Trudy Cole (graphic design) and Susan Zurbrigg (painting and drawing). Zurbrigg also created the frontispiece (pictured below), which she says is loosely based on the women of Gee's Bend, for the 147 chapbooks.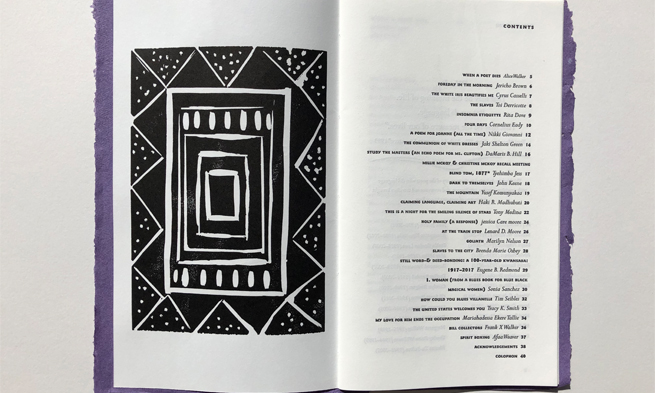 "I wanted to contribute to the continuum of the rich and layered cultural histories of African-American stories," shares Zurbrigg, who like her former student Barber, is of African-American descent. Poets featured in the chapbooks include Nikki Giovanni and Sonia Sanchez. "A number of the Furious Flower poets have been part of my conscious/subconscious, even as a visual artist," adds Zurbrigg.

Waugh, a senior graphic design major who worked with Cole, says her "love of poetry bloomed from the depths of my eighth-grade memories," which helped her to overcome the "foreign and daunting" task of creating a carving despite never having taken a printmaking class. Waugh chose Tony Medina's "This Is a Night for the Smiling Silence of Stars," a poem that possessed a strong visual presence in her mind. She then crafted a carving (pictured below) about light, the message she believed the poem was trying to convey. "I worked with the medium of the linoleum block to create my interpretation of light and the emotional effects it encompasses in a moment."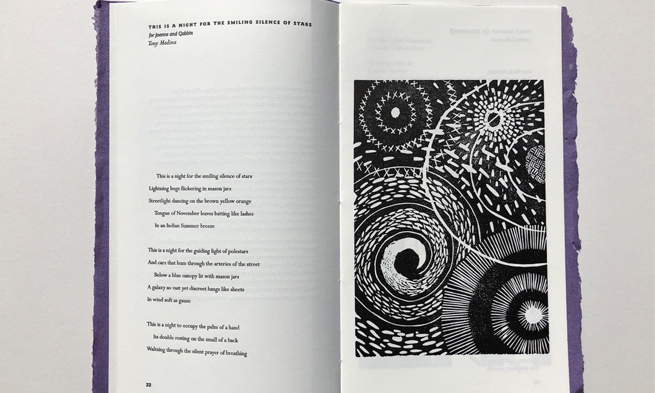 While the students worked on their carvings with guidance from the faculty, McCusker, Tollefson-Hall and Merkel progressed through a series of steps en route to the final product. After McCusker designed a digital mockup, Tollefson-Hall made the handmade paper for the cover. She used a Hollander beater to produce pulp out of various shades of cotton and linen purple recycled shirts cut into one-inch squares.

After the covers and carvings were complete, McCusker and Tollefson-Hall used traditional letterpress methods on two Vandercook presses to print the blocks of the carvings and the poems on "Mohawk Superfine" paper purchased for the inside of the chapbooks. The process took more than 125 hours over a two-month period. "We rolled and cranked everything by hand, resulting in 3,000 cranks of the handle by the time we were done," says Tollefson-Hall.

The final step was to assemble the chapbooks, which involved sewing together with a needle and thread, folding and trimming. "It was a labor of love, and a great collaboration with Furious Flower. The poets in attendance at the Furious Flower 25th Anniversary Celebration will receive chapbooks, which is a true honor," declares McCusker. Chapbooks will also be for sale at the celebration.
Photos of Karin Tollefson-Hall, Susan Zurbrigg's frontispiece, and Kelsey Waugh's carving courtesy of Dawn McCusker.