College of Visual and Performing Arts
New Center at JMU Encourages Inclusive Music-Making and Music-Learning Experiences
---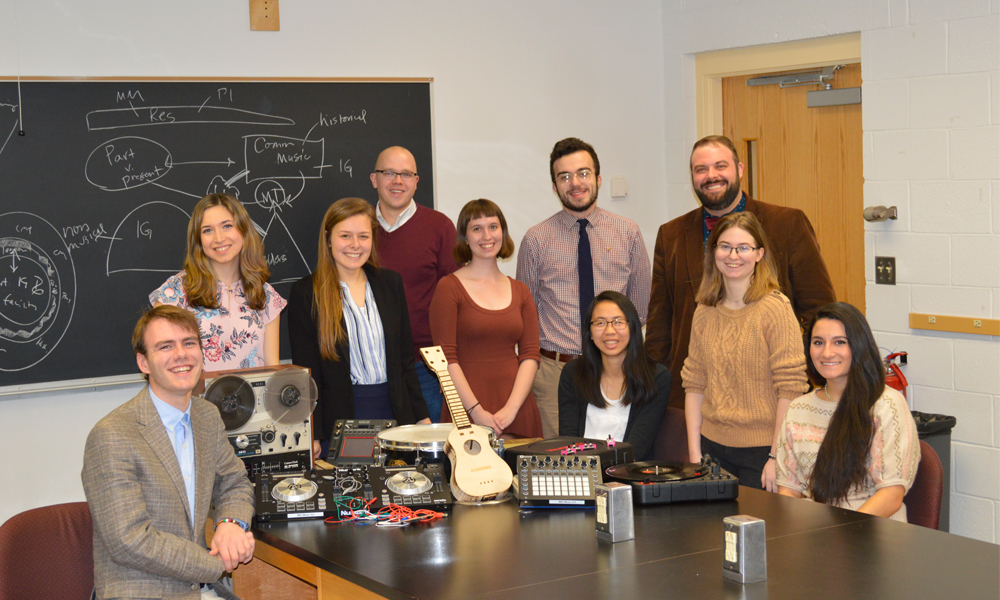 By Jen Kulju ('04M)
It's official. James Madison University's College of Visual and Performing Arts has a new center. Chartered on December 13, 2018, the Center for Inclusive Music Engagement "seeks to facilitate musicking opportunities for all persons to create, perform, respond, and connect with, in, through, and around music in ways that are meaningful and add richness to individuals' lives and our broader communities."
Despite being only a couple of months old, the Center has been years in the making. When Dr. Jesse Rathgeber started at JMU in 2016, he and fellow music professor Dr. David Stringham discovered a shared a passion for "fostering meaningful music-learning and music-making experiences" and a vision for a mechanism to bring people together through these experiences.
Stringham, who has been appointed director of Center, is no stranger to innovation. After joining JMU in 2010, he helped to launch the university's interdisciplinary minor in Music and Human Services and served as its first coordinator. Stringham says both the minor and the new Center were fueled by student needs and interests. "In the same vein as the Music and Human Services minor and exploring therapeutic uses of music, ideas relating to inclusion and diversity in music have become more intriguing to students."
Students already play an integral role in the Center. Eight undergraduate "Innovation Leaders" have been chosen to help staff the Center and run various projects in exchange for dedicated mentoring time on the projects they want to further. As part of the application process, students pitched projects ranging from service-based initiatives to research examining music-learning and music-making to interdisciplinary arts-focused endeavors. Students selected as the Center's inaugural cohort of Innovation Leaders are Alexis Anderson, Sophia Anzalone, Tim DeSimone, Sophie Harrison, Davina Miaw, Alison O'Bryan, David Swanson, and Erica Unroe.
In addition to student projects, the Center will house community-based projects like JMUke, in which JMU students host on-and off-campus events to engage participants through playing ukuleles. The Center will continue to contribute to a collaborative songwriting project with JMU's Department of Social Work and Harrisonburg's Gemeinschaft Home, in which JMU pre-service music and social work students engage in storytelling and songwriting with formerly incarcerated men. This project was initially funded by a National Endowment for the Arts "Research: Art Works" Grant, and included a concert at the Forbes Center, which featured Gemeinschaft residents and their stories and songs. The Center will also partner with JMU's Office of Disability Services during Disability Awareness Week (March 26-30, 2019) to bring to campus musicologist, composer and disability theorist Alex Lubet for a performance and presentations. Numerous other project ideas and partnerships are underway.
"Dean George Sparks and Provost Heather Coltman have been such champions of this Center," exclaims Rathgeber, coordinator of the Music and Human Services minor and associate director of the new Center. "I think the Center was inevitable here at JMU because you had two people with shared interests aligned with administrators who were willing to say, 'This Center is something that matters.'"