College of Visual and Performing Arts Stories
JMU Art History Professor Receives Highly Competitive Grant
---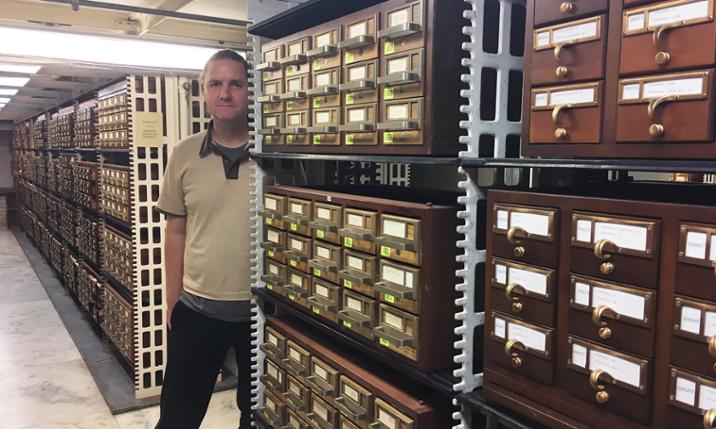 By Jen Kulju (M'04)
July 26, 2018 - John Ott, professor of art history in JMU's School of Art, Design and Art History, recently won an inaugural 2018 American Council of Learned Societies (ACLS) Project Development Grant. The $5,000 seed grants are a new component of the longstanding ACLS Fellowship program, and are designed to provide support to humanities faculty at teaching-intensive institutions. Out of nearly 1,200 applicants, Ott and 14 others distinguished themselves as "especially promising scholars who were likely to advance their research projects with the grants."
The grant will help Ott to finalize primary research on and complete a draft of the manuscript, Mixed Media: The Visual Cultures of Racial Integration, 1931-1954. The project investigates black and white artists' efforts towards racial integration, both in terms of imagery and within art institutions, from the infamous 1931 Scottsboro Boys trial until Brown v. Board's 1954 desegregation of public schools.
"It is gratifying to receive support from one of the most competitive national grant programs in the humanities, and affirming that my colleagues consider my scholarship of sufficient excellence to merit funding," says Ott.
The grant provides for travel and housing for up to four weeks in the summers of 2018 and 2019 in Washington, D.C, where Ott will conduct research at the Archives of American Art, the Library of Congress, and the Smithsonian American Art Museum. The grant will also allow Ott to devote the remainder of these summers to the drafting of a complete manuscript ready for submission to a major university press by the end of the summer of 2019.
For a full list of ACLS Project Development Grant recipients and their projects, visit https://www.acls.org/Recent-Awardees/ACLS-Project-Development-Grants.