College of Visual and Performing Arts Stories
Soweto Gospel Choir, Mayumana, and Kennedy Center's Me…Jane Top Forbes Center 2018-2019 Masterpiece Season
---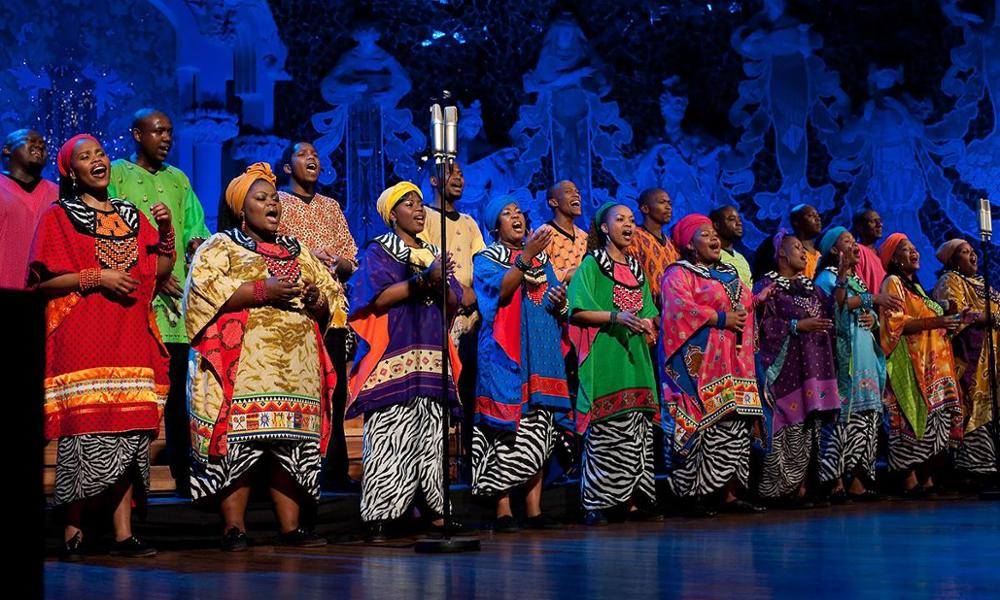 June 14, 2018 - The Forbes Center for the Performing Arts at James Madison University is excited to announce its 2018-2019 Masterpiece Season. The season includes 32 Masterpiece events and features performances/work by Grammy and Emmy-winning musicians, MacArthur "Genius" Fellows, other internationally acclaimed guest artists, ensembles and orchestras, and award-winning JMU theatre, dance and music students and faculty. The 2018-2019 Masterpiece Season sponsor is Kathy Moran Wealth Group.
Topping the list are performances by Forbes Center "Encore" artists including the "spirited and spectacular" (The New York Times) Soweto Gospel Choir, winner of two Grammys and an Emmy; Israeli performance troupe Mayumana in Currents, a bold and unforgettable spectacle featuring mind-blowing sights and sounds; and Me…Jane: The Dreams & Adventures of Young Jane Goodall, a brand new musical adaptation of the true story of chimpanzee expert Dr. Jane Goodall by Kennedy Center Theater for Young Audiences on Tour.
Other Encore performances include Black Violin, a dynamic duo that fuses classical and hip-hop to create a musical style all their own; The Hot Sardines, "the charismatic frontrunners of vintage jazz" (The Guardian); Reduced Shakespeare Company's joyful and humorous production of The Complete Works of William Shakespeare (abridged) featuring all 37 plays in 97 minutes; Lonesome Traveler: The Concert in The Roots of American Folk Music with special guest Peter Yarrow of Peter, Paul & Mary; The Doo Wop Project featuring stars from Broadway's smash hits Jersey Boys and Motown: The Musical; Jeremy Denk, a MacArthur "Genius" Fellow and "a pianist you want to hear no matter what he performs" (The New York Times); and A.I.M., featuring contemporary dance choreography by founder, artistic director and MacArthur "Genius" Fellow Kyle Abraham, who will create a work that will be performed by JMU dance students.
Rounding out the list of Encore shows are the Shanghai Opera Symphony Orchestra, one of China's premier symphony orchestras in its first-ever North American tour; Danú, who will combine traditional Celtic instruments and breathtaking vocals to perform a St. Patrick's Day celebration featuring JMU's Madison Singers; a "heart-meltingly beautiful performance" (Boston Musical Intelligencer) of J.S. Bach's motets by the Belgium-based vocal ensemble Vox Luminis; the Scharoun Ensemble Berlin featuring musicians who are all members of the Berlin Philharmonic, called "the world's best orchestra" by The Guardian; a "delightfully smart performance" (The Irish Times) of They Called Her Vivaldi by Theatre Lovett, one of Ireland's leading theatre companies; and Diary of a Worm, a Spider, & a Fly, a joyful, hip musical exploration of the world outside by Dallas Children's Theater, one of the top theatres for families in the nation.
They Called Her Vivaldi and Diary of a Worm, a Spider, & a Fly are new "Forbes Family Fun" events this season, as is Me…Jane: The Dreams & Adventures of Young Jane Goodall; Community Collage Concert, which features artists and ensembles from the Shenandoah Valley and benefits Any Given Child Harrisonburg, Holidayfest and Sing Out! return to the lineup. Forbes Family Fan events are geared toward young audiences and their families, and this year's series is sponsored by Union Bank & Trust. Me…Jane, They Called Her Vivaldi, Diary of a Worm, a Spider, & a Fly, and Reduced Shakespeare Company will also give matinee performances for students in Rockingham County Public Schools and Harrisonburg City Public Schools.
The Masterpiece Season opens September 7-8 with The DASH Ensemble headlining the New Dance Festival. DASH is a New York-based company that combines elements of modern, hip-hop and physical theatre to express ideas about growth, love, loss, war and determination. The festival also features new works by faculty artists Ryan Corriston, Rubén Graciani and Suzanne Miller-Corso. JMU dance students will also perform with DASH. Other dance events include Dancescapes featuring JMU's Virginia Repertory Dance Company and New Voices in Dance featuring JMU's Contemporary Dance Ensemble.
The three-day Contemporary Music Festival features the music of Libby Larsen, the Grammy-winning "mistress of orchestration," (Times Union) American composer Joseph Klein and other living composers. JMU School of Music students will join vocalist/musician Humayun Khan and his band for a concert that includes Afghan folk music, world fusion, and Khan's unique blending of Persian poetry with Indian ragas.
The JMU Opera Theater will perform Dead Man Walking, a gripping opera based on the book by Sister Helen Prejean, as well as Gilbert and Sullivan's The Pirates of Penzance in the spring.
The School of Theatre and Dance presents Intimate Apparel, a heart-piercing play by Pulitzer Prize-winning playwright Lynn Nottage; the Tony Award-winning musical Into the Woods; Qui Nguyen's She Kills Monsters, a dramatic comedy that will "slash and shapeshift its way into your heart" (The New York Times); the two-time Tony Award-winning hit musical Green Day's American Idiot; and Yukio Mishima's Sotoba Komachi, "a work of ravishing romantic beauty." (The Telegraph)
Back by popular demand is Taste of the Forbes, and a Holocaust remembrance titled I Never Saw Another Butterfly joins the lineup.
Tickets are available at www.jmuforbescenter.com or at the Forbes Center Box Office in person or by phone at (540) 568-7000.