College of Visual and Performing Arts Stories
New JMU Play Explores Family, Faith and Forgiveness
---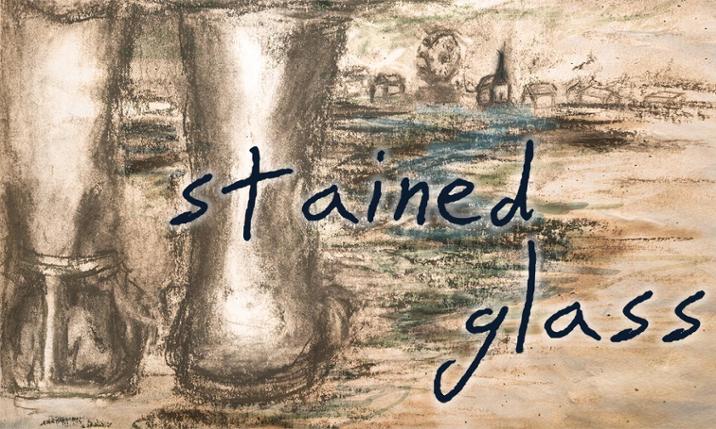 April 16, 2018 - Could it be that even the shattered pieces of our lives can result in something beautiful? This question lies at the heart of Stained Glass, a new play by James Madison University theatre faculty member Ingrid De Sanctis exploring the emotional and psychological impact of hurtful behavior by family members. Stained Glass takes place Tuesday-Wednesday, April 24-25 @ 8 pm, Friday-Saturday, April 27-28 @ 8 pm and Sunday, April 29 @ 2 pm at the Forbes Center for the Performing Arts.
De Sanctis says Stained Glass has been in her head for 10-15 years, and is the play that is most closely connected with stories of her own life. De Sanctis grew up as a preacher's daughter from New Jersey, like Jewels, the main character. In a play that De Sanctis describes as "magical, quirky, wild, funny at times, heartbreaking and complicated," Jewels returns to New Jersey for her father's funeral in the middle of a hurricane. But the treacherous storm has other plans, washing ashore skeletons, avocado trees, and an oddball cast of characters from Moses to the Little Mermaid. They join Jewels as she journeys through the ruins of past and present, fantasy and truth, looking to find the family she lost and the faith she thought she knew.
According to De Sanctis, "This play really asks us about what is real and how we make sense of our lives in light of something tragic happening in a family. Does faith play a role—and if so, how? Do we forgive—and what does that look like?" With quickly moving scenes, the play has a lot of difficult storylines, but De Sanctis says she hopes it all comes together by the end.
In every scene is JMU junior Irene Hamilton, who plays Jewels. Hamilton is one of nine students in JMU's School of Theatre and Dance cast for a role in the production—and one of three from Harrisonburg along with Elana Swartz (TinkerBell/Sandy/Val) and Noah Heie (Pinocchio/Gabe). Rounding out the student cast is Grace Vaughn (Mom), Rachel Kimberly (Tess), Diego Salinas (James), Emily Cyr (Cinderella/Rose/Mrs. Clifton), Katie Ciszek (Little Mermaid) and Kerry Paige (Moses).
The artistic staff includes JMU students Sierra Carlson (dramaturg) and Kelly McNesby (stage manager), faculty/staff members Kathleen Conery (costume design), Richard Finkelstein (lighting design) and Tom Carr (sound design), as well as guest director Patrick Pearson from Washington, D.C. and guest scenic designer William Boles from Chicago.
Tickets are $14-$15. For tickets, visit www.jmuforbescenter.com or call the Forbes Center Box Office at (540) 568-7000.
Contains adult content and language.
Published: Monday, April 16, 2018
Last Updated: Tuesday, April 17, 2018