College of Visual and Performing Arts Stories
CVPA All-Stars
---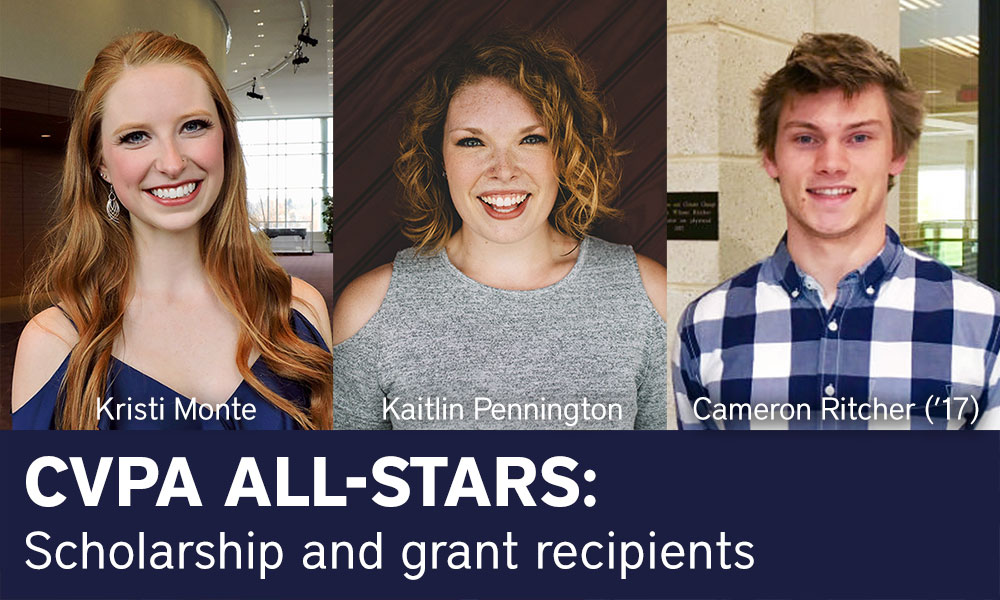 Kristi Monte
Growing up in Brick, New Jersey, Kristi Monte started playing violin at age six after hearing the Dixie Chicks on the radio and wanting to make a similar sound. She has been "playing ever since," taking private lessons, participating in junior regional orchestras, and playing in the Kean University preparatory string orchestra when she was in high school. At age 12, she began teaching violin and "loved every minute of it." "I knew then that I wanted to be a teacher when I was older," recalls Monte, who grew her number of students to 30 before coming to college.
Monte also "just knew" she wanted to attend JMU because of its "breathtaking" campus and reputable music school. Now a senior music education major studying with Wanchi, Monte became good enough on the viola to call it her secondary instrument. "I enjoyed learning new instruments and the individualized attention." Monte played in the JMU Symphony Orchestra for three-and-a-half years, helped to grow Club Orchestra on campus from five to 45 students, and is the founder of Got Strings (www.gotstrings.net), a company made up of 14 current and former JMU music majors who perform classical music for special events in the Shenandoah Valley. She is also a recipient of the Sam Cross Music Education String Scholarship. "It is an honor to have been considered, let alone elected to receive the scholarship—and it really helps me financially."
Kaitlin Pennington
Kaitlin Pennington from Roanoke, Virginia, had the opportunity to "dance around" on a bus without any seats in it at age three, which led her to begin taking lessons—with a JMU dance alum nonetheless. When it came time to pick a college, Madison was an obvious choice. "I felt like I already knew the faculty and understood the dance world at JMU." Pennington then visited campus and "fell head-over-heels in love with the atmosphere," which radiated kindness and energy, she says. With a goal of attending graduate school for dance therapy one day, Pennington is now a senior dance major with a concentration in pre-occupational therapy.
As a junior, Pennington took Professor Kate Trammell's Dance in Community class where she taught weekly classes to adults with developmental disabilities at The Arc of Harrisonburg and Rockingham. The work "sparked an interest" in her, so she applied for—and received—a 2017-2018 College of Visual and Performing Arts (CVPA) Undergraduate Research Grant. The funds allowed Pennington to obtain additional education and resources to give participants at The Arc her "very best." Pennington calls her work with Trammell "life-changing," and as a member of Virginia Rep, will travel to England for an international dance exchange with Winchester University and Blue Apple Theatre, a group that presents theatre, dance and film by performers with learning disabilities—who will visit JMU in April. Also a member of the Contemporary Dance Ensemble, Pennington will premiere her piece inspired by the challenges of modern womanhood titled "act like it." in New Voices in Dance this spring at the Forbes Center.
Cameron Ritcher ('17)
Cameron Ritcher grew up in Harrisonburg, Virginia, nailing pieces of wood together for "no apparent reason." Ritcher says he eventually realized that what he was doing was called art, and in high school, became more intentional about pursuing art as a career. He decided on JMU for college, and naturally gravitated toward painting and drawing due to the "immediacy that it provides." "If I want blue somewhere, I can just dip my brush in blue, put it on the panel, and there it is."
Ritcher graduated in May 2017 as a studio art major with a concentration in painting and drawing—and licensed to teach preK-12 art education. He made the "practical" decision to add an art education licensure, which paid off, both literally and figuratively. As a senior, Ritcher received the Dr. Jay D. Kain Scholarship in Art Education, and used funding from the scholarship toward tuition. In addition, he won the Senior Achievement Award in Painting and Drawing and twice earned a Juror's Award at the JMU Undergraduate Juried Show. Ritcher says while 75 percent of his time at Madison was spent in the studio, he also found time for InterVarsity Christian Fellowship, to ride his mountain bike, and to play the trumpet. Ritcher currently balances traveling to shows to exhibit his paintings with teaching art on a part-time basis at West Point Elementary near Richmond.
March 1, 2018