College of Visual and Performing Arts Stories
'Who Could Ask for Anything More?': Marching Royal Dukes React to Appearing in Macy's Parade
---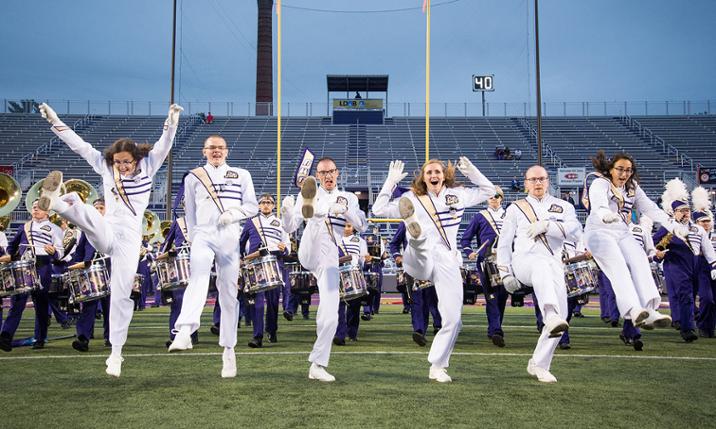 By Jen Kulju ('04M)
November 16, 2018 - Senior health sciences student Sophia Stone (pictured on the left) is "excited" to perform for the first time with the James Madison University Marching Royal Dukes (MRD) in the Macy's Parade this Thanksgiving, and Shawn Davern, a second-year graduate assistant with the band and native New Yorker, will attend the parade for the first time ever. Both are looking forward to representing the MRD at the 92nd Annual Macy's Day Thanksgiving Parade in its fourth appearance (2001, 2008, 2013), the most of any collegiate band in the last 50 years.
Stone, who marched in the Macy's Parade with the Macy's Great American Marching Band in 2012 and 2013 as a high schooler says, "I have loved JMU since I was in middle school in Strasburg, Virginia, so getting the chance to represent my university alongside my best friends is especially meaningful." Stone is a drum major with the band.
As a staff member with the MRD, Davern will walk with the marching band to Herald Square where it will perform his arrangement of George Gershwin's "I Got Rhythm." Davern, a graduate student in conducting, was asked by MRD director Scott Rikkers to arrange an upbeat, jazzier version of the song than existed—and Davern jumped at the opportunity to "write and arrange for the best and one of the largest college marching bands."
The third of three bands to perform in this year's parade, the MRD and its 535 members can be seen playing "I Got Rhythm" on NBC between 10 and 11 am (EST) on Thanksgiving Day.