Forbes Center Celebrates Halloween Week with 'She Kills Monsters'
College of Visual and Performing Arts Stories
---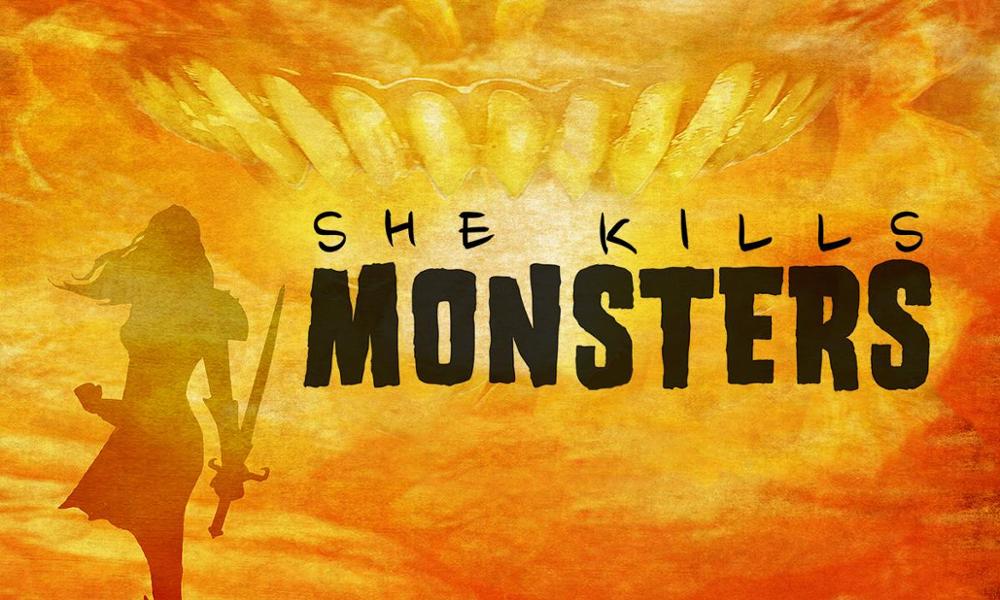 October 26, 2018 - Halloween week at the Forbes Center features James Madison University School of Theatre and Dance students in She Kills Monsters, a dramatic comedy filled with homicidal fairies, nasty ogres and '90s pop culture that "will slash and shapeshift its way into your heart" (New York Times). She Kills Monsters by acclaimed young playwright Qui Nguyen takes place Tuesday-Friday, October 30-November 2 @ 8 pm and Saturday, November 3 @ 2 pm and 8 pm at the Forbes Center for the Performing Arts.  
An amusing 90-minute romp into the world of fantasy role-playing games, She Kills Monsters tells the story of Agues Evans as she leaves her childhood home in Ohio following the death of her teenage sister, Tilly. When Agnes finds Tilly's Dungeon's & Dragons' journal, she stumbles into an imaginary world of action-packed adventure that was Tilly's refuge.
"The play is really about a relationship between two sisters," says faculty director Wolf J. Sherrill. "It's about discovery, loss, storytelling, and embracing the fantastical in one's own life." Audiences are brought into the story—and into the Dungeons and Dragons' world—through creative costumes, powerful projections, fun special effects, and stage combat with swords and daggers.
Senior Irene Hamilton is cast as Agnes, who "kills" monsters played by specialty student combatants Paola Losada, Ben Murphy and Tony Wood. The three students worked with fight choreographer and JMU alumna Sara Hodges, an academic advisor in JMU's Hart School of Hospitality, Sport and Recreation Management and an Advanced Actor Combatant with the Society of American Fight Directors (SAFD). Sherrill is also affiliated with the SAFD.
The artistic staff includes JMU students Antonio Ribeiro (scenic design), Justin Larabee (sound design), Jaclynn Wise (stage manager) and Sky Wilson (dramaturg), faculty member Richard Finkelstein (lighting design), as well as guest costume designer Lirit Olyan and guest projection designer Eamonn Farrell.
Tickets are $15-$16. For tickets, visit www.jmuforbescenter.com or call the Forbes Center Box Office at (540) 568-7000.
Contains adult content and adult language. SHE KILLS MONSTERS is presented by special arrangement with SAMUEL FRENCH, INC.