College of Visual and Performing Arts
JMU and Sentara RMH Announce New Dance and Physical Therapy Partnership
---
By Jen Kulju (M'04)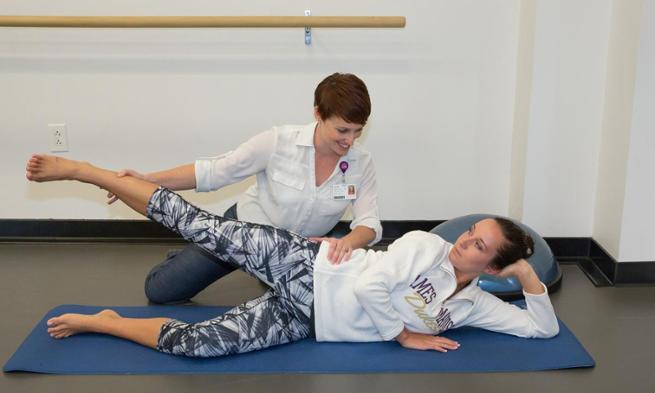 A new partnership between James Madison University and Sentara RMH will allow dance majors in the School of Theatre and Dance to receive training and treatment, much like athletic trainers provide for other sports at JMU.
Three years in the making, this program is the brainchild of Sarah Gosselin, a JMU alum who now works as a physical therapist at the brand new Sentara RMH Orthopedic Center. Gosselin graduated from JMU in 2008 with a double major in dance and pre-physical therapy.
According to Gosselin, the goal of this partnership is "to provide dancers with quick and easy access to a medical professional who specifically understands their needs and demands, and how best to treat them." As an undergraduate, Gosselin recalls feeling frustrated that dancers did not have anyone to go to who understood their injuries when they got hurt.
In terms of services, Gosselin will guest lecture in JMU dance classes this fall and provide injury screenings for all freshman dance majors in the spring. Students can also contact Gosselin directly with questions or set up an appointment. The collaboration will also provide students with internship opportunities in Sentara's new facility.
"The students lucky enough to intern with [Sarah] Gosselin at Sentara RMH have an amazing opportunity to shadow a working professional within a very specialized field," exclaims JMU dance coordinator and faculty member Kate Trammell.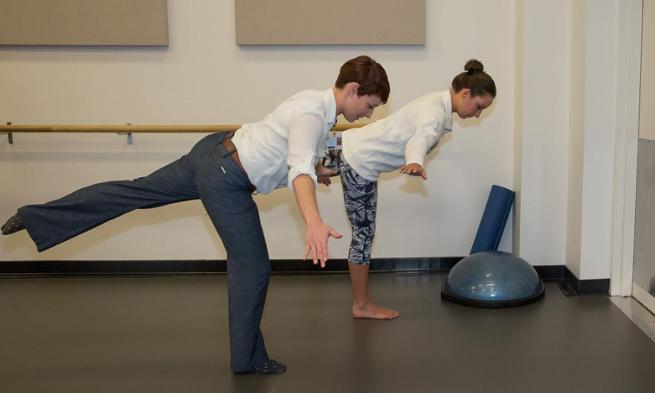 Senior Kayla Bolton (pictured with Gosselin above), who is majoring in dance and pre-physical therapy, says she is "more comfortable" obtaining treatment from Gosselin because she "understands the fundamentals of dance and can educate dancers on how to properly train and protect their bodies from future injuries."
The Sentara RMH Orthopedic Center houses imaging, orthopedic doctors and physical therapists all in one building. This coordinated care allows orthopedic patients to "get everything they need to have done" in one central location, and makes Sentara's goal of providing as much education and treatment for the athletic population possible, says Gosselin.
Photos by Bob Adamek.