College of Visual and Performing Arts Stories
JMU Music Student Takes Top Honors at NATS National Student Auditions
---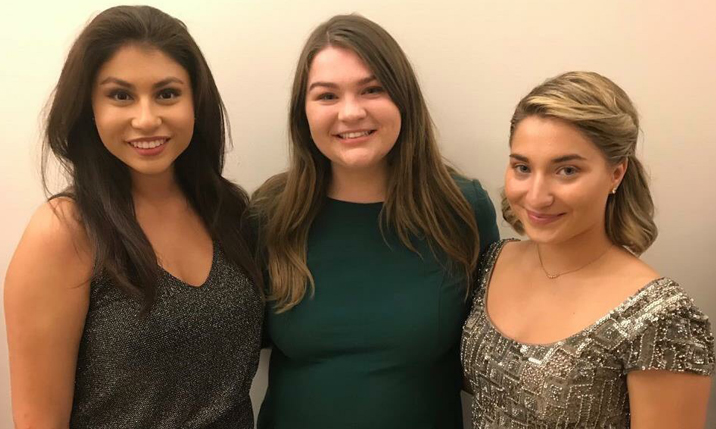 September 19, 2017 - JMU vocal performance major Cecelia McKinley (pictured in the middle above) placed first in her category at the 56th Annual National Student Auditions of the National Association of Teachers of Singing (NATS) held July 20-21 at the University of Colorado-Boulder.
McKinley, a mezzo-soprano, placed second at the state competition held at Virginia Commonwealth University early in the Spring 2017 semester. She then won the regional competition at the University of North Carolina Chapel Hill, and was invited to submit an application for the national competition. McKinley worked with Professor Carrie Stevens to create a 12-minute video recording of varied repertoire in order to be considered for an opportunity to compete in one of 14 categories at nationals. McKinley sang Arthur Falwell's "I Had No Time to Hate" from Thirty-Four songs on poems of Emily Dickenson (https://youtu.be/S3RcnqbRDJQ), Handel's "He Was Despised" (https://youtu.be/rYfpv7rLL-M), and Schumann's Intermezzo from the song cycle, Liederkreis (https://youtu.be/NTbM1tIyqgw).
McKinley won the Lower College/Independent Studio Women category, beating out 13 other women aged 18-20 from the United States and Canada with one to two years of collegiate lessons. She earned $1,200 for her victory, competing against students from prestigious schools like the University of Toronto.
"I went into the [national] competition wanting to get into the finals, but never really thought about winning it. It was wonderful," says McKinley (pictured with Stevens below).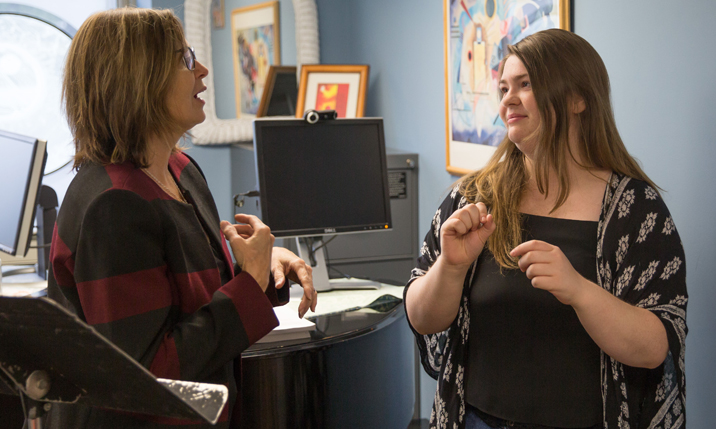 According to Stevens, McKinley "is intelligent, musical and a hard and consistent worker. She is and will continue to be a fine example to the other students in my studio and to the voice program as a whole."
JMU voice students have fared well at the NATS National Student Auditions in recent years. Mark Thress and Erik Grendahl placed first in their categories in 2014. In 2016, Grendahl and Zoe Elizabeth McCray earned second place finishes, and Amanda Mason placed third in her category. Mason studied with Stevens, and Thress, Grendahl and McCray studied with Professor Kevin McMillan.
Rounding out JMU's presence at the national competition was baritone Joel Clemens, who competed in the Lower College/Independent Studio Men category. A student of McMillan, Clemens is double majoring in vocal performance and music industry.
Lead photo courtesy of Cecelia McKinley. Other photos by Bob Adamek.