College of Visual and Performing Arts
Concerto/Aria Competition Winners Practice for Honors Concert
---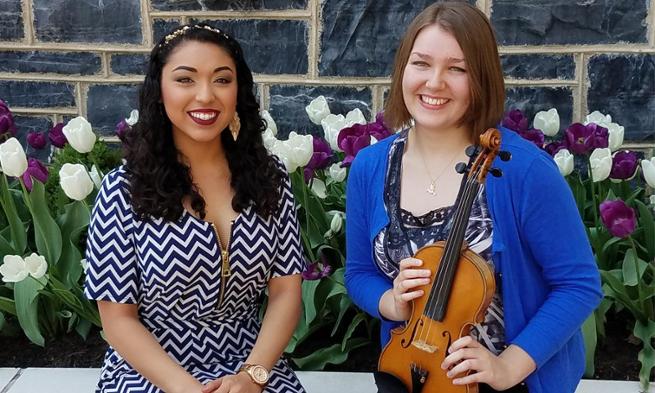 SUMMARY: Master's student vocalist Yvette Rodriguez and junior violinist Sage Wright will give solo performances with the JMU Symphony Orchestra in the Honors Concert.
---
By Jen Kulju (M'04)
The Honors Concert is fast approaching, and two students are practicing for their solo performances with the JMU Symphony Orchestra. Master's student Yvette Rodriguez and junior Sage Wright won the 2017 JMU Concerto/Aria Competition to earn coveted spots in the JMU Symphony Honors Concert on Sunday, April 23 @ 2 pm at the Forbes Center for the Performing Arts.
Rodriguez, a vocal performance major, and Wright, a music industry major and violinist, are both looking forward to participating in the concert. Rodriguez will perform "Regnava nel silenzio" from Lucia di Lammermoor, and is from the studio of Dr. Dorothy Maddison. Wright will play the first movement of the Sibelius Violin Concerto, and is from the studio of Dr. Wanchi Huang ("Wanchi"). Both students performed these pieces in the Concerto/Aria Competition.  
Rodriguez allowed Maddison to choose her music while Wright had been wanting to perform her piece "for awhile" and began learning it in the fall. Both have been practicing for just a few weeks with the Orchestra, of which Wright is a member. "They already know me, so it's fun," exclaims Wright.
Rodriguez earned her B.M. in music performance from the University of Texas at El Paso and currently serves as the director of music ministries at Dayton United Methodist Church in Dayton, Virginia. She says her opera training has helped her in the contemporary praise and worship scene. Rodriguez is playing Yum-Yum in the JMU Opera Theater's production of Gilbert and Sullivan's The Mikado in April.
Both students were surprised by their wins. "I was shocked, but completely humbled and honored," shares Rodriguez. Wright proclaims she "competed for fun and happened to win."
The JMU Symphony Orchestra will also perform Igor Stravinsky's Petrushka at the Honors Concert. According to Wright, "it's a hard piece, but I think we can pull it off…"
Published: Thursday, April 13, 2017
Last Updated: Thursday, April 13, 2017