School of Art Design and Art History
SADAH students curate exhibition
13 studio art seniors show their work through professional practices capstone class
---

Just first-years when the pandemic derailed their first spring semester, the class of 2023 has overcome and succeeded during their time at James Madison University. SADAH's seniors continue to challenge themselves, developing impressive multi-discipline portfolios, exhibiting their work, and engaging in the classroom and studio alike. ART 492: Senior Capstone gives senior art majors a look into the professional art world. Learning everything from marketing themselves to exhibition design to writing artist statements, students prepare for life after graduation.

The seniors have spent the first half of the semester planning their exhibitions, including curating, developing marketing materials, installing artwork, and so much more. Their work culminates in a massive showcase of various mediums and fills up Duke Hall's three critique spaces.
Senior Capstone Galleries                                                                                                                            Opening Reception: Thursday, March 9, 2023 | 5pm
On View March 6-10 & 20-24, 2023 | 9am-4pm | Duke Hall Critique Spaces 1031, 2027, & 2029
Featured Artists
Sovereign Autonomy: The Space Between (Duke Hall 2027): Alan Peterson, Grace Little, Misha Rodriguez, and Skyler Correll

Changes of Story and Self (Duke Hall 2029): Michael Dodson, Kyn, Deanna Meade, and Jackson Hafemeister

The Divine Femme (Duke Hall 1031): Karisma Senger, Hunter Shifflett, Ellery Broga, Liv Luke, and Teresa Gonzalez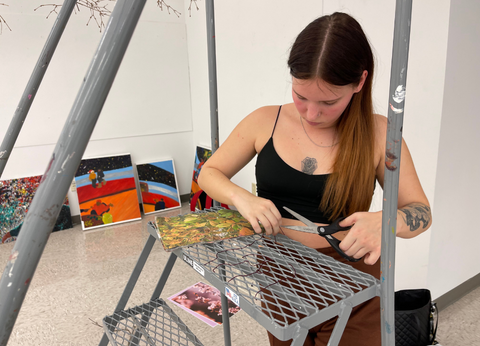 Deanna Meade installs "Goodbye Autumn."
Deanna Meade, "Goodbye Autumn," Fall 2022. Installation of digital prints on fabric and found branches.
Biography                                                                                                My name is Deanna Meade, and I am an honors student at James Madison University, pursuing a B.F.A. in Studio Art with a concentration in Photo and a minor in Book Arts. I find being outside and enjoying nature to be therapeutic, so I love being outdoors, going on walks, and exploring. 
Artist Statement                                                                                  Growing up in a military family, I have traveled to many parts of the world. The experiences and countless interactions I have had with so many different people and places have driven my art to become what it is today. I enjoy learning more about other cultures, seeing and experiencing new places, and discovering things from other people's perspective. It has even been beautiful, and sometimes heartbreaking, seeing the way the world looks and/or works in different states and countries. Over the next few years, I plan to continue traveling on my own and see more of the world, learning and documenting my experiences and journeys through my photography. I hope to never look back on my life and think I wasted too much of it trying to go with the system and do what others tell me is "acceptable". I have already spent too long letting my voice and interests lay dormant because I thought I had to do what others expected of me, and to avoid conflict or confrontation, I did it. Now, I won't lay dormant. I will let my voice be heard.
Biography                                                                                                Karisma Senger is from Augusta County, Virginia. She went to Fort Defiance High School where she graduated with an Advanced diploma and then went to Blue Ridge Community College for her Associate's degree. After that, she transferred to James Madison University where she is a senior working on her BFA in Studio Art with a concentration in painting and drawing. Her art has reflected her life and the struggles and issues she have faced. During her junior year of college, she has found that she enjoys making art about the female body.        
Artist Statement                                                                                    Her artwork is centered around appreciating the female body and some related issues. Her main media is oil painting and graphite drawings. Many of her artworks also contain mixed medias ranging from fabric to colored pencil along with a range of body types and ages in her work. To create this work, she used a multitude of reference from her own body to combined multiple other sources. She also looks up related colors, patterns, and poses. Some of her pieces hide the face of the body to help more people connect with the form itself. Her goal for her work is to help see the beauty in the women's body, bring awareness and connect with divine feminine energy. This is just the beginning of her work on this subject and is just barely scratching the surface and what is to come.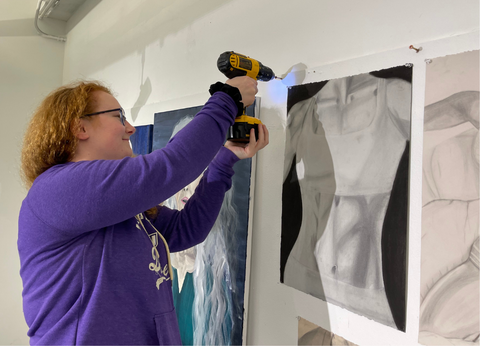 Karisma Senger installs her artwork.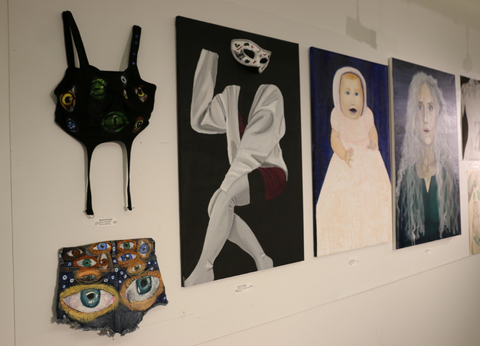 Karisma's work in The Divine Femme.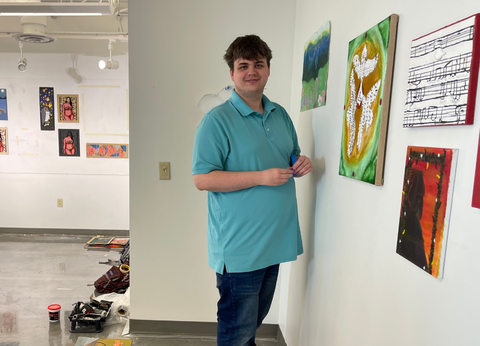 Hunter Shifflett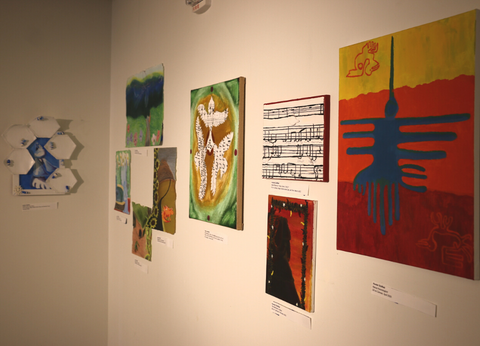 Hunter's art in the Senior Capstone Galleries. 
Biography                                                                                                Born and raised within the rural subdivision of Grottoes, Virginia my interest in art has been with me for my entire existence. An alumnus that had graduated from both Fort Defiance High School and Blue Ridge Community College. Within my late elementary school and early middle school life I was accepted to participate in a gifted and talented program called the Governor School, and had a drawing advanced towards the regional section of an art contest.
Artist Statement                                                                                    Within these rather turbulent times, the need to capture a form or essence of escapism has increased significantly within our world. Regardless, it can be from a sense of awe with familiarity of subjects (personal and more public), displaying a light sense of humor, or exploring mythology and folklore in a more positive aspect. The primary media the artworks are done range from either colored pencil, graphite, paintings, with some mixed media with these. Some examples include using both pastels and colored pencil, while others utilize oil paints with Model Magic brand clay.
Biography                                                                                                My passion has always been drawing and creative writing. While growing up in Charlottesville, Virginia, I was able to discover that at an early age, as I would constantly doodle and sketch throughout my classes. Unsurprisingly, at James Madison University, I am pursuing a B.F.A. with dual majors in Studio Art (Concentration: Painting & Drawing) and Graphic Design, with a minor in Book Arts. From an early age I have interwoven drawing with creative writing, with class notes routinely covered with illustrations of action characters. For the past few years, I have worked relentlessly on my own Manga/graphic novel series, for which I now have over 700 pages of text and have completed the first volume of this series, consisting of 130 fully illustrated pages.
Artist Statement                                                                                  Growing up in Charlottesville, VA, there wasn't always a lot to do, which is what led me to become much more innovative with how to entertain myself and take me world's away from where I was while still being rooted in my seat, whether it be in class or at home or anywhere else in between. Because of this, my artwork through the years has changed a lot in many ways, yet, over all this time, it's still always contained the same sense of self about it, which has recently been put to the forefront of my artistic world in my personally created manga Resurrection of the Mazin. While I work on a lot of other projects that are completely broken away from it, I find that currently this piece sticks out to me as the magnum opus of my artistic endeavors, although I still have a long way to go before it finally reaches completion, due to the extent of the time that it's taken to be fully brought to life. I've completed about six chapters as of this date, which is roughly 150 pages or so, and there's still an infinity left to go, which is partially intimidating, but also partially exciting because of how high of a mountain there's still left to climb, meaning that by the time of its completion my own artistic potential may have grown limitless in itself. There are a lot of other projects and passions that I have which I love to express through my artwork, but I find that my manga encapsulates my beliefs in the most cohesive, yet abstract, of ways out of anything I've done throughout my career as an artist.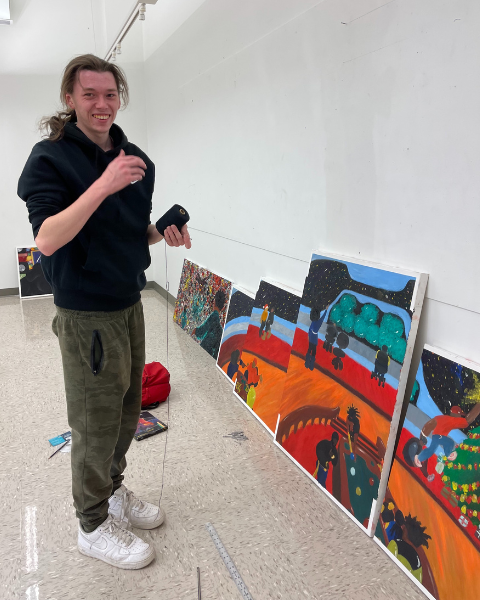 Jackson Hafemeister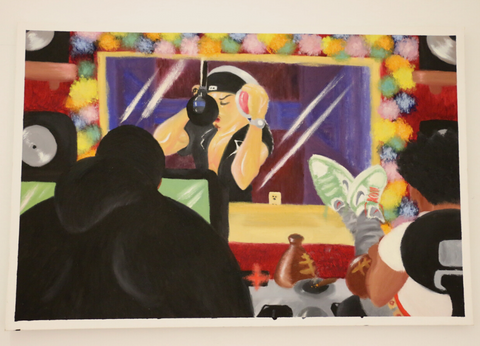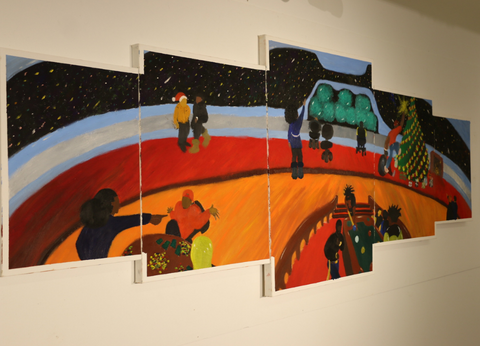 Jackson's work in Changes of Story and Self.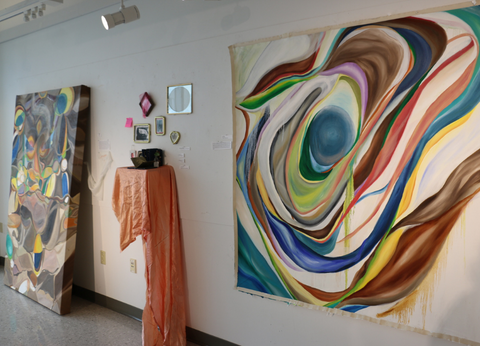 Grace Little's work in Sovereign Autonomy: The Space Between in the Senior Capstone Galleries.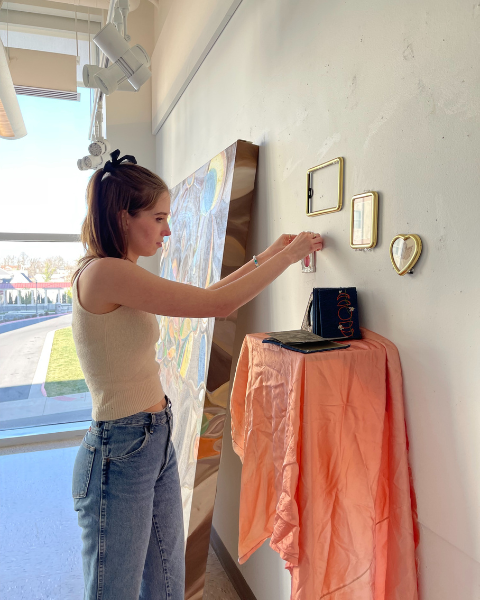 Grace installs her work.
Biography                                                                                                I am a visual artist living and working in Harrisonburg, Virginia. I am currently wrapping up my senior year at James Madison University, and will be graduating with my Bachelor of Fine Arts in Studio Art. Most of my work consists of immersive, large scale abstract works primarily focusing on heaven and the human experience through the means of fibers, photography, and paintings. Through these processes, I intend to share about the journey of finding joy in the unexpected and most mundane of circumstances. While art didn't always seem to be in the cards, it's the best way I can make sense of the world and find joy in the details.
Artist Statement                                                                                  Growing up, I used to hear stories of my grandfather's blindness, how he could take photographs better than his peers, how music was a form of art in his mind. Stories about him have not only shaped me, but made me take into account how darkness simply cannot exist without light. Being someone who struggles with anxiousness, depression, and intrusive thoughts, art became a means of healing through a deeply broken life. Through childhood traumas and lost relationships, art was once a means of sympathetic expression to find light in dark places. To create has since been harnessed for growth; to further clarify my love for light, to understand the subconscious a little more, to express my voice where it once seemed drowned out. Inspired by the works of C.S. Lewis and other philosophers, my work is not only intended to care for myself, but for those around me by pointing out that beauty still exists within the mundane, that light still exists in the midst of the darkness. In this exhibition I will be sharing pieces that have fully been a part of finding this narrative in the last year, composed of large scale oil paintings, drawn and embroidered lithography zines, and photographs.
Biography                                                                                            Alan Peterson is a Senior enrolled at James Madison University. His love for art started at a young age, taking his grandmother's old sneakers and drawing on them with markers. He graduated from Franklin County High School in Virginia in 2017, where he has a sculpture he designed on permanent installation. He attended and graduated with an Associates Degree from Virginia Western Community College before transferring to JMU. Through JMU, he has learned and honed skills for metals, sculpture, ceramics, and has a concentration in fiber arts. These skills are now intertwined with a creativity that he can never seem to turn off. He enjoys storytelling in various forms.
Artist Statement                                                                                  The work that I make is often inspired by autonomy and the idea of control. I suffer from Obsessive Compulsive Disorder, and it leads to an almost crippling anxiety where I have to remove myself from situations, often social one's, and do compulsions to calm myself down. Through this, I rarely ever feel like I'm in control of myself or who I want to be. Art is the only way that I can willingly let go of that control, be autonomous and feel a child like freedom in doing so. If I see fit, I can also hold control over a piece, like the control I normally try to have in my daily life. The difference is this type of control isn't forced upon me, it's created by me. The juxtaposition to control is the autonomous, where the art creates itself. The tension in the art I create lies in a land between autonomy and control. The uncontrolled and the controlled meet at an intersection of different mediums and principles of design. When the random and intentional clash to create, I feel that it speaks for who I truly am deep down and not who my mental illnesses fool me into thinking I am.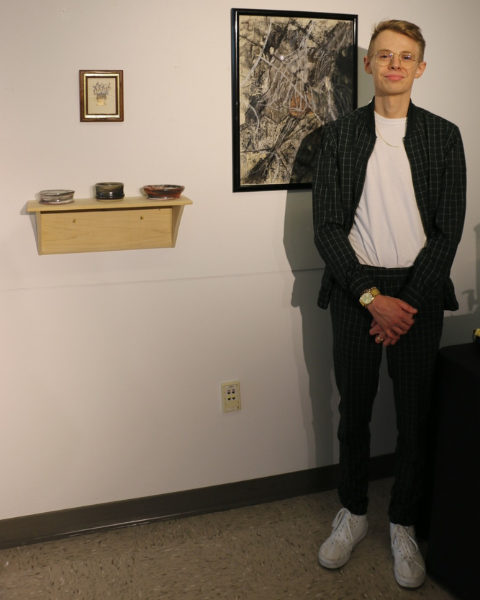 Alan Peterson at the opening of the Senior Capstone Galleries.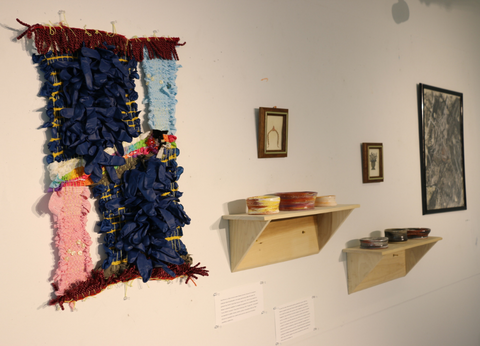 Alan's art in Sovereign Autonomy: The Space Between.
Ellery's work in The Divine Femme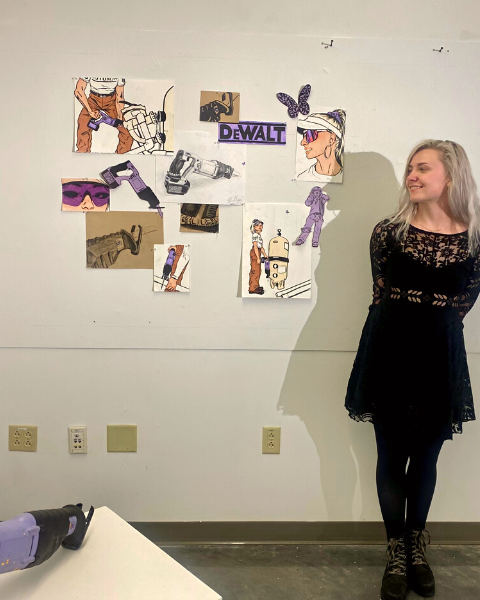 Ellery Broga
Ellery Broga, "Purple Power Saw," 2022.
Biography                                                                                                My name is Ellery Broga, I am a 5th-year senior BFA at James Madison University. My concentration is in drawing and painting, and my artwork primarily focuses on the utility of the female body through labor and entertainment. 
Artist Statement                                                                                      I express my femininity contrasting against the growth which I have physically and emotionally endured through my professional work, as well as my expression as an artist through movement and dance. My body has become my primary medium of artistic expression, through both my work as a pool mechanic, as well as my status as a world class competitive color guard performer.  Within both practices, I find my body is utilized by others to achieve a goal; my boss ensures that work gets done, and my director executes his own artistic vision through me as his medium. I come to question if my body is my own, or a tool to be used for validation, money, and acceptance. 
Being the only woman working in the field of my industry has created an intense sense of loneliness and inadequacy. Given that the industry standards were set by and for the men in my field, I can't help but feel an overwhelming desire to compensate for what I am implied to be lacking as a woman. I feel as though I have to "earn" feminine expression, something normally dismissed as vapid silliness, unless contextualized and fought for through a long history of experience, success, and accomplishment in our professional industry. Having established a strong background in leadership, sales, and experience, I now integrate overtly feminine expression into my professional environment. This is most easily demonstrated in my custom painted DeWalt saw. 
Accessing my femininity has been a difficult and roundabout process for me. I feel that most girls grow into their femininity as soon as they are old enough to slip on plastic disney princess shoes. Femininity comes easy for them, they chase and crave it. My life has been plagued with resistance towards this path, and internalized misogyny. My desire to be completely unlike them drove me into masculinity, which was not home either. I feel that the only way that I was able to access, safe, healthy, secure femininity, was through a backdoor method, by first integrating into the LGBT community, then learning from queer men and trans women what it meant to become a woman, to express femininity. This femininity is uprooted, completely detached from the cis het male's pre-packaged handbook on "how to be a good woman." This womanhood was created for the satisfaction of women, not men. It is the ballroom, dance, and color guard scene which allowed me to connect with my femininity the most, and why I dedicate every year to this activity. My growth through color guard has helped shape me as an artist, and as a woman.
Biography                                                                                                I am a lifelong artist who from as young as four years old, understood that art was going to guide my life. My childhood was riddled with knitting, felting, and crochet, and my favorite, weaving. My grandmother, a professional artist, is my original art teacher who taught me painting and later fiber arts.
Artist Statement                                                                                      My portfolio of work falls into loose categories: subversion of normalcy, fluidity of the body, and universal interconnectivity of natural systems. When I make art that subverts normalcy, I am trying to make sense of social customs and the patterns people show in patriarchy. I use recognizable symbols and iconography and then change something to create a contradiction and elicit confusion that concludes with meaning.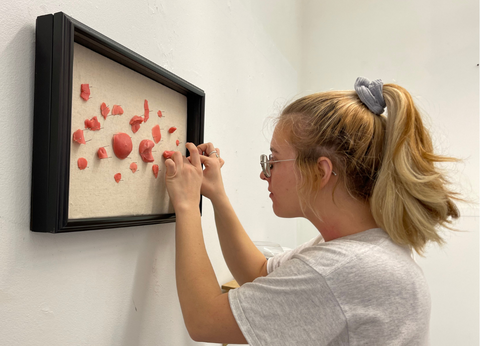 Liv Luke installs work in The Divine Femme.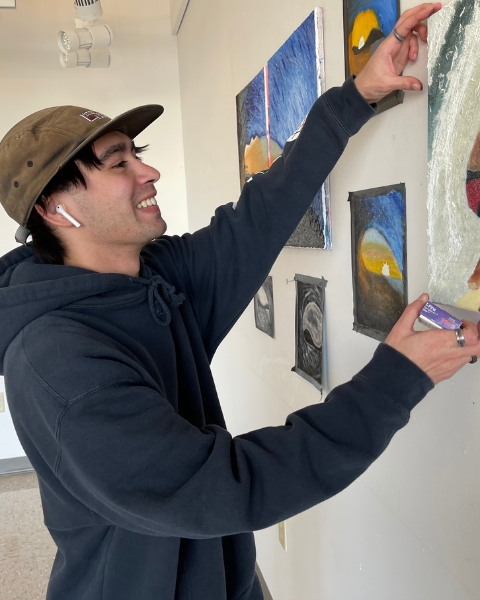 Skyler Correll installs artwork.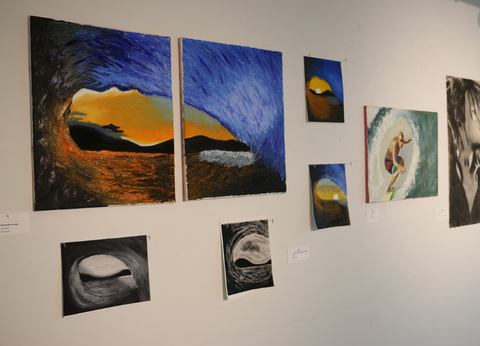 Skyler's work in Sovereign Autonomy: The Space Between.
Biography                                                                                                I was born in Maui, Hawaii, and moved to Virginia Beach when I was in kindergarten. I feel like being part Hawaiian and having another location to call home, allows me to have a changed experience of the world more than others. I graduated from Frank W. Cox Highschool with an Advanced Diploma; I was a Business Management major until last year when I became an Art Studio major with a concentration in Painting & Drawing. Most of my artwork revolves around the water/ocean and more adrenaline-filled sports, which I feel contributes to and comes from my experience with the islands and how important they are to me.
Artist Statement                                                                                      I usually work in the mediums of painting and drawing such as oil paint and charcoal. In my artwork, I will usually try to convey the standing of time with nature and its environments. My work often imitates the ocean, water and its movements, more extreme movements and energy, and lights' interactions with its surroundings because living in the middle of the ocean, things moved fast; the waters surrounding us on all sides had a strong influence on the many people living within the islands. As well as coming from a childhood where things moved fast emotionally, I believe that same swiftness still reflects in my daily life as well as in my artwork. I often find myself not being able to sit still and I love drawing and painting compositions that involve some sort of movement, whether it be just the subject or down to the very strokes of my hand. In this specific show, through my painting and drawings, I hope the concepts of movement, fluidity, respect, and responsibility can guide the audience toward a higher outlook, rather than "just looking at art." I hope for others to look past the cartoonish feelings and see the power and awesomeness of a lot of moving water, and objects moving in rather unorthodox ways, in a world full of clear-cut rules and borders.
 Biography                                                                                                Teresa Gonzalez was born and raised in Harrisonburg, Virginia. She had a passion for art at a young age due to the immobility of breaking her collarbone twice as a child. She mainly uses media in painting and drawing. As an undergraduate at James Madison University, she was able to develop a passion for underrated people and minorities. Subjects relating to self-image, body shaming, and issues revolving around the immigration system and its flaws. She hopes that her art speaks for those who feel as if they don't have a voice.  
Artist Statement                                                                                      Being a woman has many meanings, but society and social media have made being unique and having individuality tricky over the decades. Through her pieces, she has worked to promote diversity in how women see beauty as there is no real concrete definition but an assumption of what someone should look like. The idea of divine feminine energy is how women should view themselves and other women. To be able to see the energy illuminate off the female body as no woman should be confined to just being an object or anything less of a person.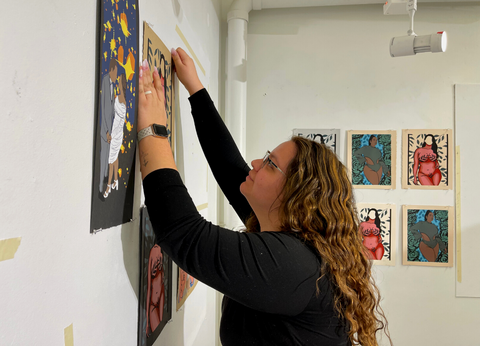 Teresa Gonzalez installs her work in The Divine Femme.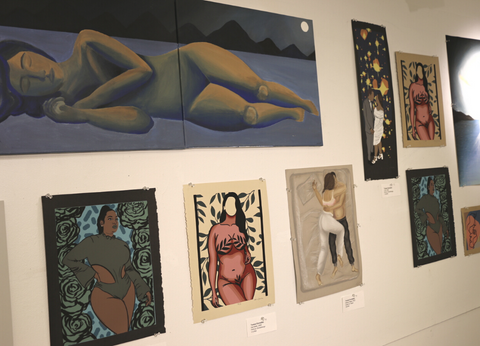 Teresa's artwork.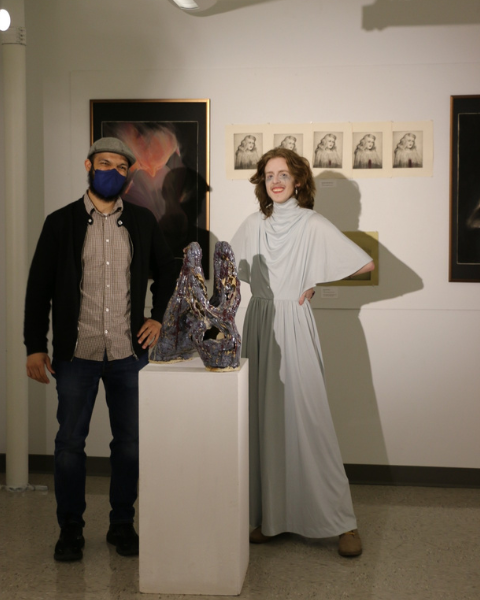 Kyn and Assistant Painting & Drawing Professor Kyle Hackett.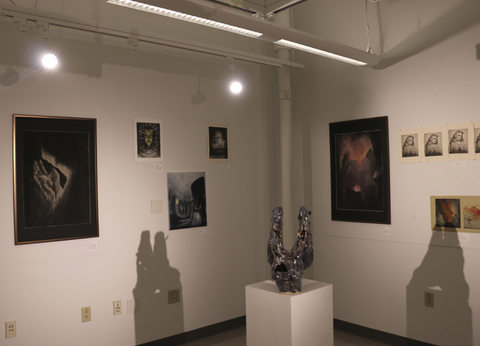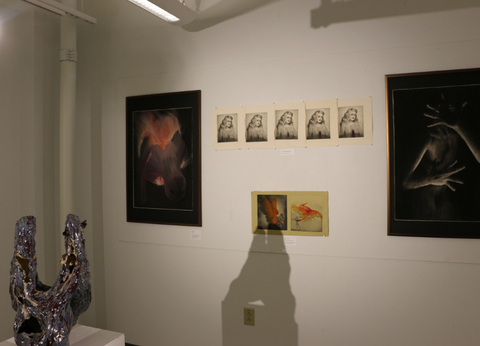 Kyn's work in Changes of Story and Self. 
Biography                                                                                                Born and raised in Virginia, I took up drawing from a very young age. I continued developing my artistic skills throughout school and even created a multitude of characters based on myself and my personality. In high school, this was a way of beginning to investigate my identity, even experiencing severe gender dysphoria, but lacked any kind of formal education and knowledge about queerness and LGBTQ++ topics. Pop culture rampantly conveyed messages of how transgenderism was a kind of deceptive, predatory action, or a joke. As I entered college, I became invested in drawing and printmaking, the processes becoming a comforting set of actions that allow me to translate my frustrations well, with concepts of human physicality and spirituality that developed in tandem with my identity.
Artist Statement                                                                                      In this world, some people are adamant to deny my personhood; people who use their sense of faith as an excuse for their violence and prejudice towards myself and those whose identities are like mine. Over the course of my life, I have sought both a sense of belonging and a way to spite their ignorant and hypocritical beliefs, which has culminated into the creation of my own spiritual cosmology in tandem with my artistic skill. Visual art is a medium through which I explore the sacred nature of humanity, viewing our species through the eyes of a creator, and confronting themes of morality, mortality, and the complexity of individual selves. Primarily working in drawing and printmaking, I employ a personal set of iconographies through which these mediums allow a procedural repetition, that describes a fluctuating yet divine relationship between the physical and metaphysical aspects of human existence. For example, the recurring shrouded figure is a stand-in or representation of the physical form, so that appearances are no longer a concern of the viewer, allowing focus to be drawn to their actions, or those acted upon them, instead. By breaking down my identity, and the broader human identity, into interacting pieces of a whole, I have found a method of communicating my spiritualism which does not deny personhood on the basis of nonconformity.
Biography                                                                                               Michael Dodson is a senior majoring in Studio Art with a BFA, concentration in printmaking, and a minor in art history. He is planning to continue his studies in printmaking at the graduate level. 
Artist Statement                                                                                      My artwork focuses on juxtaposing the self within the passage of time with an interest in exploring the subconscious mind's reaction to daily life. Utilizing drawings, paintings, and printmaking my work focuses on shifting perceptions of time and external events in relation to one's identity as it's further shaped by inner angst and a fear of change.      Through the representation of everyday occurrences, an interior dialogue is established. In this context, a cloud becomes a metaphoric object with a unique evolving form depicting the uncertainty of the inner self. Through the use of color, tone, and figurativism a cloud can come to represent a measure of time in the development of the human psyche. Color choices play a major role in conveying recurring themes related to the inner self as one within my surroundings. Overcoming the fear of change in my life is an overriding concern and one of the themes I hope on some level the viewer will connect with.
Michael Dodson stands with his large-scale self-portrait.
​Misha Rodriguez installs a painting.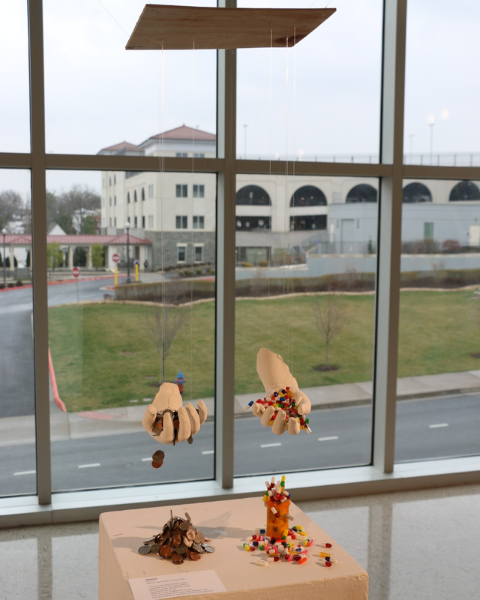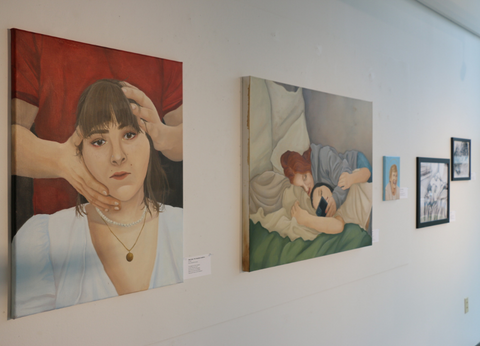 Misha's artwork in Sovereign Autonomy: The Space Between.
Biography                                                                                              Hi! I am a Virginia-born-and-raised artist located in Fredericksburg, Virginia. After graduating high school with my associate's degree in the midst of Covid, I transferred to JMU to pursue a double major in Studio Art and Theatre. I began doing art at a very young age, and luckily with the support of my parents, art morphed into more than a hobby and became an escape from life. I used the act of creating to better understand the world around me. My dad is an immigrant from Bolivia and my Latinx identity is something that I always want to learn more about. My familial and queer identity as an artist are things that deeply influence the art I create. I see art as a platform for activism, in turn, many of my pieces are about the struggles of being a queer woman; which is still prevalent in an age where marginalized communities are seen as lesser than others. As human rights are continuously being taken away, it is important to use my platform as a creator to educate others by bringing light to issues in our world. We as artists have the unique opportunity to use our creativity to amplify others and understand their struggles. In creating art, I aim to form a connection with my viewers, so that they can see themselves in my work.
Artist Statement                                                                                      In today's world, where connections are brief and self-involved, how can we possibly make our voices known? Life is fatally fleeting, but it is vitally important that we take moments to embrace the small things. The works you see here are all about the human connection. There is something in the universe that ties us together, moments, small or large, have an impact not only on ourselves but the world around us. Relationships come and go but the connection with oneself remains constant.                                                                                              Our voices can be used for good and bad. To either cause harm or insert our own flaws unto others. Still, there is comfort and peace, simply in the voices of those around us. We feel home in not only our families, but with people who make our hearts swell. Meanwhile, those with power use their connections to manipulate those around them. They force people they see as less than into boxes that were built too small to contain their opposing power. When we create connections with people who uplift us, together our voices incite change. It's a tidal wave of support and love that breaks down walls. It's fear and trepidation that builds them up to separate us.