School of Art Design and Art History
SADAH Director MiKyoung Lee exhibits artwork in China
Lee's "Symbiosis" acquired by the Jupiter Museum of Art in Shenzhen, China
---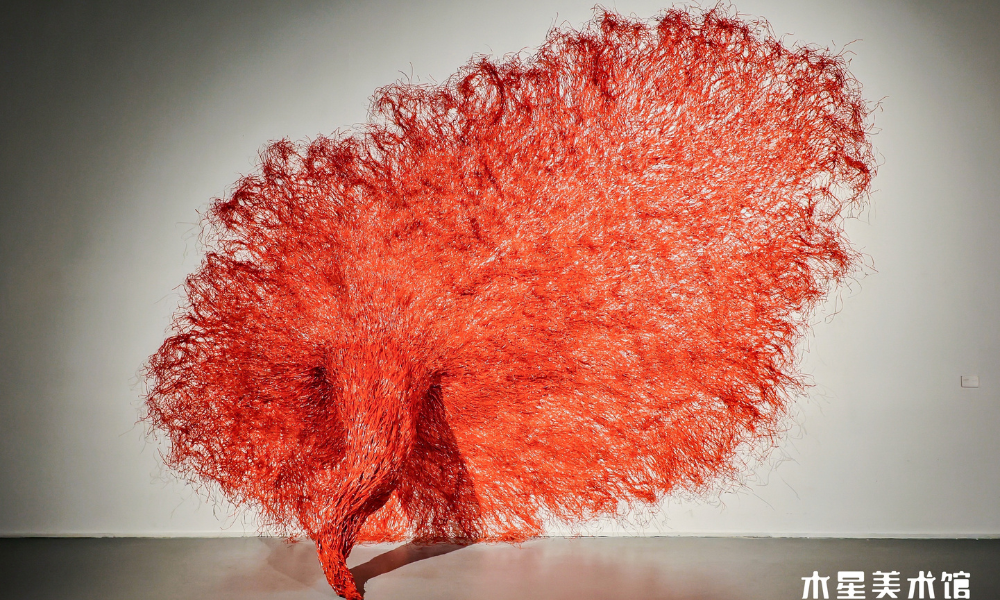 MiKyoung Lee, Symbiosis, n.d. Jupiter Museum of Art, Shenzhen, China. 
---
MiKyoung Lee is not only the director of the School of Art, Design, and Art History at James Madison University but also a professional artist. With a traveling exhibition in China, work in the Jupiter Museum of Art's permanent collection, and her leadership in SADAH, MiKyoung exemplifies life's balance of career and passion.
The exhibition Story of Memory is currently on view at the Jupiter Museum of Art in Shenzhen, China, and will travel throughout the country in the coming months. MiKyoung has seven selected artworks in the exhibition, including "Symbiosis," which the Jupiter Museum of Art acquired as part of its permanent collection. MiKyoung shares that the Jupiter Museum of Art attaining her work holds deep meaning to her, "I feel so honored and grateful to have my artwork collected in a respected and highly regarded art museum." She constructed the artworks in the show between 2011 and 2022, and the work on view includes various textile works. Story of Memory features works from women artists. In addition to MiKyoung, Professor Wu Fan from China also has works in the show.
MiKyoung started her role as SADAH's director last year and is already making an impact. Before coming to JMU, she worked at the University of the Arts in Philadelphia, Pennsylvania, where she was the Director of Craft & Material Studies Program. In addition to her professional career in higher education, her career as a professional artist continues to advance.
In the School of Art, Design, and Art History, students learn to become innovative professionals and make their creative passions become careers. MiKyoung exemplifies this, being both the SADAH Director and an internationally-recognized artist. "I feel being a professional artist is like having any other professional job," MiKyoung shares. "Only one thing it is different is that there is no one to replace what you do in the world." Every artist brings unique perspectives and creations to the world. Her work is just one example of individuality, innovation, and creativity in contemporary art. "I feel totally privileged to be a professional visual artist that I am in the position to share my visual manifestations," MiKyoung shares her gratitude towards her position. 
Balancing her role in SADAH with being a professional artist and having a family seems no short of challenging from the outside. MiKyoung points to time management and task prioritization as key in her work. She has already had several exhibitions since starting at JMU, but she wishes to continue to make art and plan for upcoming shows. She shares that breaks in the academic year allow her to work on personal projects, proving to help her advance her career as a professional artist. 
MiKyoung's experience is no short of impressive, and her background provides a wealth of knowledge. She shares the following advice to emerging artists and students in creative fields, "I recommend young emerging artists to seek opportunities to exhibit artworks," she shares. "Opportunities in local galleries, competitions, and navigating opportunities allow and encourage you to make and improve your work." MiKyoung also adds that time management and financial literacy are crucial to success. "Please be patient with your growth," she continues. Graduate education can be critical, but every path is different. Some succeed with a dedication to their work, and others need more education. Lastly, MiKyoung says to "be kind and engage with others." She shares that connections and professional skills are critical to success. 
As Story of Memory travels through China to different museums, MiKyoung prepares for even more shows. Another upcoming museum exhibition in China will feature two additions of MiKyoung's works from the Jupiter Museum of Art.She also has an upcoming solo exhibition later in the year at the Princeton Art Museum in Princeton, New Jersey. 
Images courtesy of MiKyoung Lee, 2023.