School of Art Design and Art History
CVPA faculty development grant helps artist archive 20+ years of work  
---
---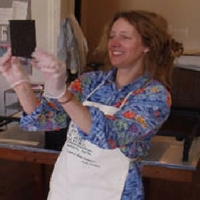 JMU School of Art, Design and Art History assistant professor Dymph de Wild used her time at home during the pandemic and a professional development grant to create a digital archive of her work from 20+ years as a professional artist.
For Dymph, preparing artist talks, generating proposals for exhibitions and art residencies, updating her website and writing grant applications had become a cumbersome and time-consuming prospect. With a 200-square-foot studio covered in completed and uncompleted work and found objects and at least 15 thumb drives to look through, she realized she had to tackle the daunting task of organizing her work.
Dymph successfully applied for a $1,000 CVPA Faculty Development Grant to hire undergraduate student photographer Evan Clough and buy hardware and supplies to create a searchable database.
After Dymph did preliminary work of cataloging her 2D work, which dates to her Belgian photography studies in the 1990s, Evan got to work creating 300,000 images that captured every piece of finished work, dismissed work and found items that covered her studio. Together, they created a naming convention for the files that include art medium, a descriptor, a category number and an item number. Thanks to a software tool that helped cull duplicate images – a process that took seven hours – Dymph ended up with 100,000 images that she can sort according to any part of the title.
The entire project took 75 hours over five weeks and provided Dymph with an organized library of her work that she can continue to grow with new images. Dymph talked about her project in a PechaKucha presentation at the Sparks Symposium, an event that celebrated the impact of CVPA funding for scholarship and research.