School of Art Design and Art History
Mark Rooker Receives 2021-22 CVPA Beck Faculty Fellowship
---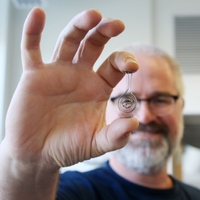 Professor Mark Rooker (metals & jewelry) has been selected to receive the 2021-22 College of Visual and Performing Arts Beck Faculty Fellowship. Rooker was recognized for his recent work during the pandemic, his scholarship work on MoonArk and his community work. The fellowship is an annual award to a full-time faculty member in the School of Art, Design and Art History who shares a vision for the visual arts in the community. A Fellow must be deeply involved with JMU students, giving them opportunities to learn and thrive, and a leader who advances the visual arts in Harrisonburg City and Rockingham County.
When the pandemic caused JMU to move its courses online, Rooker faced challenges specific to his area of teaching, so he taught himself how to shoot and edit videos that give students a close-up view of intricate procedures from anywhere in the world. He says: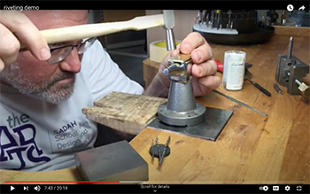 "Normally, a large part of my teaching is giving live demonstrations of technique. One of the challenges in providing this, is the scale of the work. Much of the action is finger-tip sized, although the body-mechanics of the work is often full-body, so there is a physical challenge in getting 18-20 students close enough to see everything. Like many of my colleagues at other universities, I've been experimenting with using video equipment to help students see everything clearly.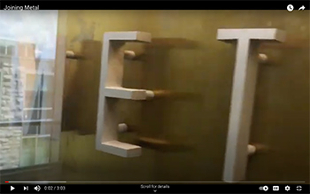 I wanted for some time to take this to the next logical step and record video of the demonstrations so that students could re-watch them or make up for missed classes by watching them. Until the pandemic though, I was put off by my own inexperience with the processes of making good demonstration videos. 
However, the pandemic shutdown forced a large change in my teaching practice as I shifted to a hybrid format in which only half my class is physically present during each class meeting. If I continued the live demos, half of each class would have to watch via Zoom, or I'd have to repeat every live demo for the half of the class that was online. So, in July of 2020, I began creating videos for every technique covered in my Beginning course.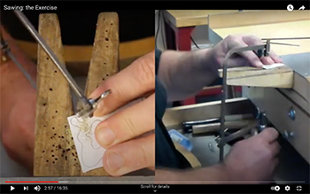 The learning curve for making these videos was even more difficult than I anticipated-- both because I had never made a video before and had to learn everything from scratch, and also because the demonstrations are difficult to capture, requiring multiple cameras, multiple takes, scripts, voice-overs, illustrations and animations. I produced 36 of these videos so far, each one improving on the previous one as I learned from the process. It took an average of an hour of work to create each of the 179 minutes of finished video.

Part of the learning curve, and one of the biggest complications of the process, was the equipment for recording video and sound. Because this was a new area for me, I made use of the equipment I already had-- an SLR camera and lenses, a webcam, my iPhone, various Apple computers—and struggled through finding what worked. Surprisingly, I discovered that my phone was almost ideal for recording the wide range of sound, photos and videos I needed. It also integrated smoothly with the other Apple software and computers I'm using for the editing of the videos. However, I repeatedly ran into issues with storage capacity, and the limitations of the small screen. I also discovered that using my personal phone so intensively for this purpose created conflicts with my use of it for home life. The CVPA Faculty Research Grant provided funds to purchase an iPad Pro and Apple Pencil to improve my ability to film and edit the videos."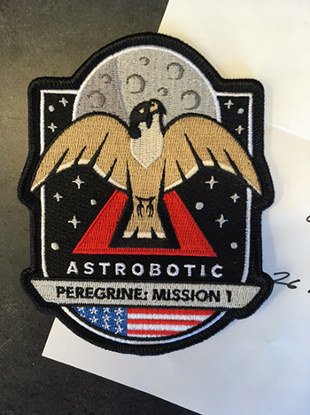 MoonArk is a nine-ounce, four-part mini museum set to launch to the moon in October. In collaboration with Carnegie Mellon University, Rooker designed the innermost components of the capsule meant to explain humanity to future explorers through the contributions of more than 250 artists, designers, educators and scientists. And, while MoonArk will have a permanent home on the moon, its Earth-bound twin will have a permanent home in the Smithsonian National Air and Space Museum. Read last year's CNN article about MoonArk.
Rooker has offered week-long workshops for high-school students as part of the Summer Arts Program, writing a curriculum that gave the students a real experience in metalsmithing, but was age and risk appropriate. He provides set design and construction for Thomas Harrison Middle School's theatrical productions, volunteers for both Harrisonburg High School and Thomas Harrison Middle School's Technology Student Associations, and has been the team manager for seven Destination Imagination elementary school teams.
In 2011 Mark designed the studio for the metals and jewelry area in the renovated Duke Hall.  They included new technologies such as micro-arc welding, laser welding and induction casting along with traditional flame-based processes to create a workshop that few others in the United States can equal.
The Fellowship was established by alumni Phillip ('73) and Christina Updike ('73) in memory of her parents, Paul and Lillieanna Beck, in support of SADAH, where Christina Updike earned a bachelor's in art with teaching certification and then worked as visual resources specialist for 38 years before retiring with the staff emerita designation in 2012.
Images, top to bottom: Mark Rooker, three still images from video demonstrations, the mission patch for the flight that will take MoonArk to the moon.