School of Art Design and Art History
SADAH Students Transform Unsellable Guitars into Home Goods
---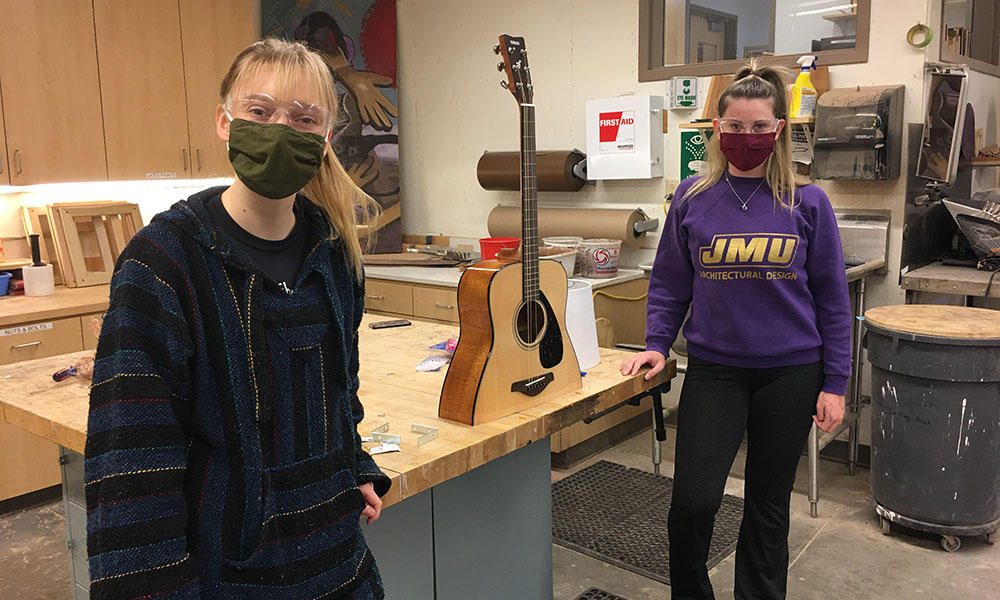 Click on thumbnails for full pictures

| | |
| --- | --- |
| | |
| | |
| | |
SADAH students Anna Stegmeier (studio art and art education, '23) and Cheyenne Granahan (architectural design, '23) have been working all year on a charity project through Yamaha Cares Upcycle, turning two slightly blemished guitars into a lamp and a shelf, and a guitar case into an ottoman.
Part of the challenge was sawing one of the guitars in half. "I was like, 'Anna, you get that job," says Granahan. "Anna's a miracle worker." Stegmeier says, "It was hard to push through the saw at the edges, and then the middle was hollow and going right through. It was stressful."
The project came through OASIS Fine Art & Craft artists' co-op in downtown Harrisonburg, Va. (where Stegmeier is a member), which is partnering with Harrisonburg Music Teachers Association. The HMTA's a mission is to provide free musical instruments and six months of instruction to families who can't afford it.  When HMTA approached Yamaha for instruments, they learned about the company's upcycle program: guitars that do not pass Yahama's quality controls go to nonprofits for fund-raising, as long as the guitars not sold as musical instruments.
Enter OASIS and its cadre of artists who are working to transform 42 guitars for an auction at Virginia Mennonite Retirement Community in July and August. After the auction, any remaining guitars will return to OASIS for sale. All proceeds will go to HTMA.