School of Art Design and Art History
SADAH Alumna Earns Bennett Prize Nomination
10 finalists nationwide vie for $50,000 prize offered solely to women figurative realist painters
---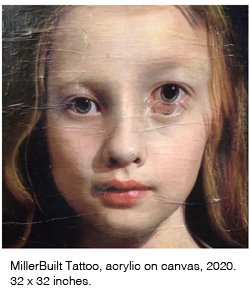 Lavely Miller (B.F.A. '00) was named one of 10 finalists for the $50,000 Bennett Prize, the largest art award offered solely to women who paint in the figurative-realist style. The finalists were selected from among 674 entrants by a four-member jury, which includes eminent realist painters Alyssa Monks and Katie O'Hagan, director of world-renowned The Andy Warhol Museum, Patrick Moore, and Prize co-founder Steven Bennett. 
"Going to JMU changed the course of my life and the Art department was incredibly kind to me the entire 4 years I was there," said Miller. "I don't think I could've gotten a better education anywhere else in the world. For the past 20 years this is something I've remained profoundly grateful for." 
The winner will be announced at the opening of an exhibition of the finalists work at the Muskegon Museum of Art, May 20-Sept. 12. The winner of the Bennett Prize will receive $25,000 annually for two years to allow her to devote the time necessary to mount a solo exhibition of her work, which will open at the Muskegon Museum of Art in 2023 and then travel the country.
The Bennett Prize spotlights women artists who are or seek to become full-time painters, but who have not yet achieved full professional recognition. The Prize is also designed to allow the public to learn more about the creative vision of talented women painters working in the ever popular style of figurative realism.