School of Art Design and Art History
CVPA Professor's Unique Photography Allows Virtual Visits
---
Top: Murmuration III, the current ehibition at the New Image Gallery. Bottom: 2020 M.F.A. Exhibitions for Mallory Burrell and Danielle Romagno at Duke Hall Gallery of Fine Art.
---
Associate Professor of Stage Design (specializing in Scenery and Lighting) Richard Finkelstein in the School of Theatre and Dance has a skill that has helped to bridge the gaps created by time and space. Finkelstein's special brand of photography creates immersive, 360-degree images that place virtual visitors in the center of places they can't visit due to travel limitations or pandemic precautions. He has in the past few months captured spaces throughout the College of Visual and Performing Arts so that prospective students can see our spaces from a distance. Now, his images allow art exhibitions on campus to be seen and even toured online. 
Here we give thanks to Finkelstein for his hours of work and take a peek behind the camera.
---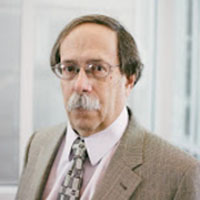 SEE MORE SPACES WITHIN THE SCHOOL OF ART, DESIGN AND ART HISTORY
SEE MORE FINKELSTEIN PHOTOGRAPHY
How did you get into photography?

I started way back in 1962 when I was in 4th grade. I was not only taking photos then but doing all my own darkroom work as well, continuing into color darkroom work too by grad school. Digital is far less messy.

What is the most interesting or your favorite thing that you have photographed? 

More complex answer here. In Fine Art Photography, for exhibition and publication, photographers are expected to have a specialty of look and content. BUT much of my photographic work is in service to my work as a stage designer, and in that discipline all styles and subject matter is within our design expectation. So as a photographer I am unusual in that I do have specialties, but multiple ones in a vast array of arenas.
When asked to define a specialty, I list Performance Photography, with Dance Photography as my prime area, and that is where my work is most known and published. It is also - to many - the most interesting, as I have been able to photograph many of the pioneers and great dancers around the world. One of my photographs was even featured in the last Tony Award Ceremony.
My favorite moment in Dance photography was my assignment to document the reunion of dancers from the 3 Ballets Russes Companies in 2000. Most of the dancers there were in their 80s and were the giants of dance. In fact, that reunion was also documented as a feature film that won considerable praise and viewership.

How did you get started photographing JMU spaces?

As part of my work as official photographer for the School of Theatre and Dance. But as a designer, I am also interested in architectural history, so I have full documentation of spaces no longer with us, including of when Duke Hall was our Theatre (where the large central gallery is now). One of the great mansions on Main Street was our Costume Shop before Forbes was built.

What is the process of making a 360-degree image? How long does it take?

Many people reading this have likely done these themselves, as most cellphones can accomplish the task. One can also take multiple photos with a high end camera and combine them via software. Each system has its limitation and strength.
In my case, I mostly use multi-lens, specialized cameras. One advantage with these is that the stitching process is automated, so little time is needed to take the photo. But my photo work goes by the pre-digital adage that a photograph is made, not taken. Each photo I share with the public is refined after the taking. Most of this process is to bring the tonalities into the range that allows for highest quality in reproduction, either in print or online. In 360 photography, the final issue is in how it is presented. Facebook can display these, but poorly. So now I work with a 360-degree image server that allows much more detail to displayed with the images.

What's the best life advice you've ever gotten?

Learning: A Change in Behavior
---