School of Art Design and Art History
SADAH Professor Named CVPA Madison Scholar
---

SADAH Professor named this year's Madison Scholar for the College of Visual and Performing Arts
Professor of art (ceramics) Sukjin Choi has received the 2020 CVPA Madison Scholar Award. A part of SADAH's faculty since 2007, she is an internationally and nationally renowned visual artist, whose work inspires diverse audiences and hundreds of JMU undergraduate and graduate students. Nominees for the award are vetted through a rigorous, faculty-driven process.
Choi's ceramic art ranges from large-scale mixed media installations to huge hand-thrown Onggi jars created using traditional Korean techniques. Choi's scholarly achievement includes more than 250 solo and group exhibitions, artist workshops, residencies, and guest lectures in leading artistic centers. Choi is also a prolific commentator on the field of ceramics, publishing more than 120 articles for the Korea Times in Washington, D.C. and Monthly Ceramic Art in Korea.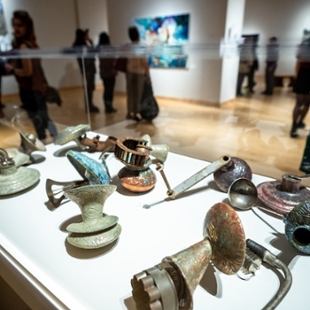 Over the past year, Choi has participated in five additional exhibitions, including a solo installation "Path," at the Tony Hungerford Memorial Gallery at College of Southern Maryland, La Plata, Md. (pictured above). Choi installed 410 hand-built ceramic sculptures and variously sized wheels. In conjunction with the exhibition, she presented the lecture, "My World of Art," which included two video presentations: 1) Video Retrospective; and 2) and Flower Tire. The exhibition, presentation, and videos celebrate many of Choi's artistic accomplishments.Choi's international reputation is demonstrated by numerous invited workshops and awards, with two prestigious upcoming international artist residencies.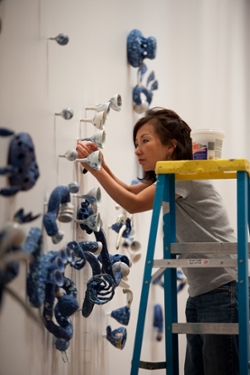 Choi's work is permanently installed at the Arts Council of the Valley, and she regularly shows work throughout the region. Last spring, she organized and curated an exhibition of five other SADAH faculty members, "Collective Efforts: JMU 3D Faculty Exhibition," at Artspace Gallery in Richmond, VA. 
In her artist statement, Choi states that her work. . . is concerned with memory and the tracing of time. . .A rusty rod reminds her of. . . the intimate past infused inside of it.  Choi's work addresses the timeless reminder that surfaces and interiors, including our own, cannot be separated.