School of Art Design and Art History
Dymph de Wild Visits Africa
---
SUMMARY: Assistant professor Dymph de Wild (studio art) recently spent three weeks in Ethiopia during an art residency. Here, she describes how her time there enriched her teaching and her art practice.
---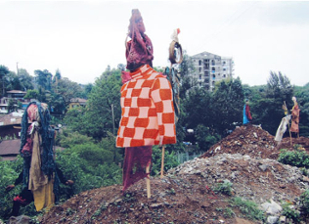 Where did you go?
I had an art residency at Guramayne Art Center in Addis Ababa, Ethiopia, thanks to grants from SADAH and the Center for Global Engagement. I also traveled a little bit to northern parts of Ethiopia: Lalibela, Gondar, Bahir Dar and Lake Tana.
When were you there? 
May 2019
What did you do while you were there? 
I created sculptures and a bound book with writings, drawings and collages. Foraging for and collecting found materials on site, my mission was to shine a spotlight on the inhumane and ongoing displacement of people who inhabit increasingly valuable land in Addis Ababa. The communities being marginalized by wealthy developers are losing their historic homes; and their rich stories are being swept off the earth, resulting in bare and buried landscapes, spaces in waiting for buildings that will enrich others. By creating this spirited body of work, I wanted to pay homage to all of the displaced people.
How will this trip contribute to your teaching? 
Through immersing myself for one month in such a foreign, diverse culture I intended to learn about the community, their customs, the local art scene and its antecedent traditions. By exchanging my viewpoints and knowledge of fine arts and talking about my creative process both as an artist and an educator, I intended to make connections between my Western culture and upbringing and this non-Western civilization.
This opportunity to visit and to create artwork in Ethiopia will enrich me personally in my art practice and my art teaching. In today's global society, my JMU art students will benefit from seeing and hearing about all that I learned while in Ethiopia. Bringing my stories and images back to the classroom will expand not only my own but also my student's horizons. I will happily help prepare each of them for future international residencies of this kind and for international study abroad, in general. I will certainly instill respect for the Ethiopian culture in my students, and by extension, respect for all "others" working in the arts, around the globe.
How did the trip enrich you as an artist?
I had the opportunity to commune and collaborate with contemporary Ethiopian artists who live-work at the center. I created work on site for a solo exhibition at the gallery of the art center, which was curated by Mifta Zeleke, curator and director of the art center. 
I also gave a lecture about my work to artists, art professors, theater director and other art professionals from the community. I gave two workshops in bookmaking: one at the art center and one at the Addis Ababa University's Ale School of Fine Arts, where I also served as a guest critiquer in a film production class.