School of Art Design and Art History
SADAH Welcomes Jori Erdman to the Faculty
New Gallery Directory Appointed; Dymph de Wild Becomes Full-time Faculty
---
Jori Erdman has accepted a full-time position in the JMU's School of Art, Design and Art History architectural design program, where she has served as a visiting professor since 2018.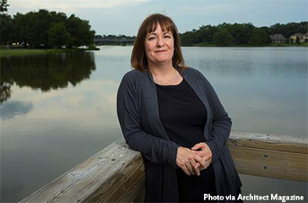 Prior to coming to JMU, Erdman served as visiting professor at the American University of Sharjah, UAE in the spring of 2018. Erdman served as a professor and the director of the School of Architecture at Louisiana State University from 2009-2016, teaching undergraduate and graduate studios though the fall of 2017.  Jori also taught architecture at Drury University in Springfield, Mo., and for nine years at Clemson University. 
Erdman holds a Master of Architecture from Columbia and a Bachelor of Science in Architecture from the University of Virginia. She is a registered architect, a member of The American Institute of Architects and principal of her company, ROOM Architecture. Erdman is co-editor and lead author in two chapters in a 2018 book "Sustainable Pathways for Mississippi Delta Restoration," (Springer Publications).
---
Beth Hinderliter will take over as director and chief curator at Duke Hall Gallery of Fine Art. Hinderliter has been a visiting associate professor of cross disciplinary studies and affiliate faculty at SADAH since 2017. Hinderliter has created many art exhibitions and courses during her time at JMU and at SUNY-Buffalo State, where she developed a curatorial studies track with a class on curating contemporary art that she continues to teach at JMU.
In her new position, Hinderliter plans to continue engaging the community through the gallery. "I am committed to the educational mission of arts spaces on campus and working with different constituents to create arts programming that engages, energizes and challenges the community," said Hinderliter.
Most recently, Hinderliter co-curated Colonial Wound / Postcolonial Repair at DHGFA, a show that traced the story of French colonialism and colonial violence through the contemporary artwork as contextualized by historical materials. She currently teaches courses in women's and gender studies, Africana studies, and art history. Hinderliter has a doctorate, a Master of Philosophy, master's and bachelor's degrees in art history. Read more about Hinderliter's scholarship and honors and awards.
---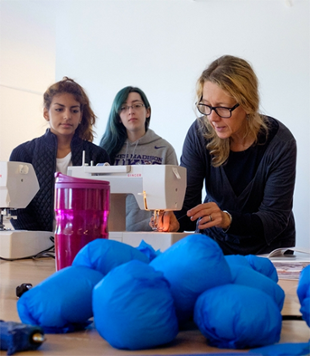 Dymph de Wild has accepted a full-time position as an assistant professor of art in foundations at SADAH. De Wild has taught in the art department since 2012 and has served as a visiting assistant professor since the fall of 2018. She has taught all foundations classes at SADAH, the basic skills necessary to help students become successful in their art careers and seeks to create a safe space for students to build their confidence.
De Wild models herself as a "teaching artist," an international art professional who continues to produce and show new work. She encourages students "to find their art-making materials not in a store, per se, but in alternative places around and in places not so familiar to them," as she does in her own practice.
De Wild recently participated in a two-week art residency in Frigilliana, Spain, and she currently has a solo show in the Gallery at Studio IX in Charlottesville, Va. Born in the Netherlands, de Wild earned her M.F.A. at JMU.  www.dymphdewild.com