Emerging & Emerged
Student-Faculty Scholarly and Creative Collaborations
School of Art Design and Art History
---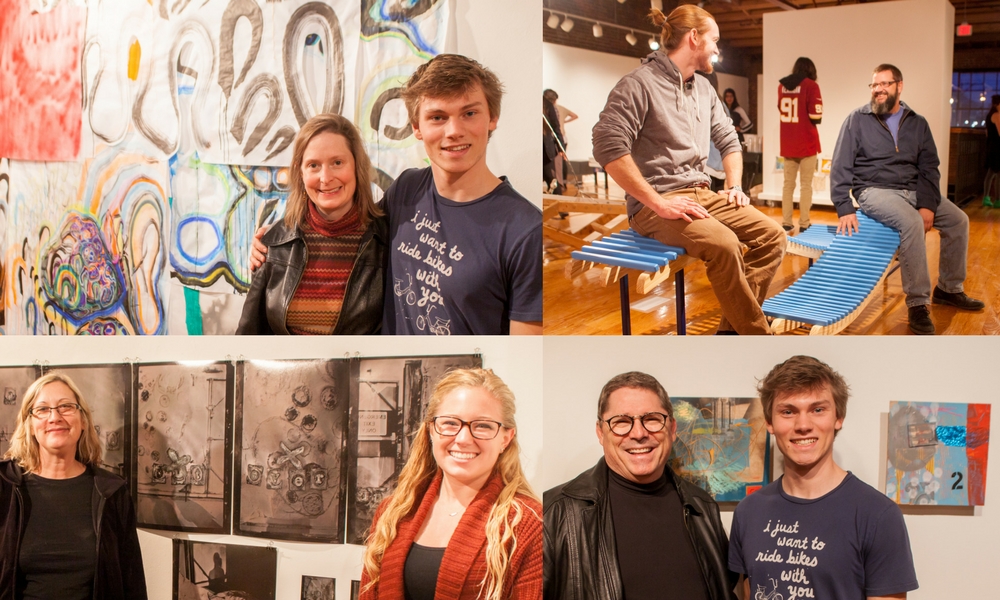 Emerging & Emerged is comprised of collaborations between faculty and students across different disciplines within the School of Art, Design and Art History. This show was developed as a teaching tool for upper level students engaging in collaborations with professional artists and as an added level of competition within the studio area. It encourages you to consider the relationship between mentor and mentee, educator and educated, and the creative legacies of those interactions.  This project questions the nature of "collaboration" as a key part of artistic practice. 
A panel discussion on the usage and meaning of "collaboration" will be held at artWorks on December the 1st, at 5 PM. 
_________________________________________________________
View the Exhibit Photo Album HERE

_________________________________________________________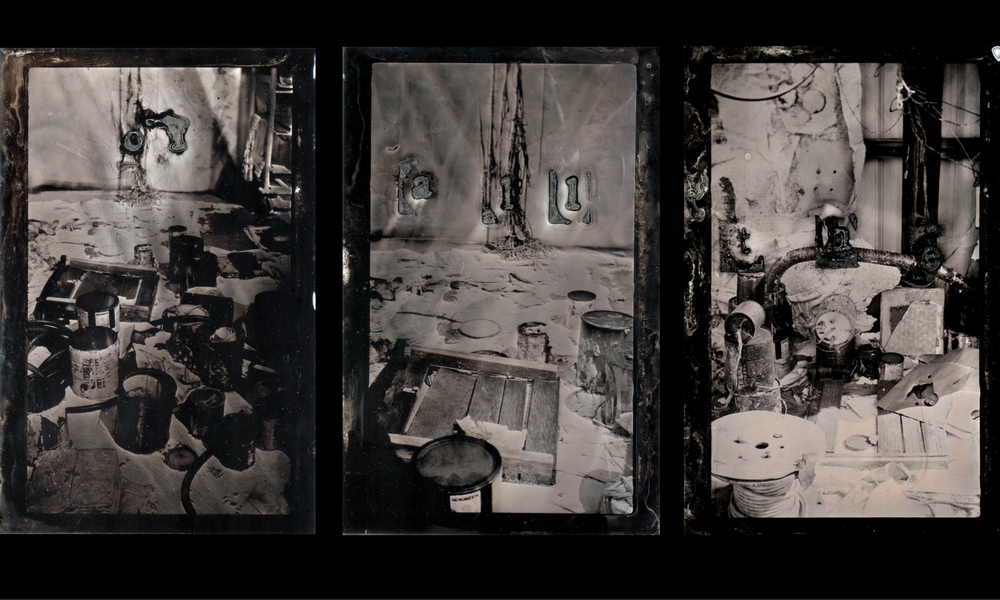 First three tintypes from "chemical poem: of all the things"
by The Metal Shed CoLab, Rebecca Silberman, Rachel McCroddan, Corinne Diop
chemical poem: of all the things
The Metal Shed CoLab
Rebecca Silberman
Rachel McCroddan
Corinne Diop
11 enlarged prints of tintypes
The content of this collaborative project, "chemical poem," depicts an outdoor studio space set up by photo professor Corinne Diop in the courtyard of the photo facilities at Memorial Hall Art Complex. The installation was arranged and rearranged during two sessions where the chemical poem was written and photographically recorded simultaneously, each word and image a response to the previously made plate. The actual images, tintypes on blackened metal, were created by photo professor Rebecca Silberman and photography senior Rachel McCroddan in collodion, a 19th Century photographic process. These plates are direct positives and are prepared with the chemistry just before use. The narrow time frame required for working with collodion or wet plate process, as it is otherwise known, inspired the words, branded in the wet chemicals as the images were exposed and echo the photographically rendered residue of the accumulated then absent items:
of all the things
no thing
left
out (Xed out)
over (Xed out)
undone
These 6" x 4" originals were then scanned and printed onto metallic paper for this installation. This work has been accepted into the inaugural issue of Light Journal, a publication dedicated to photography and poetry. Our thanks to Nava for coming up with this exhibition idea; it has opened many doors for ongoing collaborative projects!
The Metal Shed CoLab is an evolving collaborative of faculty, graduates, and undergraduates who work with photo-based processes. This incarnation of the CoLab is represented by Professor Corinne Diop, senior photography undergraduate, Rachel McCroddan and Professor Rebecca Silberman. The "Metal Shed" is an affectionate designation for the photography building (MHAC) located behind Memorial Hall.
---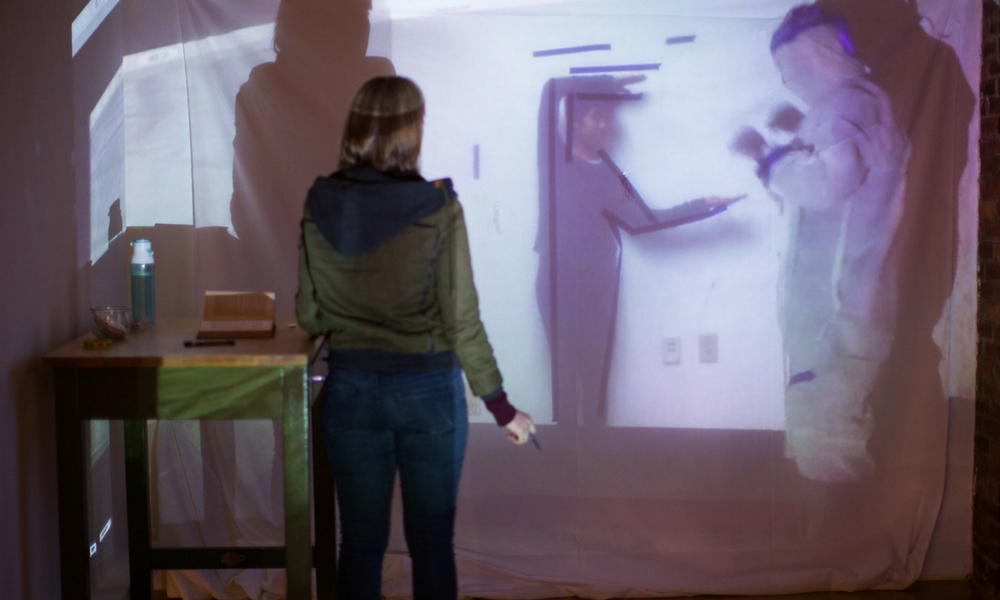 Performance Shot from "Cause, Effect, Cause" by Ashley Roth, Nat Duong, and R. Mertens
Cause, Effect, Cause
Ashley Roth
Nat Duong
R. Mertens
Performance, Dimensions Variable
FIRST PERFORMER: The originator of Power through Positioning.
SECOND PERFORMER: The quantifying of Power through Measuring.
THIRD PERFORMER: The collating of Power through Deciphering.
For the opening of this exhibition a 2 hour performance occurred. One remote performer focused energy through pose. A second remote performer outlined the poses in tape and called out measurements taken of the outline. The third performer (present in the gallery) utilized the measurements as page and line numbers of text taken from "Know Thyself" and detailed visual traces of the text along the ephemeral outline.
---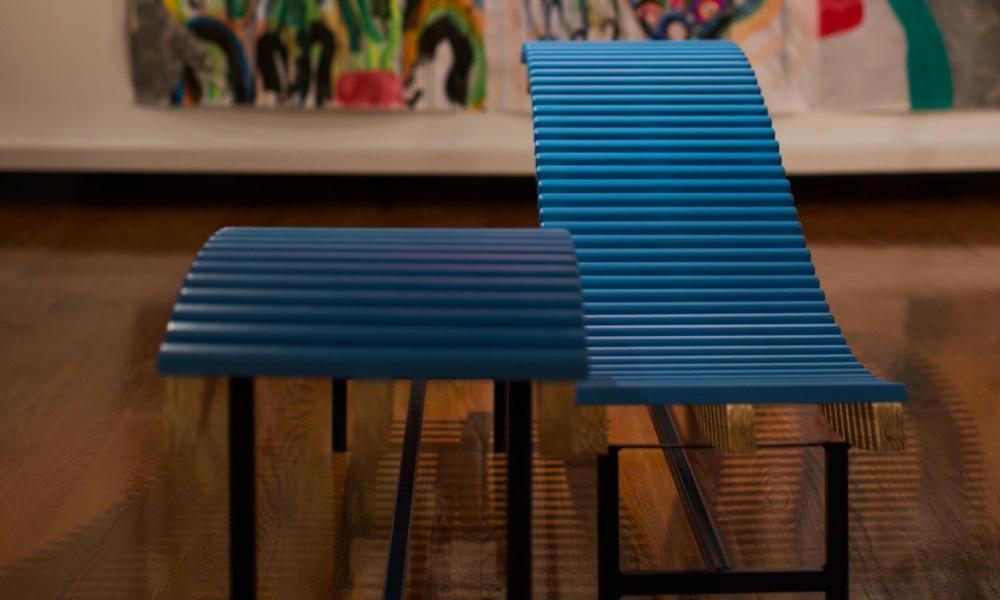 "Finally, a Megaripple You Can Sit On" by Eric Morris and Carlson Jenkins
Finally, a Megaripple You Can Sit On
Eric Morris
Carlson Jenkins
Yellow Pine, Paint, Steel
Furniture
This bench was inspired by the movement of sediments along the ocean floor. The waves we see on the ocean's surface are resultant from the energy in the water and the shape of the ocean's floor. The shape of this bench breaks the script we have with standard chairs and seating apparatuses, allowing us to adapt to it's form more organically. The positions we choose to take on this bench are dependent on the shape of the bench and the amount of energy we are willing to put forth. This is probably true for all chairs… but this bench looks like a wave to really drive the point home.
---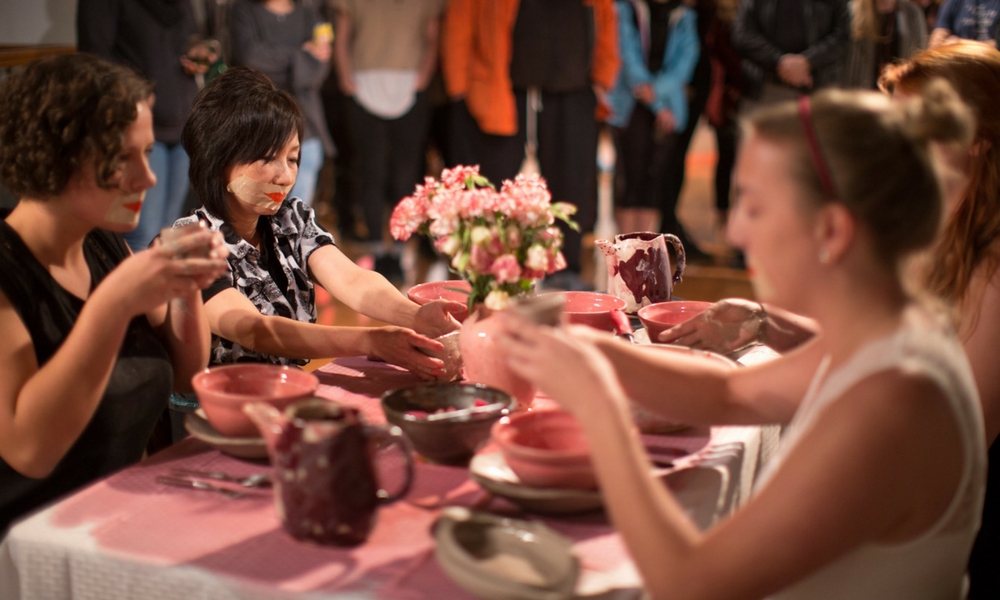 Performance Shot from "Hush"
by Sukjin Choi, Caroline Leroux, Jaynie Rogers, Lauren Waselik, Tori Jackson
Hush
Sukjin Choi
Caroline Leroux
Jaynie Rogers
Lauren Waselik
Tori Jackson
Performance and Remanence
Changing, stagnation, relationships; this has been at the forefront of our work. We are interested in questioning the roles of women throughout the ages and what are the ritualistic processes one goes through to share a meal with others. What boundaries are broken, where do we stand today, how can we push these assumptions?
---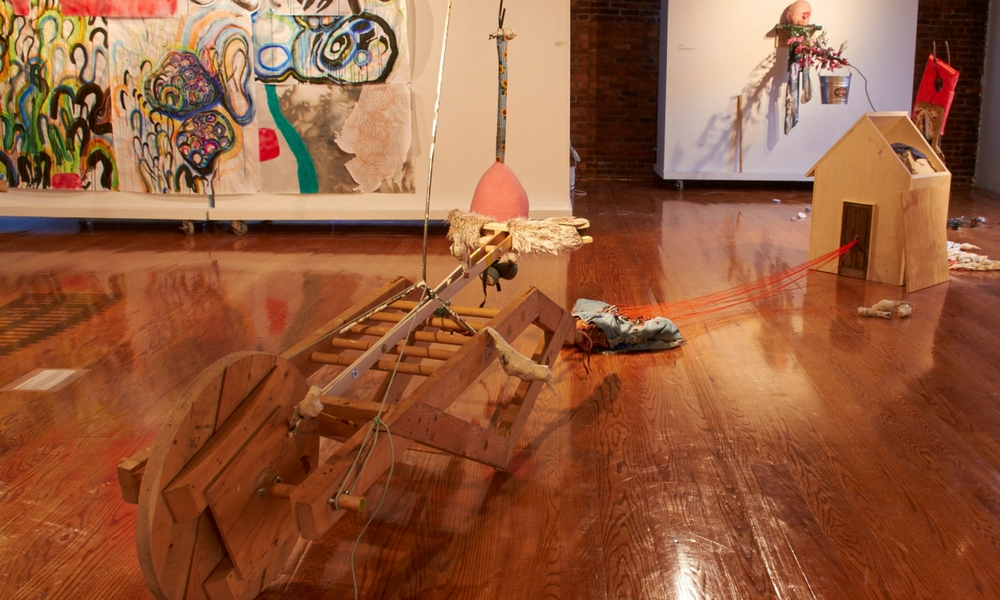 "Not for Human Consumption" by Nava Levenson, Stephanie Williams, Greg Stewart
Not for Human Consumption
Nava Levenson
Stephanie Williams
Greg Stewart
Wearable Assemblage
We imagined building an installation where things from each of our studios would merge together to form one larger assemblage. As we traded objects with each other a loose dialogue began to appear. Over time, the objects were becoming more specific, almost as if we were seeing as something more complete, and nearly functional. 
---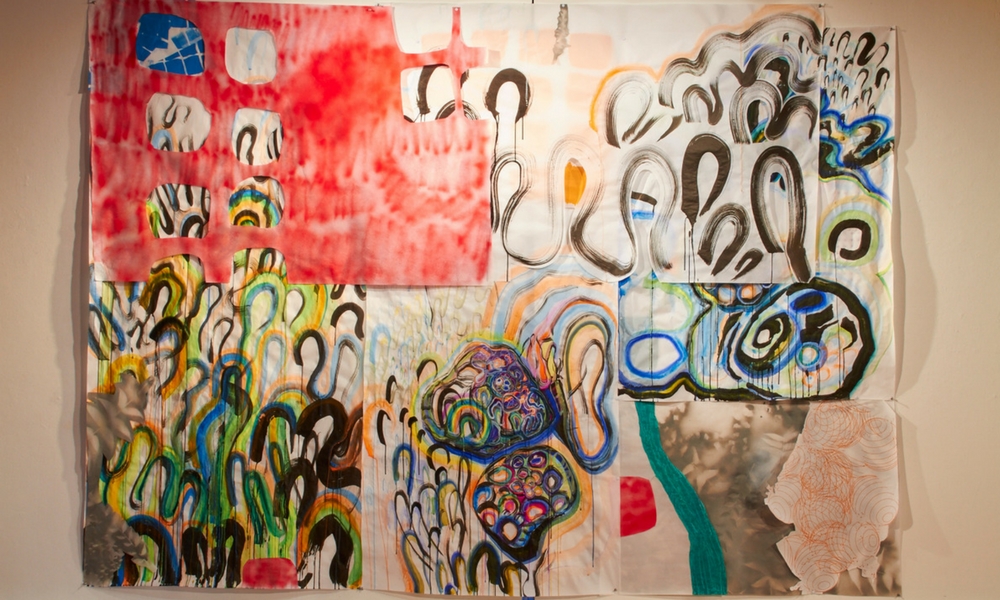 "Construct/Emerged/Ecology" by Lisa Tubach and Cameron Ritcher
Construct/Emerged/Ecology
Lisa Tubach
Cameron Ritcher
Larger collage piece
---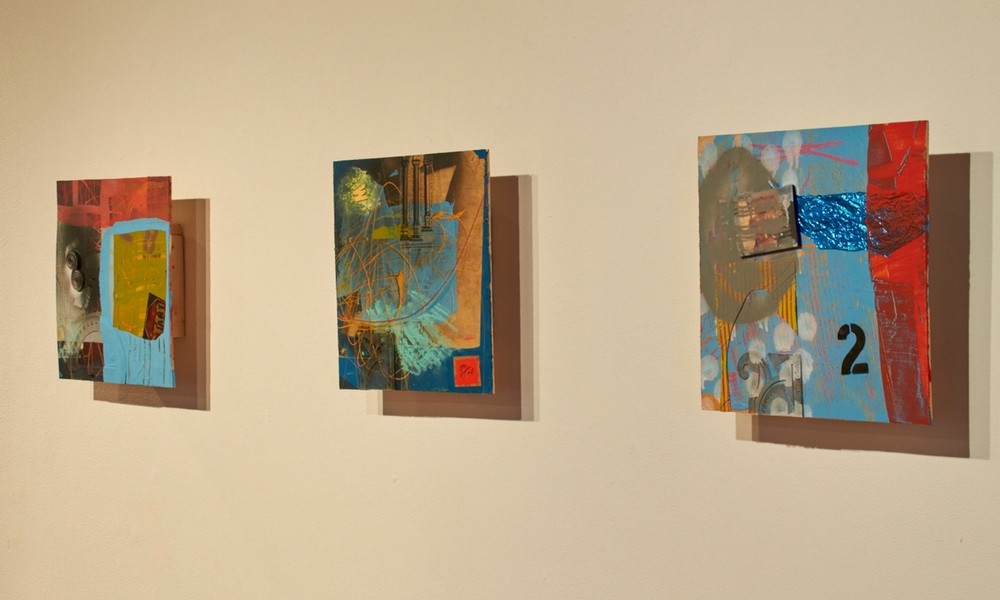 "Cam and Cole" by Cameron Ritcher and Cole Welter
Cam and Cole
Cameron Ritcher
Cole Welter
3 panel mixed media work
---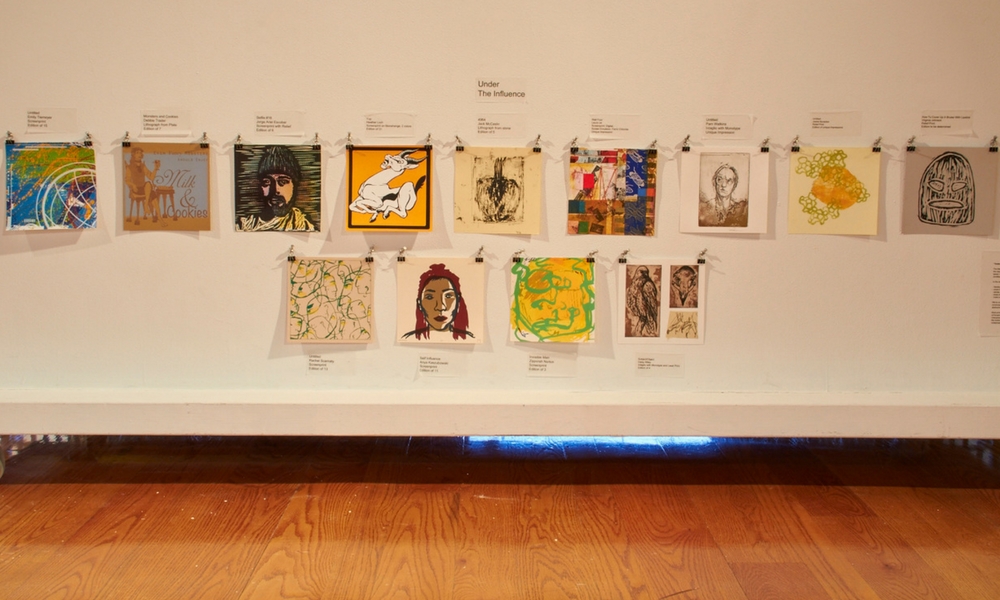 "Under the Influence" by Jack McCaslin, Jessie Buracker, Jorge Escobar, Virginia Johnson, Anya Kaszubowski, Heather Loch, Zipporah Norton Rachel Scarnaty, Emily Tiemeyer, Debbie Trader, Pam Watkins, Laura Wilkins, Daisy Wiley
Under The Influence
Jack McCaslin                       
Jessie Buracker, Jorge Escobar, Virginia Johnson, Anya Kaszubowski, Heather Loch, Zipporah Norton Rachel Scarnaty, Emily Tiemeyer, Debbie Trader, Pam Watkins, Laura Wilkins, Daisy Wiley
13   7"x7" prints of various techniques
The title for this grouping of thirteen prints is tongue in cheek. But it's also an apt description for the way we interact and work in the studio. Printmaking often gives rise to a communal work space. We share prohibitively expensive presses, specialized equipment and safe working conditions. And we are admittedly drawn to exotic chemicals and archaic formulas.
In the studio we:
- literally rub shoulders moving between presses and other bodies
- share ink (on paper and our clothes)
- advise, criticize and encourage
- share tools and (wait in line for) equipment
- make a mess and (sometimes) clean up someone else's
We're united in our struggle to achieve that ever allusive perfect registration and we're convinced the world will always clamor for one more copy of our dog, self-portrait or pointless abstraction.  
Most prints consist of two materials: ink and paper. But a third element moves about the printmaking studio. The aged professor shuffles between tables offering advice, sketching indecipherably and on occasion grasping a roller or squeegee in his own hands. It's in the air like acetone. Breathe deeply. It permeates what we make and who we are as printmakers: collaboration.