School of Art Design and Art History
James Crable Photography Exhibit
---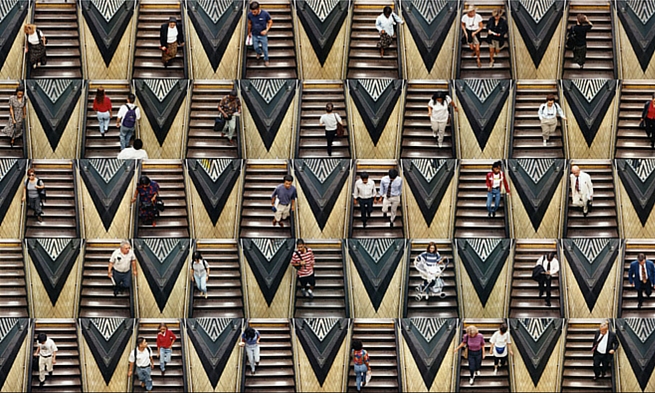 Join us as we celebrate the return of James Crable, emeritus professor of Art and Art History at JMU!  An early adopter of large-scale color photography, James Crable has been exploring the possibilities of the medium for nearly 40 years.  
WHEN:   May 2nd- June 24th
WHERE: Duke Hall Gallery
His patterned yet geometrically diverse artwork, which generally includes features such as doorways, sidewalks, walls and stairways, has been exhibited in galleries and museums throughout the United States and abroad, including at the Taubman Museum of Art. 
Like a quilt-maker, Crable weaves together a variety of simple images into an engaging whole.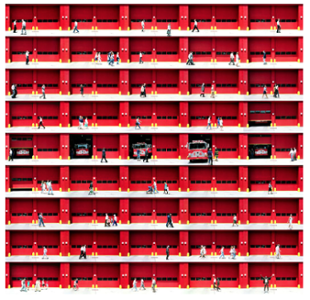 "FDNY, South St., New York, NY," by James Crable

He has won numerous awards and honors, including a National Endowment for the Arts Fellowship and a Virginia Museum of Fine Arts Professional Fellowship.

Awards and honors for 2015 alone include:
One of the top 3 winners for "Doorways and Passages" - works from all over the world. Tera Bella Media, Richmond, TX

Two photo works accepted, 2015 Bower Center National Juried Exhibition, Bedford, VA

2015 "Times Square, New York, NY", Selected for permanent collection, Nasher Museum of Art, Duke University, North Carolina, Registered by Lee Nesbet, Duke U.

2015 Chosen for the book cover, "Windows, Mirrors, and Doors", Photo Place Gallery , Middlebury, Vermont; Selected by Seth Curico, Director, Pier 24 Photography, San Francisco, CA

2015 Solo Exhibition for 3 months, Heurich Gallery, Washington, D.C. Selected series of works which have won various awards at certain state juried exhibitions in the past. Approved by Project Manager, Anne Davis, Washington, D.C

2015 7th Pollux Award, First Place Winner: Street Photography and Cityscape, Worldwide Professional Selection, juried by Chema Madoy, Spain
For further information about the artist, please visit www.jamescrable.com