School of Art Design and Art History
Stephanie Williams' "Mutations" Exhibit at Civilian Art Projects
Exhibit at Civilian Art Projects
---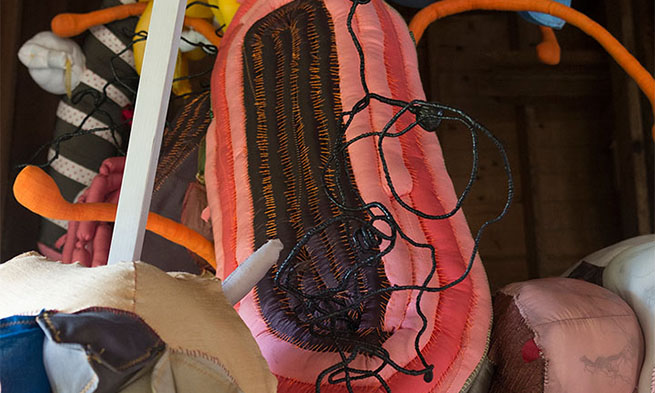 MUTATIONS

Pam Rogers | Bonner Sale | Stephanie Williams 

On View: 
January 8 - February 13, 2016

Artist Talk: 
Saturday, February 13, 2016, 3pm
Where: 
Civilian Art Projects
4718 14th Street NW 
Washington, DC 20011

Please join Civilian Art Projects for the first exhibition of 2016, the gallery's tenth year of operations. Civilian's January show "Mutations" features JMU Assistant Professor of Art Stephanie Williams alongside artists Pam Rogers and Bonner Sale.
Stephanie Williams creates sculptural installations—from found and made objects inspired by meat, lowbrow 70s sci-fi, and 80s children's toys—as a gesture of hope and an offering of acceptance. Her site-specific piece made for the exhibition, "Petitionary Prayers for Absent Grace," engages a maturing concept of mutation from one of defect to an "embodiment, a potential queering against expected notions of self." According to Williams, "As a collection of seemingly disparate parts, found fabric clippings and tacky remnants, these pieces are able to provide clarity only through their combination. The work tells the story of queer identity through its pieces."
If there is a thread to be found between the three artists, it is in their exploration of relationship – relationship to self; to the world; and to the past, present, and future. Central to relationship is our destiny to evolve. To survive we must adapt, and at times this adaptation can feel like a complete mutation. Once comforting scenarios become something altogether different, where what was once certain is no longer absolute. The challenge is not merely to let go, or go with the flow, but to transform and reveal the spirit that holds it all together. 
For more, please read her mention in the Washington Post.
Published: Wednesday, February 3, 2016
Last Updated: Thursday, January 4, 2018